2023 Vic Chesnutt Awards Finalists Share Inspirations Behind Their Nominations
June 2, 2023
[ad_1]
The Classic City Rotary will present the seventh annual Vic Chesnutt Songwriter of the Year Awards at 7 p.m. on Thursday, May 4 at the 40 Watt Club. Named for the internationally renowned Athens musician Vic Chesnutt, the awards aim to spotlight a diverse array of local artists who exemplify skillful and thoughtful storytelling.
With representation across multiple music genres, past winners have included Elijah Johnston (2022), Cassie Chantel and WesdaRuler featuring Louie Larceny (2021), Jim Willingham (2020), Lydian Brambila (2019) and Linqua Franqa (2018). Each year nominations are made by the community based on a recorded work released in the prior year. After reviewing the pool of nominations, a panel of judges determine the finalists. This year's judges included hip-hop artist and 2021 winner Cassie Chantel, Atlanta-based singer-songwriter Caroline Herring, Nashville-based alt-country artist Boo Ray, Elephant 6 producer and musician Robert Schneider, and Flagpole's own Threats & Promises columnist Gordon Lamb.
From 110 nominations received for 68 different artists, the 2023 finalists are Cardynal, Dylan Loftin, Erin Lovett (Four Eyes), Night Palace (Avery Draut) and Trvy (Trevor Wiggins). Each finalist will receive $250, while the top winner earns $1500 plus studio recording time from Amplify at Nuçi's Space and a Team Clermont publicity and radio promotion package valued at $5,000.
The awards ceremony can be live-streamed on Facebook Live, YouTube Live and vicchesnuttaward.com. Featured performances for the night include 2023 judge Caroline Herring, 2022 winner Elijah Johnston and all five finalists.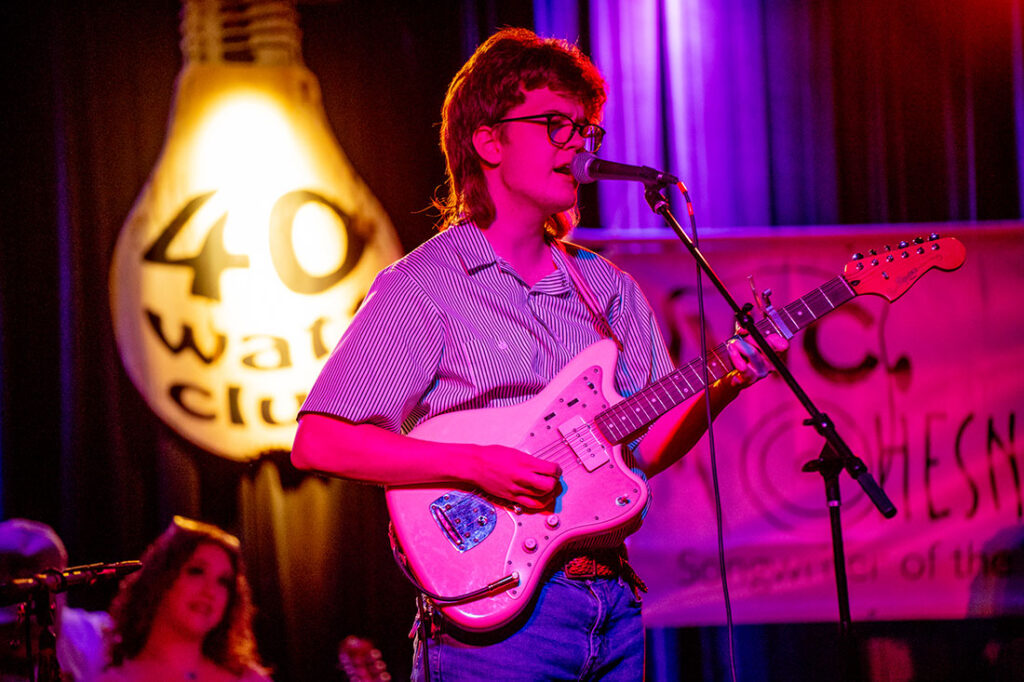 Below, the finalists share the inspiration behind their nominated track:
Cardynal, 'If You Love It'
"I came home from work one day feeling particularly worn out, and as soon as I got to my room I sat down at my guitar and started playing the chords. I ended up writing and recording it in one session, and recording the verses and choruses all in one take. It's a song about being burnt out and becoming aware of the cycles and patterns that occur in my day to day life."
Dylan Loftin, 'Early Bird'
"I wrote and recorded 'Early Bird' in the winter, which is reflected in its sparse instrumentation. At the time, I had just started seeing someone new and was commuting every morning to a job that involved working outside in very cold weather. Explicitly, 'Early Bird' is about not wanting to leave the warmth of a shared bed for a job you don't enjoy. When I hear the song now, it also makes me think about the vulnerability of a new relationship. This song is different from the rest of the album, and I'm happy with how it turned out."
Erin Lovett (Four Eyes), 'Magic 8 Ball'
"As a songwriter I thrive with limitations. I love the challenge of writing within a theme, so I keep most of my albums bound to a certain concept or feeling. My song was written as part of a Halloween-themed EP I put out last year, The Freaky EP. I say Halloween-themed, but the songs are less 'Monster Mash' and more meant to evoke that late-October feeling in general. 'Magic 8 Ball' is about the idea of letting go of control and allowing random chance to guide our decisions in life. At the time of writing, I was in the midst of planning my wedding and very much ready to cede control of everything to some mysterious universal force. That letting go can be scary, but there's a certain thrill to it."
Night Palace (Avery Draut), 'Stranger Powers'
"I have skateboarded only one time––it was in tandem, held close by a friend, all the way down from the very top of a parking deck to the bottom, and I hope this song feels like that. During that time of my life, my best friends and I were learning to become ourselves in a new way, and 'Stranger Powers' is a capsule from that time. My best friend Prosper's grandmother had passed away and had left them over a dozen gorgeously illustrated tarot card sets; a snapshot of this song is this image in my head of Prosper sitting on the floor, surrounded by circles and circles of the cards, as they admired each one."
Trvy (Trevor Wiggins), 'The Cost'
"'The Cost' is a song that was written during a period of introspection. The lyrics were inspired by the state of the world, collective emotional trauma, instances of police brutality and personal traumas that accumulated over time. I was struck by the question of what it truly costs to exist in this world, and the phrase 'what's the cost' echoed in my mind. Fueled by these emotions, I sat down at the microphone and allowed my feelings to pour out, resulting in this poignant and powerful song."
WHO: Vic Chesnutt Songwriter of the Year Awards
WHEN: Thursday, May 4, 7 p.m. 
WHERE: 40 Watt Club
HOW MUCH: $15
Like what you just read? Support Flagpole by making a donation today. Every dollar you give helps fund our ongoing mission to provide Athens with quality, independent journalism.
[ad_2]
Source: News