'A big one for us': Leafs win 1st playoff series since 2004
May 25, 2023
[ad_1]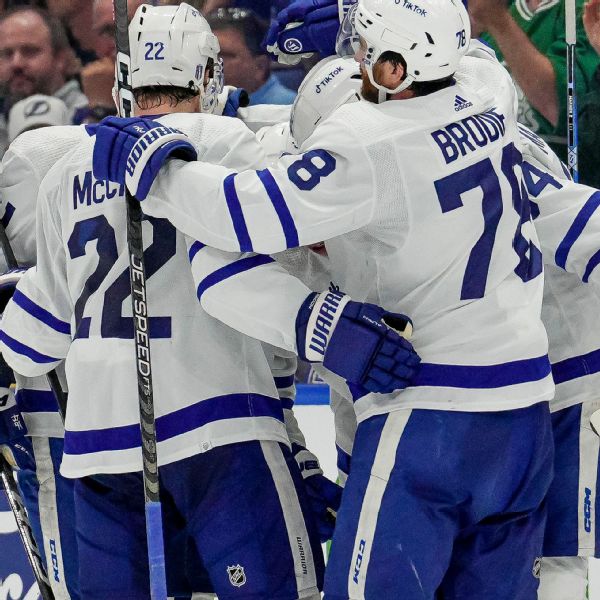 TAMPA, Fla. — John Tavares scored 4:35 into overtime, and the Toronto Maple Leafs defeated the Tampa Bay Lightning 2-1 on Saturday night for their first NHL playoff series win in nearly two decades.
The Maple Leafs won the best-of-seven matchup in six games, winning three times in overtime on the road and ending an 11-game losing streak in elimination games. They advanced in a series for the first time since 2004, a frustrating drought that included first-round exits in each of the past six seasons.
"It was a little bit of a relief, for sure," Toronto forward Mitchell Marner said. "Just to be able to get that done, but got to make sure we are ready because it just gets harder and harder."
The loss, meanwhile, ends Tampa Bay's run of three consecutive appearances in the Stanley Cup Final. The Lightning won back-to-back championships in 2020 and 2021, but they lost to the Colorado Avalanche in six games last year.
"I'm not going to debate who is the better team, they beat us four games to two," Lightning coach Jon Cooper said. "Statistics say they were the better team than us, but do I sit here and think that we could have really done anything to change the tide? No. We played well enough to win this series. I think anyone that watched the series would agree with that."
Auston Matthews also scored for the Maple Leafs, beating Andrei Vasilevskiy from the top of the right circle at 13:47 of the second period. Tavares, the Toronto captain, added the winner, which trickled past the Lightning goalie after appearing to deflect off a defender's skate.
"It's obviously special being a Maple Leaf and getting the opportunity to play for the club, obviously growing up in the [greater Toronto area]," said Tavares, who left the New York Islanders in 2018 to join his hometown team. "Obviously, you get a sense of the tradition and what it means to the city and the people. You know how big and how incredible Leafs Nation is. Really fortunate to be a Maple Leaf and play for this club."
A sentimental Matthews concurred with Tavares after the victory.
"You get thrown so much in these series. And there's so many ups and downs, and it's just a roller coaster," Matthews said in his postgame, on-ice interview with Sportsnet. "Just try to stay even-keeled, and just enjoy the moment. Stay in the present, and I'm just so proud of everyone in this locker room."
Steven Stamkos scored for Tampa Bay, which a year ago rallied from 2-1 and 3-2 series deficits to eliminate Toronto in the first round in seven games.
Two nights after stopping 28 shots to fend off elimination and trim Toronto's series lead to 3-2, Vasilevskiy was on top of his game again. The star netminder stopped 20 of 22 shots in the loss.
Toronto goaltender Ilya Samsonov was just as good, holding Tampa Bay scoreless until Stamkos positioned himself perfectly in front of the net to knock in a rebound at 4:19 of the third period.
Samsonov, who finished with 31 saves, said postgame that he felt "tired right now."
Toronto forward Michael Bunting returned to the lineup for the first time since he was suspended for three games for an illegal check to the head and interference against Tampa Bay defenseman Erik Cernak during Game 1. He was eligible to return for Game 5, but coach Sheldon Keefe chose to sit him.
Toronto will play either the Boston Bruins or Florida Panthers in Round 2.
"This is a small step in where we're trying to go," Matthews said. "But obviously, this is a big one for us."
The Associated Press contributed to this report.
[ad_2]
Source: News