Adam Jones To Officially Retire
August 25, 2023
The Orioles announced that Adam Jones will retire as an Oriole on September 15. Presumably, he will sign a one-day contract and there will be some pre-game festivities, though those details have not yet been announced. Jones last played in the majors in 2019, heading to Japan for two years after that but didn't sign anywhere last year. Now he will officially hang up his spikes with the organization where he spent the bulk of his career.
Jones, now 38, was selected by the Mariners with the 37th overall pick in the 2003 draft. He was initially used as a shortstop but moved to the outfield as a minor leaguer. He became a top 100 prospect and was able to get some brief major league time with the Mariners in 2006 and 2007, getting into 73 games over those two seasons. He didn't quite establish himself at the big league level immediately, hitting .230/.267/.353 in that time.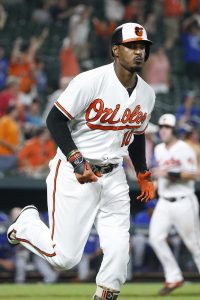 Prior to the 2008 season, Jones was one of five players that the Mariners sent to the Orioles in the Erik Bedard trade, a move that would prove to be career-defining for Jones. The O's were in a rough period at that time and were able to give Jones some regular playing time. He got into 132 games in 2008, hitting .270/.311/.400. That translated to a subpar wRC+ of 84, but he stole 10 bases and provided above-average center field defense, leading to a tally of 1.5 wins above replacement from FanGraphs.
2009 would be a breakout year for Jones, as he hit 19 home runs, more than doubling the nine he hit in the prior season. He hit .277/.335/.457 for a wRC+ of 103, getting selected to the All-Star team and winning a Gold Glove award in the process. Despite being limited to 119 games by an ankle sprain, he still matched his 1.5 fWAR tally from the year before.
He would become a staple of the outfield in Baltimore for years to come, continuing to produce in that all-around fashion with above-average offense, defense and speed. In May of 2012, he and the club agreed to a six-year, $85.5MM extension that ran through 2018, the largest contract in franchise history at that time.
That led to Jones playing 11 seasons with the Orioles from 2008 to 2018. He was remarkably consistent and reliable in that time, never playing less than 137 games in a season after the aforementioned 119 games in 2009. He played 1,613 games overall as an Oriole, hitting 263 home runs and stealing 90 bases. His .279/.319/.459 batting line amounted to a wRC+ of 108 and he was worth 29.3 fWAR over those seasons.
With Jones in the outfield, the Orioles were able to emerge from a long period of mediocrity and become a perennial contender. After losing seasons in each campaign from 1998 to 2011, they went on to finish .500 or better five years in a row from 2012 to 2016. They made the playoffs three of those years, won the AL East division title in 2014 and made it to the ALCS that year.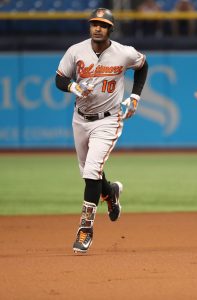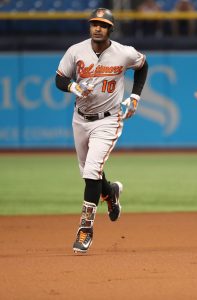 But by the time his contract expired at the end of 2018, the O's were back in a rebuilding period, one that they have just recently emerged from. Jones signed a one-year, $3MM deal with the Diamondbacks for 2019 but his offense and defense declined to subpar levels. He then signed a two-year, $8MM deal with the Orix Buffaloes of Japan's Nippon Professional Baseball. He hit .250/.334/.390 in 159 games over those two years.
Although Jones didn't begin his career with the Orioles, the largest and best part of his career was spent in Baltimore. He didn't finish his playing time with the Orioles either but will now ceremonially conclude his career with the O's in a few weeks, officially closing the books on his time as a player. Overall, he got into 1,823 major league games and tallied 1,939 hits, including 336 doubles, 29 triples and 282 home runs. He scored 963 runs, drove in 945 and stole 97 bases, made five All-Star teams and won four Gold Gloves. He also represented Team USA internationally, playing in the 2013 and 2017 World Baseball Classic tournaments. The latter of those two saw him make arguably the most famous catch in WBC history, robbing his Oriole teammate Manny Machado, who was representing the Dominican Republic.
We at MLB Trade Rumors salute Jones on a fine career and wish him the best in all his post-playing endeavors.
Images courtesy of USA Today Sports.
Source: News