Anand Mahindra Sets Sights On Udupi After Viral Breakfast Rap & You Must Watch It Too! – Curly Tales
November 11, 2023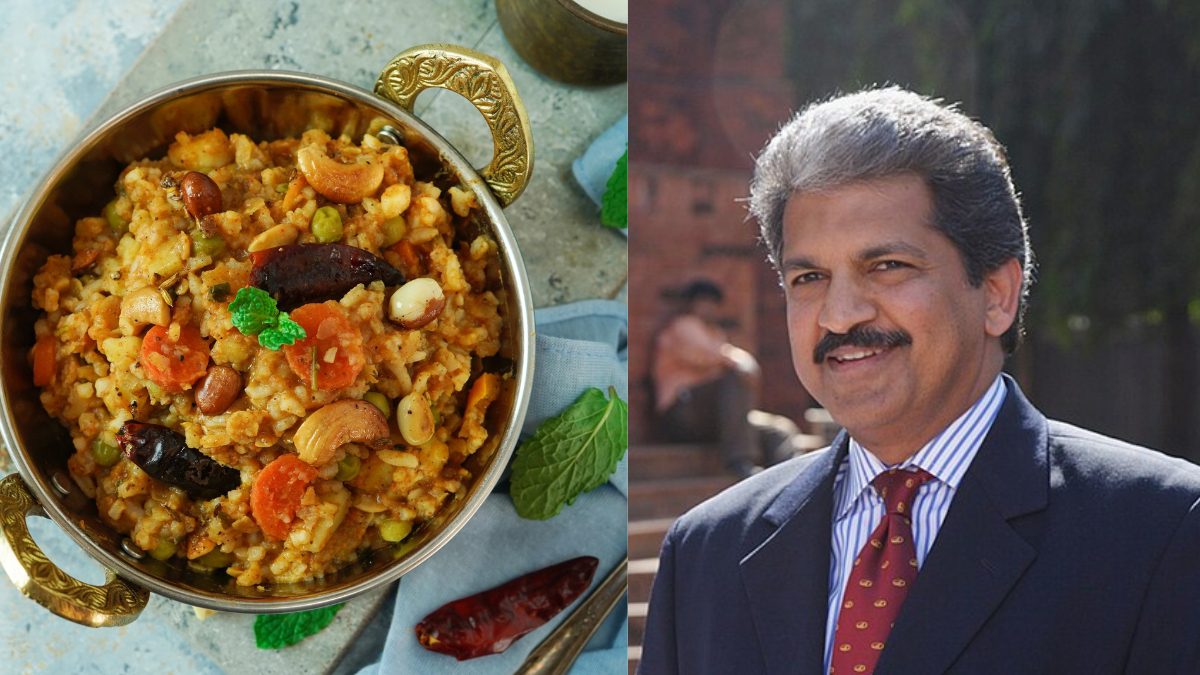 In the enthralling dance between tradition and modernity, a viral breakfast rap has managed to entice none other than the adventurous soul, Anand Mahindra. Breaking free from the boardroom confines, the chairman of the Mahindra Group has cast his gaze upon the coastal haven of Udupi. The rhythmic beats of a breakfast menu became the pied piper. It led him towards the tantalising charms of this hidden gem. The temple town is steeped in tradition and crowned with the glory of picturesque landscapes. It has cast its enchanting spell on the seasoned traveller, prompting him to declare it his imminent destination of choice.
Udupi's Breakfast Menu Impresses Anand Mahindra
Even a ChatGPT generated breakfast menu wouldn't match the 'search' capability of this gent from the Shree Vittal Tea Coffee House, Udupi. It's next on my ever-expanding travel bucket list. Incredible Udupi. #SaturdayMood
pic.twitter.com/BTl9rQmDkD

— anand mahindra (@anandmahindra) November 11, 2023
What sparked this declaration was not a grand spectacle or a conventional tourist attraction, but rather a humble yet extraordinary display of culinary enthusiasm. A viral 'breakfast rap' performed by a spirited restaurant staff member in Udupi caught the attention of the discerning chairman. This vibrant spectacle, showcasing the local breakfast delights, left Mr. Mahindra in awe.
In a captivating video shared by 'Visit Udupi,' on X (formerly known as Twitter), a wise elder from the Shree Vittal Tea Coffee House took centre stage. He skillfully recited a tantalising array of breakfast offerings, predominantly featuring the famed Udupi specials. Anand Mahindra, known for his wit and keen observations, couldn't resist expressing his admiration for the extensive menu presented by the eloquent gentleman.
Amused by the exhaustive list of delectable offerings, the chairman took to social media to playfully muse that even the prowess of a ChatGPT'-generated menu would pale in comparison to the comprehensive selection described by the seasoned narrator. He even shared his excitement about the prospect of exploring Udupi. He declared it the latest addition to his ever-expanding travel bucket list.
Also Read: Hold Your Mugs As Old Monk Brews Up A Storm With The Launch Of Coffee-Infused Elixir!
 Viral Breakfast Rap Sparks Wanderlust
Thus, the coastal town of Udupi, with its breathtaking beaches, mouth-watering breakfast delights, and the enchanting rhythm of a breakfast rap, has firmly etched itself into the adventurous aspirations of Anand Mahindra. His appreciation for Udupi and the food there has netizens in awe. They all joined together in cheering for the town and the amazing food there. This post was flooded with views and comments quite instantly. 
Many X users applauded the Incredible India and the various cuisines here that tantalise our taste buds. While some felt inspired by Mr. Mahindra's wanderlust, others joined him in comparing this breakfast rap with ChatGPT. A lot of netizens even believe that no AI can compare to Indians and their talent.
Udupi is renowned for its rich culinary experiences, especially at places like Shree Vittal Tea Coffee House. Enjoy your culinary adventure!

— Divya Gandotra Tandon (@divya_gandotra) November 11, 2023
"Anand Mahindra's appreciation of Shree Vittal Tea Coffee House, Udupi, is a delightful journey. Your wanderlust is contagious! What's your go-to breakfast discovery, Anand? #TravelGoals #FoodieAdventure @anandmahindra"

— Jones Crasto – Aircraft Broker (@jonescrasto) November 11, 2023
Incredibly long menu indeed Don't know what was that 'chuma chuma and uma uma'! But he assured at the end "en bekanta heli" – tell what you want. I am having my coffee right now visualizing this huge list pic.twitter.com/l4WrXloJWJ

— Anjali Misra (@Janjiee) November 11, 2023
Udupi is a hidden gem..pristine beaches, unpolluted rivers, unrealistic sunsets, green virgin forests & grasslands, unbelievable temple architectures, lip smacking & healthy cuisine and big hearted people to make ur trip memorable!!

— ASWINI ACHARYA (@AA7111) November 11, 2023
Every place in India had /has a "udupi hotel" ..and that brand has its own value of being perceived for hygiene , taste and quality.
Its like "darjelling tea". That name is enough.
No major actor branded these names but these are time-tested brands that has lived a lifetime

— Krishna Kumar (@KKadyar) November 11, 2023
Can any AI in the world can match his speed and provide subtitles?!

— Prasanna Venkatesan (@daari183) November 11, 2023
In the wake of Anand Mahindra's declaration, Udupi emerged not just as a destination. It is a symbol of the seamless fusion of cultural richness and gastronomic brilliance. As the applause from netizens echoed, a collective cheer for Udupi and its culinary wonders resonated across digital platforms. Udupi is not just a travel declaration; it is a celebration of the human touch that elevates experiences beyond the reach of even the most advanced technologies.
Now a virtual star, it continues to shine in the hearts of all those who shared in Anand Mahindra's enchantment.
Cover Image Courtesy: Wikimedia Commons and Canva
For more such snackable content, interesting discoveries and latest updates on food, travel and experiences in your city, download the Curly Tales App. Download HERE.
Good news! We are on WhatsApp! Subscribe to Curly Tales WhatsApp Channel to stay up-to-date with exclusive content and BTS. Join HERE.
Source: News