On April Fools' Day, Asus announced that it would be entering the gaming handheld market with the Asus ROG Ally – going head to head with the likes of Valve's Steam Deck and the Nintendo Switch, as well as the less renowned (but no less impressive) AyaNeo 2.
While there are a lot of details about the ROG Ally that have yet to be disclosed by Asus, our own Allisa James has been lucky enough to get some hands-on time with the new handheld – enough time to produce an early Asus ROG Ally review which you can check out right now.
However, pricing and release date (as well as exact performance stats) have not been released by Asus, so there's a lot up in the air right now – we won't be calling our judgment on the ROG Ally until we've received our own review unit and taken the time to test it out properly.
Still, we've collated everything we know so far right here, for your browsing perusal. We'll dig into the technical details further down, but for now let's just say that if you're considering picking up a gaming handheld like the Steam Deck, you really might want to hold off until the Ally arrives…
Asus ROG Ally: Cut to the chase
What is it? Asus's new handheld gaming console
When will it be available? Sometime in 2023, with a release date reveal on May 11
What will it cost? Below $1,000, although multiple models with different prices will be available
Asus ROG Ally: Release date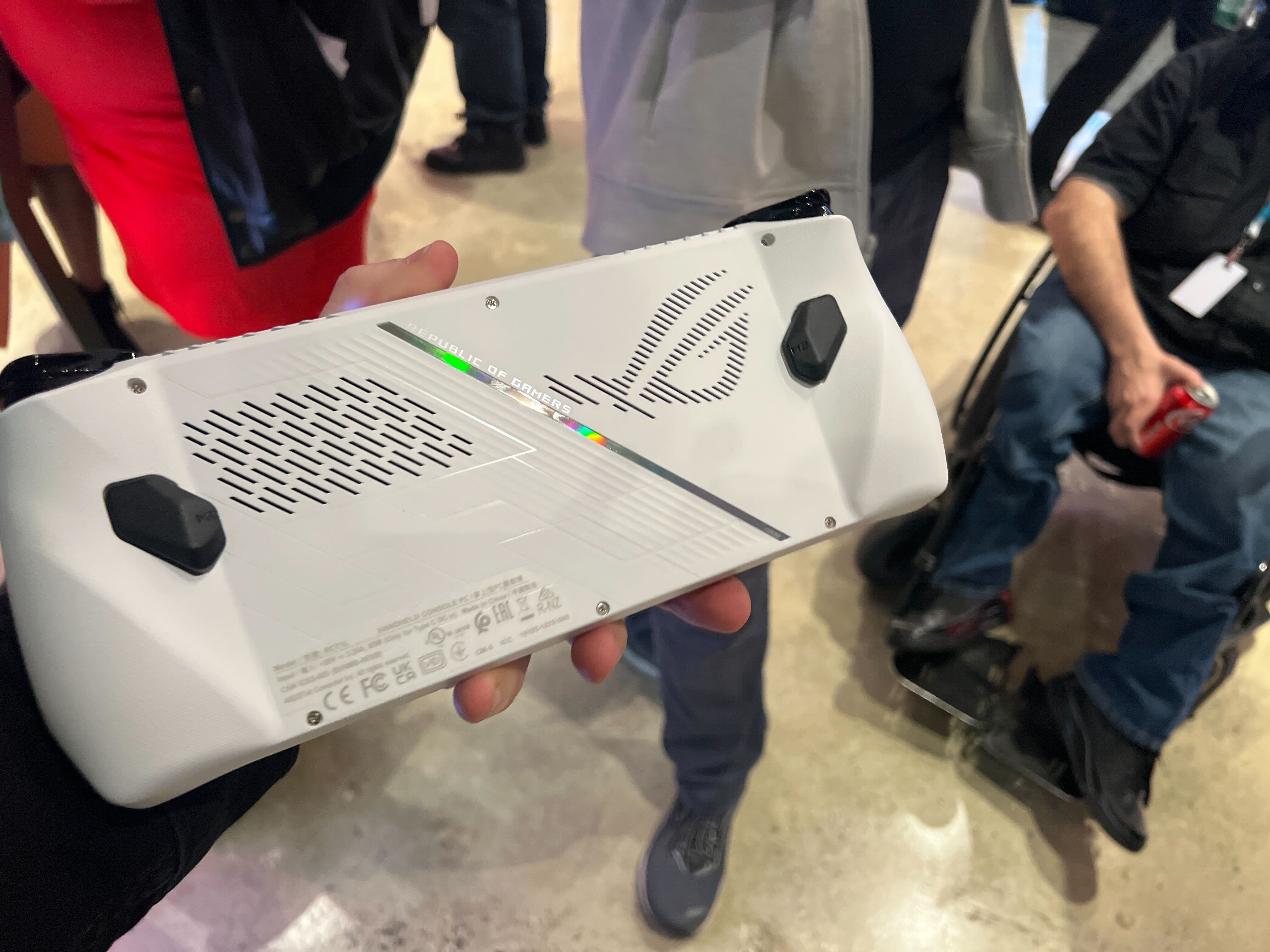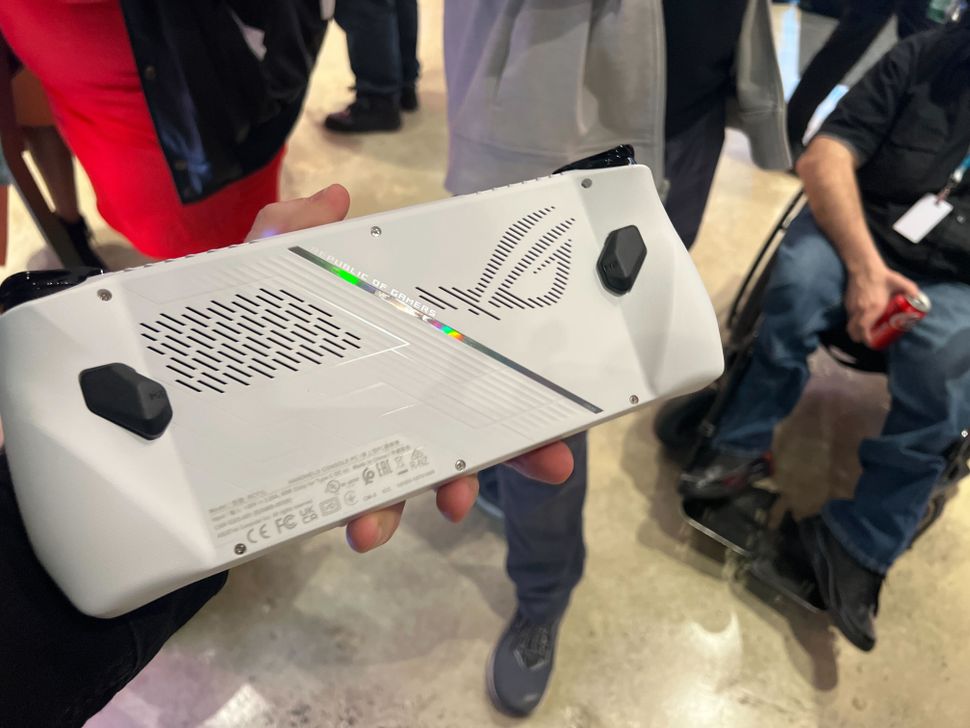 Although there's no official release date for the Asus ROG Ally yet, we will be learning more about the handheld in a livestreamed panel discussion from Asus on May 11, and we're expecting to here a release date during that event. 
We wouldn't rule out a surprise launch on May 11, but don't get too excited – it looks like preorders might be going live that day instead, so we may well be waiting a bit longer. At the very least, we should have a concrete release date in a matter of days.
Asus ROG Ally: Price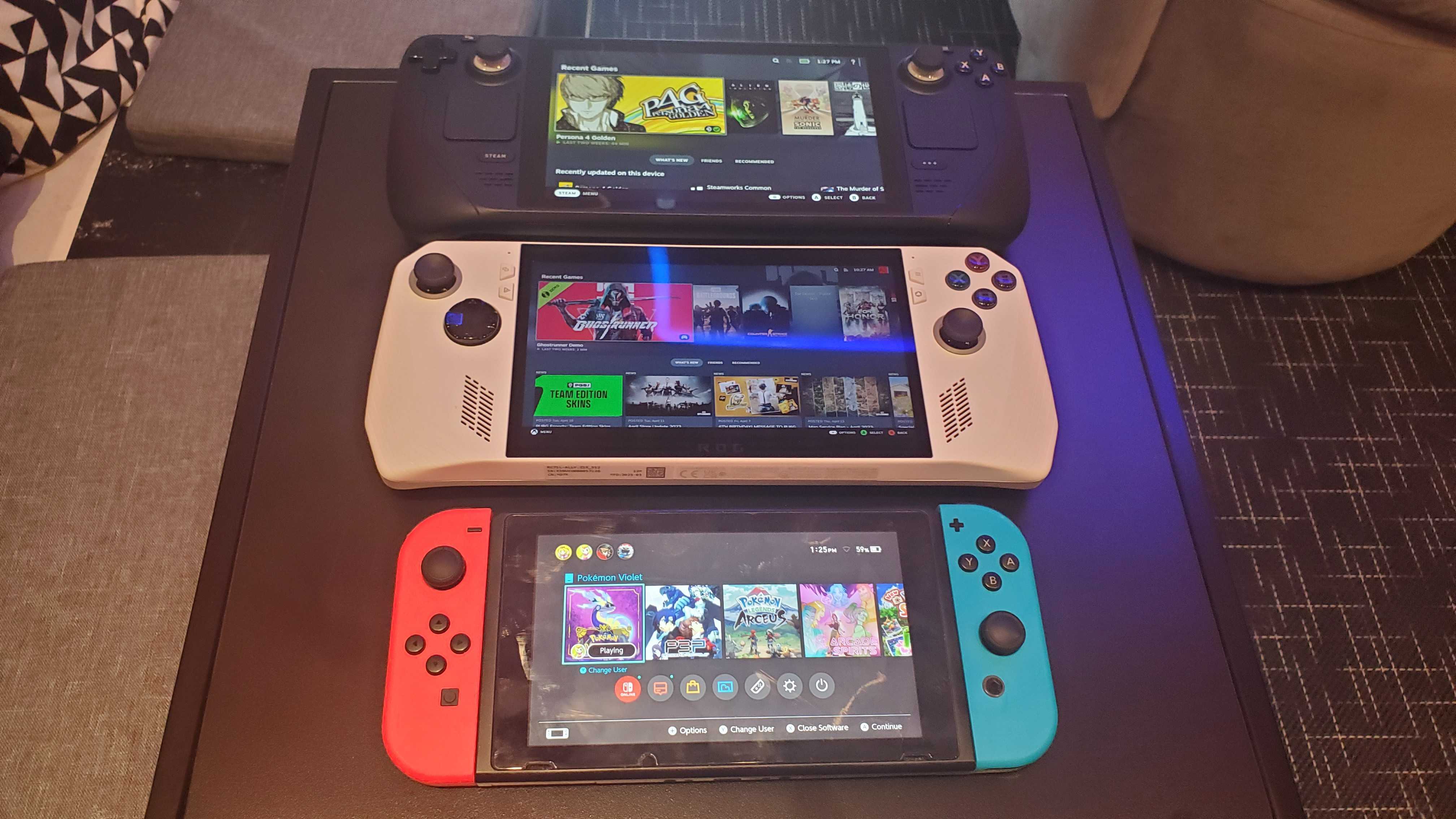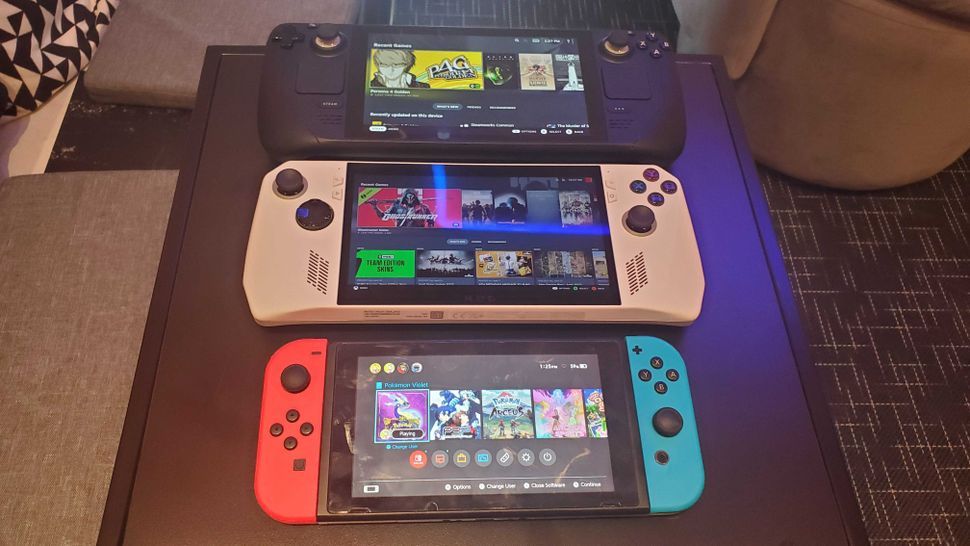 Asus hasn't officially disclosed the pricing of the ROG Ally gaming handheld just yet – that's also expected to be revealed at the livestream event on May 11. However, one Asus exec has confirmed that the pricing will definitely be "below $1,000".
That's not the most reassuring statement – especially since the most expensive model of the Steam Deck only costs $649. As you'll see in the Specs section below, there will be multiple models of the ROG Ally, but we don't know exactly what those will look like yet, nor how many there will be.
It's safe to assume that we'll see at least two versions, using the two different AMD processors we know will be available in the Ally. That "below $1,000" figure means the high-end model could feasibly cost as much as $999, but we hope to see two models around the $600 and $800 marks – more expensive than competitors, but a lot more powerful too.
Asus ROG Ally: Specs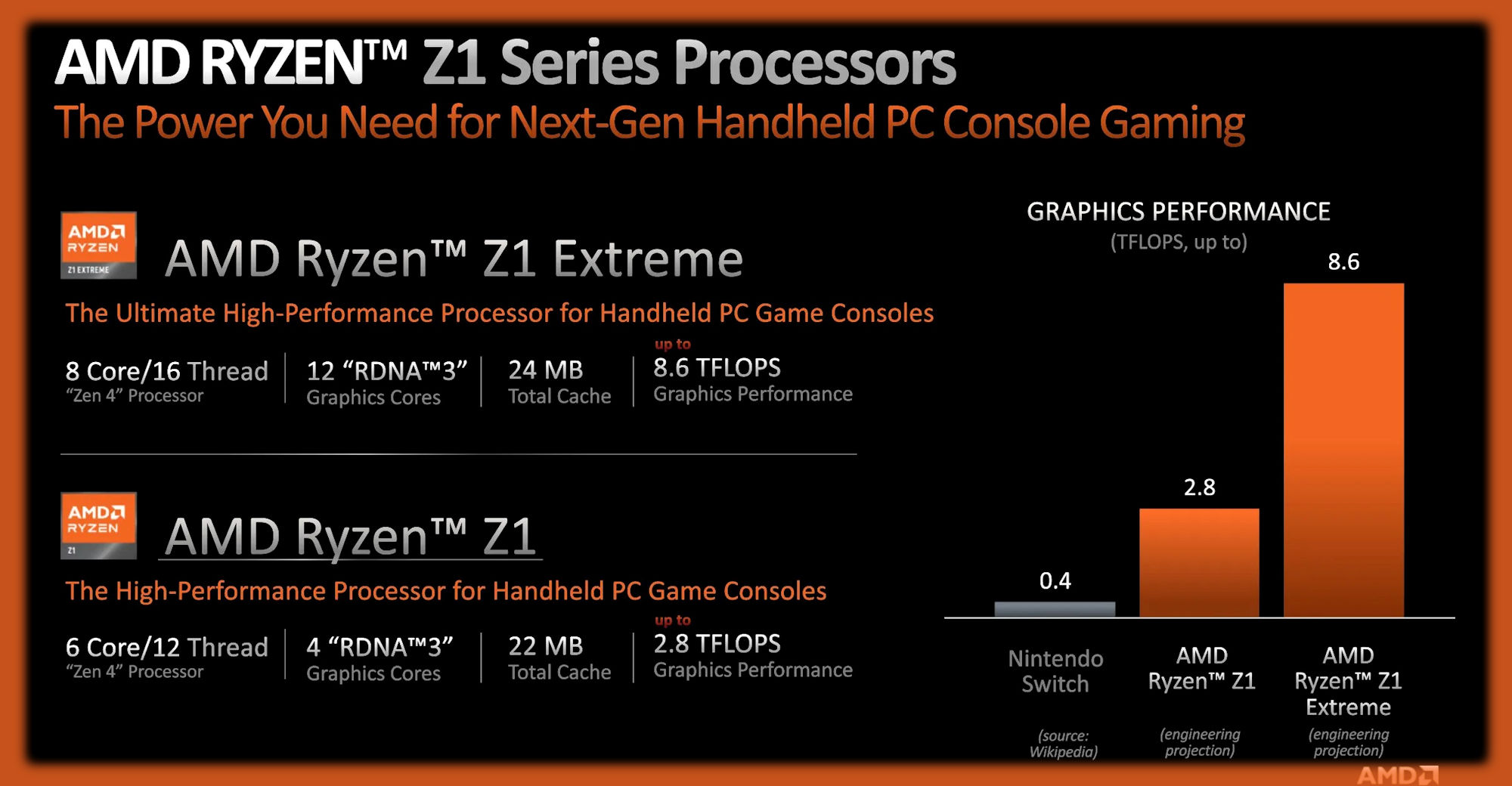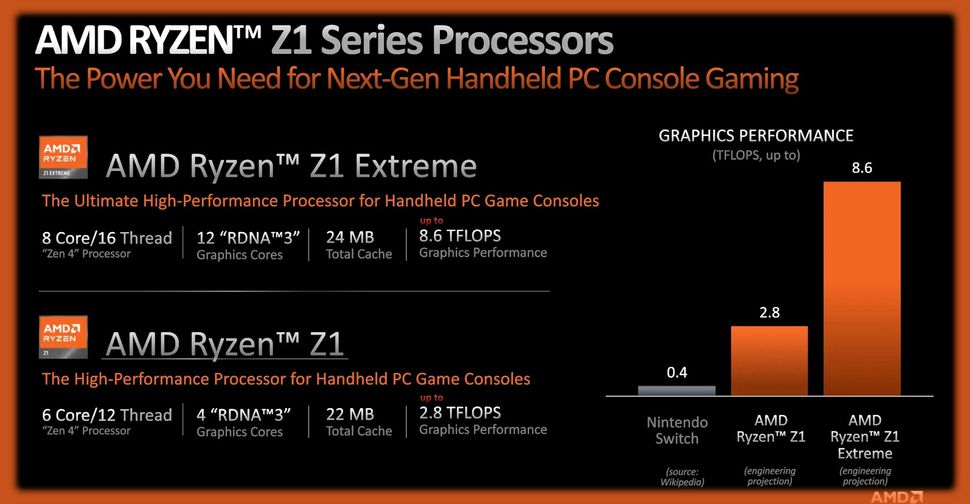 Although the other sections of this breakdown might be a bit light on details right now, we do know a lot about the specs that the Asus ROG Ally will boast. Let's start with the heart of this handheld: the processor.
AMD recently revealed its new Z-series of APUs, split into the Z1 and Z1 Extreme. These systems-on-a-chip (SoCs) will use AMD's Zen 4 CPU architecture and RDNA 3 integrated graphics, with the Z1 featuring a 6-core/12-thread CPU and 4-core iGPU while the Z1 Extreme uses an 8-core/16-thread CPU and 12-core iGPU.
That 8-core difference in the RDNA 3 on-board graphics means we could see a fairly significant performance gulf between the two chips, although the difference in total cache memory is very small (22MB to 24MB). As the figures below show, AMD believes that both chips will be able to crack 60fps in the majority of games at 1080p Low settings using Radeon Super Resolution 2 upscaling technology.
Image 1 of 3
Beyond the processor, we know that the ROG Ally will feature up to 16GB of LPDDR5 RAM (the same you'd find in a thin-and-light machine among the best gaming laptops) along with up to 512GB of high-speed PCIe 4.0 storage – no sluggish eMMC drives here, like the one you'll find in the cheapest model of the Steam Deck.
The display also heavily outclasses the Steam Deck. It's a 1080p panel with a 120Hz refresh rate and 7ms response time, and it boasts 500 nits of maximum brightness compared to the Deck's 400. Sound is handled by a pair of front-firing stereo speakers with Dolby Atmos support.
The Ally will weigh 608g – that's heavier than the Nintendo Switch, but a bit lighter than the Steam Deck. And of course, the sleek design features RGB lighting around the analog sticks and lots of perforations for cooling – although we've seen that it can get pretty toasty while you're gaming.
Lastly, the Ally is fully compatible with existing ROG peripherals, so you can easily sync it up with your Asus headset or gamepad while it's docked. It can also be connected to the Asus XG Mobile (opens in new tab) external GPU to boost it up with an RTX 4090's worth of graphical power – though why you'd actually need to do that is anyone's guess.
The bottom line here is that the Asus ROG Ally is probably going to demolish every other gaming handheld on the market right now when it comes to performance – at least, until Nintendo and Valve get their hands on those shiny new AMD chips.