Chance The Rapper 'Acid Rap' Barclays Center Concert Review – UPROXX
August 29, 2023
This past spring, Chance The Rapper celebrated the tenth anniversary of his second mixtape Acid Rap. Released on April 23, 2013, the project not only catapulted Chance into the national spotlight but went on to be a crowned jewel of the blog and mixtape eras and a classic release overall from the 2010s hip-hop era. In a tweet six months after releasing the project, Chance wrote, "im not the guy to say acidrap was the best project of 2013. but i'll say my project did more for me than anyone else's did for them." At that time, it remained to be seen exactly what Acid Rap would do for Chance, but over the last decade, we've seen that Chance's statement was true. The success of Acid Rap can be attributed to putting Chance in position to later secure his first Grammy wins, gain meetings with the president at The White House, land gigs as a marquee festival headliner, and now, hold a packed-out night in Brooklyn's Barclays Center to celebrate the mixtape's tenth anniversary.
Truthfully, it's just as surprising as it isn't that Chance packed out Barclays Center. On one hand, social media paints Chance as a has-been who fumbled his position at the top of rap with his underwhelming debut album The Big Day. On the other hand, most of us know that social media is often a poor representation of what is true in the real world. Furthermore, the tenth-anniversary show for Acid Rap allowed fans who were too young or too distanced to see performances from that era, or those who wanted to relive their experiences from the rapper's glory days, to engage in this once-in-a-lifetime experience. It's the perfect recipe for a sold-out show, something that Chance needed for himself as he prepares to enter a new era.
The dominating element in the arena for the Acid Rap tenth-anniversary show was gratitude, most especially from Chance The Rapper to the audience. Beginning with a trio of records from his 2016 mixtape Coloring Book, a project that got a lot of airtime at the show, Chance stepped forth with a triumphant entrance to "No Problems." Steering into renditions of "All Night" and "Blessings," it was clear that he was extremely thankful for this moment. The gratitude from the Chicago rapper only amplified as he transitioned into Acid Rap tracks. After performances of "Good Ass Intro," "Pusha Man," and "Paranoia," Chance championed the crowd and reminded them of the unique moment at hand. "There's no fake fans in the building tonight," he proclaimed. "I'll probably never do a show like this again."
Ten years removed from the firestarter release in his career, Chance is still just as grateful for the spotlight as he was when Acid Rap first came out. He later interrupts his performance of "Juice" to share an anecdote about meeting with labels in New York City, filming the music video for the song in the city, and how everything changed once he returned to Chicago. Moments like these are scattered throughout Chance's career as contributors to his success, both before and after the release of Acid Rap. The same could be said about his longtime collaborators, some of whom were present at Barclays. Chance extended this same gratitude to them throughout the night, whether it be Saba during performances of "Everybody's Something" and "Angels" or Joey Badass for "The Highs & The Lows."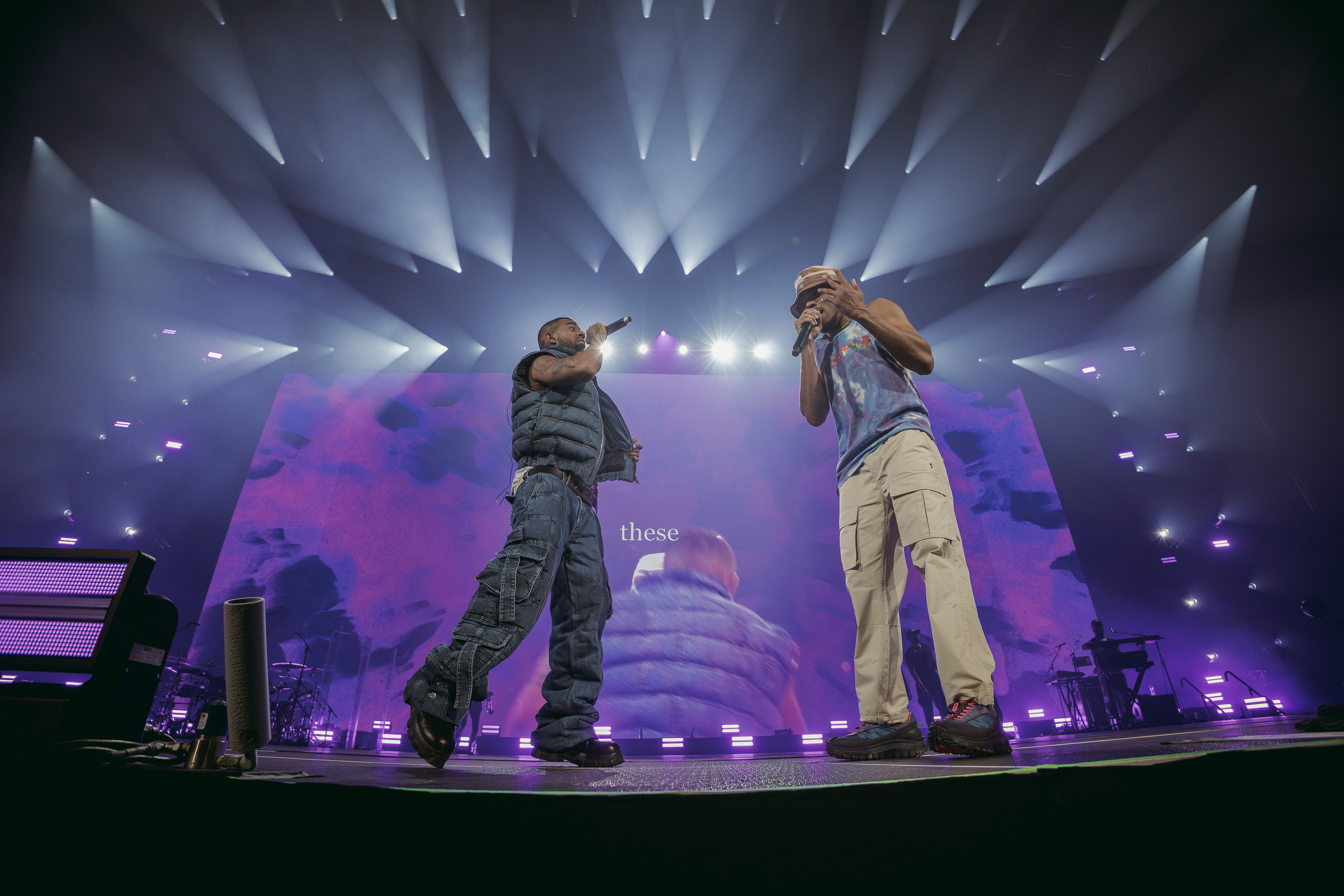 The sweetest moments came as he thanked members of his band one by one for years of collaboration and support in and outside of his music before bringing out Vic Mensa. Beside Acid Rap in 2013 came Vic Mensa's Innanetape, and together, both projects highlighted the best of what was to come from Chicago's rap scene at the time. Both Chance and Vic supplied verses to one another on their projects through "Cocoa Butter Kisses" and "Tweakin,'" and together the duo made it out and achieved undoubtable success. In past years, it seemed like there was a rift between the two rappers, but more recently, performances together and an uptick in collaborations confirmed that all is well between them. So as Chance and Vic shared words and embraced before performing "Cocoa Butter Kisses," you could tell that the night was more than just about ten years of Acid Rap. It was about ten years (and then some) of doing it his way with his people to a level of success that he only dreamed of.
Sitting in Barclays Center, as Chance The Rapper concluded the night with performances of other Acid Rap standouts like "Favorite Song" and "Smoke Again," you're left to reconsider where the reality lies for Chance. It exists further from his social media perception and closer to the one that existed in the inescapable atmosphere of the arena. One where his fans from around the way and far away gathered to celebrate one of the most unique rappers in this modern era and his decade-old magnum opus. Whether it was Acid Rap classics or his most recent releases, Chance was met with the same excitement from the crowd. His run of shows for Acid Rap is a moment to celebrate his past, but it's also one to remind us of his present status — the real one — in preparation for his future. Hate him or love him, Chance The Rapper seems ready to continue doing what he does best as he announced his second album Star Line Gallery would arrive in 2024. So as the night concluded, Chance left the crowd with one thing to remember:
"I am Chance The Rapper and I will always be Chance The Rapper."
Source: News