Christian Rap: A Beginner's Guide & 15 Artists to Know
April 23, 2023
So! You've recently heard of Christian Rap, and you're wanting to hear more of it and more about it. Or maybe you've known about Christian Rap for some time now, but you want to brush up on some details. Either way, you've come to the right place!
Here you may find a handy primer to the circles of hip-hop known as "Christian Rap" which for our purposes includes hip-hop with a large proportion of Christian listeners. We'll walk through a very brief history of the subgenre, some prominent artists to know, and a few places to hear more. Read on, adventurer! 
It goes without saying that this brief history segment has no chance of being comprehensive. If your favorite doesn't get mentioned, my apologies. The way I see it, Christian Rap history can be boiled down to five essential stages:
The Originals: What if Christians Rapped?
Of course, at some point, someone had to get the ball rolling and be the first to rap about Jesus and put it on a record. The beginnings of Christian Rap can be found in the 1980s with the likes of Stephen Wiley, Michael Peace, and later D-Boy, S.F.C., and others. Unfortunately, these pioneers often faced difficulty gaining traction. They were "too churchy" for the world and hip-hop was "too worldly" for the church. This leads me to the next stage of Christian Rap history…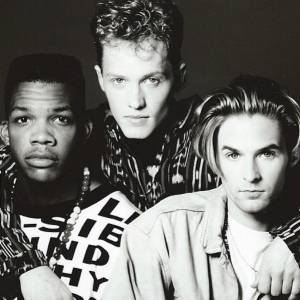 DC Talk: Christians Rapping is Cool Now!
In the late '80s, Liberty University students TobyMac, Michael Tait, and Kevin Max came together to form DC Talk, a band that was active until the early '00s. Though the name DC Talk is more known now as a rock band, the trio initially had a hip-hop-leaning pop-rap fusion sound. DC Talk undoubtedly paved the way for Christian Rap to find its acceptance with Christian listeners. Before even releasing an album, DC Talk had already sold thousands of copies of a demo tape (Christian Rhymes to a Rhythm) at Liberty (a private Christian university). 
In fact, one of the biggest hits of their early years was called "I Luv Rap Music" off their second album Nu Thang. Their third album Free at Last propelled them to mainstream success with its use of sampling and groundbreaking production.
After the pioneers blazed a trail and DC Talk opened the door for an audience, the stage was set for Christian Rap to grow into the phenomenon it is today.
The Cross Movement and Other Supergroups
In the late '90s and early 2000s, several supergroups associated with Christian Rap and underground hip-hop emerged onto the scene. One of the most prominent of these was The Cross Movement, a Philadelphia-based group comprised of The Ambassador, The Tonic, Phanatik, T.R.U.-L.I.F.E., Cruz Cordero, Enock, Earthquake, DJ Official, and others. This group was characterized by theologically-focused hip-hop, with the "Christ" in "Christian Rap" the very clear center of nearly every song.
They also founded Cross Movement Records, helping to propel the careers of the next generation of Christian Rap (such as Da' T.R.U.T.H., FLAME, and Lecrae). 
Other significant groups from this era include Deepspace5, Tunnel Rats, and L.A. Symphony. Many members of these groups are still active today!
Reach Records: Taking the World by Storm
I hope it's clear by now that the main players of each stage genuinely are standing on the shoulders of the giants before them. During the late 2000s and early 2010s, a lot of names were putting out quality music. Among them are Lamp Mode Recordings, Humble Beast, Collision Records, Reflection Music Group, God Over Money Records, and Illect Recordings.
As far as overall impact goes, though, one name stands out: Reach Records. Not that long after the label was founded in 2004 by Ben Washer and Lecrae it seemed like every youth group in the world was rocking out to Lecrae, Andy Mineo, and Trip Lee, while 116/Unashamed was a global phenomenon. Christian Rap saw its first Grammy and the bar raised for Christian hip-hop tours during this era. 
The Present
We're now living in the middle of a huge buffet of quality Christian Rap. Just check out Joshua Galla's weekly list of CHH releases! There's no definitive "center" of the subgenre; rather, talented artists are thriving in many different lanes.
Reach Records sees continued success while adding artists like WHATUPRG, Wande, Hulvey, and Limoblaze to its roster. Other labels like Humble Beast, Illect, Wrath and Grace, God Over Money, and RMG continue to thrive, while indie tribe. is bringing back the supergroup mentality and hosting festivals.
Christian Rap OGs like Ambassador, Pettidee, and KnowdaVerbs are releasing comeback albums. Platforms like Trackstarz, God's House of Hip Hop, FiveTwenty Collective, and the Kingdom Choice Awards provide important infrastructure for Christian Rap artists and fans alike. There is seriously too much to even cover for this introduction, so make sure to check out the Rapzilla Christian Rap playlist and read on to learn about some specific names that are worth knowing!
Lecrae
Right off the bat let's talk about one of Christian Rap's most influential artists (if not the most influential). If there was a "Mr. Christian Rap," it might be him. In the early 2000s, Lecrae was busy co-founding Reach Records, starting the 116 Clique, and releasing a few albums with some help from Cross Movement Records.
2008's Rebel and 2010's Rehab began a run of albums that propelled Lecrae into the public eye, helping to turn Christian Rap into the phenomenon it is today. In 2012, Lecrae released his first Church Clothes mixtape for free on DatPiff, garnering more than 100,000 downloads in under 48 hours. Lecrae's Gravity, also released in 2012, was the first Christian Rap album to win a Grammy Award.
Lecrae has released more than 10 full-length albums and is known for his hard-hitting style and willingness to address tough topics, whether gun violence, faith struggles, depression, or hypocrisy in the church.
NF
If you said Michigan rapper NF was the most successful rapper on this list by the numbers, you'd probably be right. He's had several studio albums go platinum, he toured with Logic, and in 2019 he beat Chance the Rapper to the #1 spot on Billboard when they both released albums in the same weekend. Born Nathan Feuerstein, NF became the first rapper signed to Capitol Christian Music Group (home to artists like Chris Tomlin and The Newsboys) in 2014. He's known for his dark and cinematic style, intense and emotionally-charged lyrics, and all-out music videos.
Although he'd personally classify himself outside of the genre, many of his fans can't let him go. There's also the tendency unless objectionable material was made, for everyone to classify him as a Christian artist because that's where he started.
His newest album Hope points a lot to his Christian roots again, so who knows!
nobigdyl.
#AllLowercaseWithAPeriod! nobigdyl. might be a thorn in the side for editors and spellcheck, but he's certainly not a name to forget. The Tennessee rapper has made himself noteworthy by consistently putting out quality content and elevating those around him to be the best they can be. In particular, dyl. is a founder of the group indie tribe., another name worth knowing (check out their 2021 album UPPERHAND!). nobigdyl.'s style is easygoing and refreshing, but he's not afraid to tackle tough topics like suicide or pride either. 
Derek Minor
Next up is Derek Minor, a hard-hitting artist and producer with a knack for the business side of the music industry. He co-founded Reflection Music Group (or RMG) in 2009 alongside Doc Watson and later RMG Amplify. All-in-all, Derek Minor has played a critical role in helping dozens of very talented artists reach a broader audience–all while consistently releasing albums himself. A highlight is his series of four albums, Your Soul Must Fly, High Above, The Trap, and the final installment By Any Means, which tragically never released.
Thi'sl
With an incredible testimony and buckets of wisdom, whenever Thi'sl says something it's a good idea to pay attention. Not only an artist but also a label owner (Full Ride Music Group), motivational speaker, and author, Thi'sl has been in the Christian Rap game for a long time, appearing on the original 116 Clique compilation album in 2006 and being active in music long before even that.
Thi'sl's music is unapologetically for the streets, unapologetically evangelistic, and unapologetically real, weaving together tales of drug dealing, gun violence, and God's saving grace. Check out "Real Live Forever" or his album Beautiful Monster. 
Propaganda
Steeped in both battle rap and slam poetry, Propaganda brings a unique sound to this list. The California artist got his start with the Tunnel Rats before partnering with Humble Beast (a label that will come up a few more times in this piece) to release several albums.
Lyrically, he's known for tackling important issues with a thought-provoking, pull-no-punches approach–just listen to "Crooked Ways" and you'll see what I mean. Propaganda has recently released a series of albums called Terraform that are worth a listen–though I would also point to 2012's Excellent as a worthy classic.
Bizzle
"God Over Money!" That's the common refrain of rapper and entrepreneur Bizzle, as well as the name of the label he founded. Bizzle started out as a mainstream rapper before being saved in 2008. Since then, he's dropped mixtapes and studio albums like nobody's business and signed several artists, including Datin, A.I. The Anomaly, and several others. Bizzle has always been unafraid to speak out against problems he sees in the world around him, whether that be rap culture or broadly. 
Shai Linne
Shai Linne is one of the finest examples of what he has coined "lyrical theology," that is, hip-hop that communicates rich spiritual concepts in an articulate way. His first album, The Solus Christus Project, was released in 2005, but the Philadelphia emcee was active in the space even before that. He hails from Lamp Mode Recordings, a record label that's home to several other lyrical theology-heavy acts, such as Timothy Brindle, Stephen the Levite, and more.
In 2017, Shai Linne's commitment to Christ-centered music led him to make some challenging statements about the state of Christian Hip-Hop on his album Still Jesus, leading to some controversy. You can read his follow-up on that here. Linne's music is a lyrical tour de force (he was once ranked the fourth-best rapper alive) over old-school beats. And it's as educational as it is entertaining; 2014's Lyrical Theology, Pt. 1: Theology is like an hour-long seminary course and you'll love every minute. 
KB
"His Glory Alone" is the mantra of Tampa-based rapper KB. The passionate artist released several albums with Reach Records before heading in a new direction in 2020. His music is usually theologically rich, musically high-energy, or (most often) both. The 2020 album His Glory Alone represents some of the best of Christian Rap and pulls inspiration from worship music – for example, "10k" draws from Matt Redman's "10,000 Reasons (Bless The Lord)."
KB is also the artist behind the enduringly-popular "Church Clap" and a cohost of the popular podcast Southside Rabbi. 
Jackie Hill Perry
The second artist on this list hailing from the mighty mighty Humble Beast, Jackie Hill Perry does it all. Her two albums (The Art of Joy and Crescendo) are each masterpieces. On top of that, she's the author of multiple books, an acclaimed speaker, a spoken word poet, and co-host of the 30 Minutes with the Perrys podcast alongside her husband, Preston Perry.
Her ridiculously impressive resume isn't unwarranted, as she brings wisdom and charisma to seemingly all her work, whether music or podcasting, or anything else. 
Montell Fish
Montell Fish made his entrance on the Christian Rap scene with his album As We Walk Into Forever in 2016. Over the years he's fleshed out his sound by experimenting with lo-fi, live instruments, R&B elements, and more. What has emerged is a unique style that's all his own.
Montell Fish has co-founded his own label/merch brand Lord's Child and is known for his storytelling and his uniquely aesthetic music videos and song visualizers. Camp Lukewarm is a great place to start with Fish's discography. 
Although his new direction has fsr left the constraints of CHH due to its content, we are still unclear if Montell is playing a character in a long-term art piece.
Andy Mineo
Andy Mineo has been a household name in Christian Rap since the release of his debut album, Heroes for Sale, and he hasn't slowed down since. He's a frequent collaborator with other Reach Records artists and beyond and even started his own creative collective, Miner League, for artists like Wordsplayed and Willow Stephens. Mineo has shown himself to be proficient at a number of styles, from the high-energy hype track "You Can't Stop Me" to the introspective and honest "Clarity." 
Ruslan
The ever-charismatic Ruslan may be more well-known as a YouTuber nowadays, but you shouldn't sleep on his music. He's released more than 10 albums, whether solo or as part of Dream Junkies (with Beleaf and John Givez) or theBREAX (with Beleaf).
Ruslan has a light but knowledgeable west coast style, and just like his YouTube commentary, he's never afraid to chip in with his two cents. Ruslan also notably founded the label Kings Dream Entertainment in 2012. His Indie Jones trilogy of albums is worth checking out and Dream Junkies' Good Religion is a modern classic. 
Social Club Misfits
Rappers Marty and Fern are Social Club Misfits, and if you couldn't tell by the word "misfits" in their name, they make a pretty unique duo. The two have distinct styles that you would expect to clash, yet always work wonders when they collaborate. Starting by releasing free mixtapes in the early 2010s, Social Club Misfits (originally just Social Club) has built a cult following through their unrelentingly goofy yet authentic tone. Check out their album Into the Night, or maybe go all the way back to 2014 and listen to "Cops," a song about police shutting down a pizza party, if you're feeling a little chaotic.
Beautiful Eulogy
If there's such a thing as "coffee shop rap," Beautiful Eulogy would be a fine example. The group is a trio with a truly unique style made up of producer Courtland Urbano and rappers Braille and Odd Thomas. Beautiful Eulogy songs often include unique samples, inspiration from hymns, and impressive lyricism. It's the perfect Sunday Morning spin. Their album Instruments of Mercy is a great starting point, though all three of their albums are very worthwhile. 
There are so many artists, record labels, etc. that have made the genre into what it is today–too many to count, let alone include here. This simplified history and list of 15 artists is just a starting point. Make sure to tune into the Rapzilla Christian Rap playlist and maybe poke around the Rapzilla site for more Christian Rap to get familiar with!
---
Source: News