Electropunk rap duo Paris Texas kicks off 'Mid Air' tour in Chicago … – Columbia Chronicle
September 7, 2023
Pioneers of the experimental rap scene, Los Angeles duo Louie Pastel and Felix bring fresh new soundscapes to the table. While it's nothing new for the duo to fuse punk rock, alternative, electronic and trap together to form a song, their ever-changing sound is even more prominent in the release of their debut studio album "Mid Air."
The album is compiled of 16 tracks, and is the band's lengthiest project to date, showing their extensive growth in sound while simultaneously maintaining their signature flare.
Louie and Felix, who are both rappers and songwriters, deliver their lyrics with angst while simultaneously holding ironic/comedic takes on topics such as struggle and loss, gun violence and the pure excitement that youth holds. Oftentimes their raps are backed by heavy guitar riffs played by Louie, who learned how to play when he was 15. Their name comes from the road trip movie, "Paris, Texas."
"I think it pushes the boundary of what rap and rock looks like," said Jayla Brown, a fan waiting outside of the venue before the show. "A lot of people have a set idea of what each looks like and they [Paris Texas] blur those lines."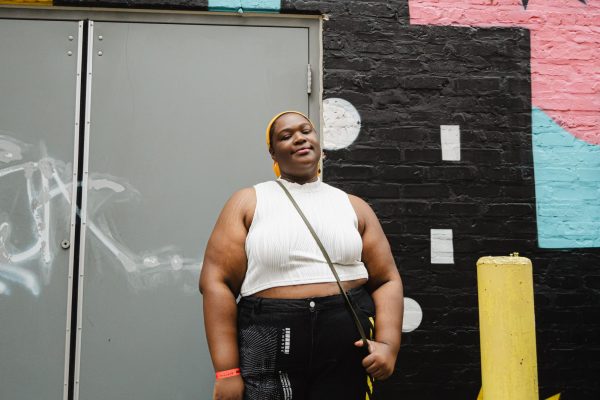 Taking an authentic DIY approach to their art, Paris Texas also create cinematic short films that accompany their music. Louie writes and compiles all of the scripts to the short films and movies that the two artists produce.
The duo heavily preaches creative freedom alongside not wanting to be boxed into a specific genre. "It's just so crazy, with what Paris Texas really is? Visuals, movies, craziest videos, short stories, crazy album art, songs that don't make any sense—that have 30 bridges and breaks like that? So anybody being like, 'rap-rock!' It's like: you're a f**king idiot." Louie told Esquire in a July 2023 interview when the new album came out.
Fans waiting outside for the concert doors to open resonated with the artist's message of not wanting to be seen as only one thing or another.
"People always have an idea of what boxes to put people in when you look at them, and when they go against that, people get uncomfortable," said Brown, "[People] are like, 'wait a second, this isn't what I thought [it would be],' but I'm not going to fit your idea if you don't even know me."
A large contribution to the duo's success and relatability lies in the fact that the band members embrace the odd-kid-out aesthetics, which didn't make them immune to the traumas of premature death, mental illness, and drug abuse.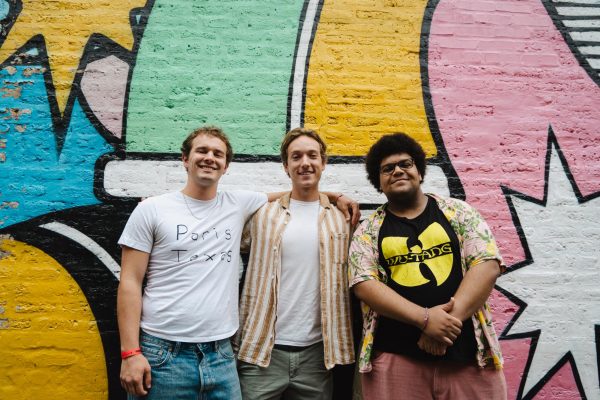 "For a while I felt weird listening to punk music because all of my friends listened to rap," Lukas Sheves said. "Hearing Paris Texas made me feel really at home because it's punk music for anyone who likes everything about rap."
When listening to the bands' overall sound, the rowdy rap duo makes ideal head-banging music.
"Unique, loud, and rambunctious," said Skyla Stewart when asked to describe the band's sound in three words.  "Their beats are very unique and different, but so catchy; they put you in a good mood automatically."
Skyla Stewart and Abby Stoev, who live in suburban Chicago, were first in line outside of Lincoln Hall, arriving at noon ahead of the 8 p.m. show. Fan Andrew Burton flew in from Kansas City. Andrew Guest and Jude Huck-Reymond drove five hours from St. Louis for the sole purpose of seeing Paris Texas perform.
Opening with "tenTHIRTYseven," the first track of the "Mid Air" album, the band continued to play for two hours straight. "Chicago, you are showing us so much love it's crazy," Louie said. Throughout the  show, the band signed belongings from the crowd, had fans up on stage and later jumped into the crowd's mosh pit.
"The ability to have a whole new experience when you bring punk elements [into rap] and it melds so well, I don't think we'll ever experience something like this or at least anything anytime soon because of how well Paris Texas is doing it." Sheves said.
Source: News