Empty Bowls event combines Kennesaw State art, music and … – Kennesaw State University
November 10, 2023

KENNESAW, Ga. |
Nov 10, 2023
As a student string quartet played in the background, Kennesaw State University sophomore Maddie Bell spun clay on a potter's wheel at the front of the Kennesaw Campus student center's University Rooms on Thursday afternoon.
Inside those rooms, donors became diners in an annual fundraising luncheon called
Empty Bowls that supports students in need. For a $35 donation, attendees were served
a soup lunch by campus dining services and got to take home a handmade bowl built
by Kennesaw State students.
Bell, a ceramics and graphic design double major, said that knowing that many of the bowls she and her classmates have been forming, glazing and baking the past few months will benefit her peers in need fulfills her.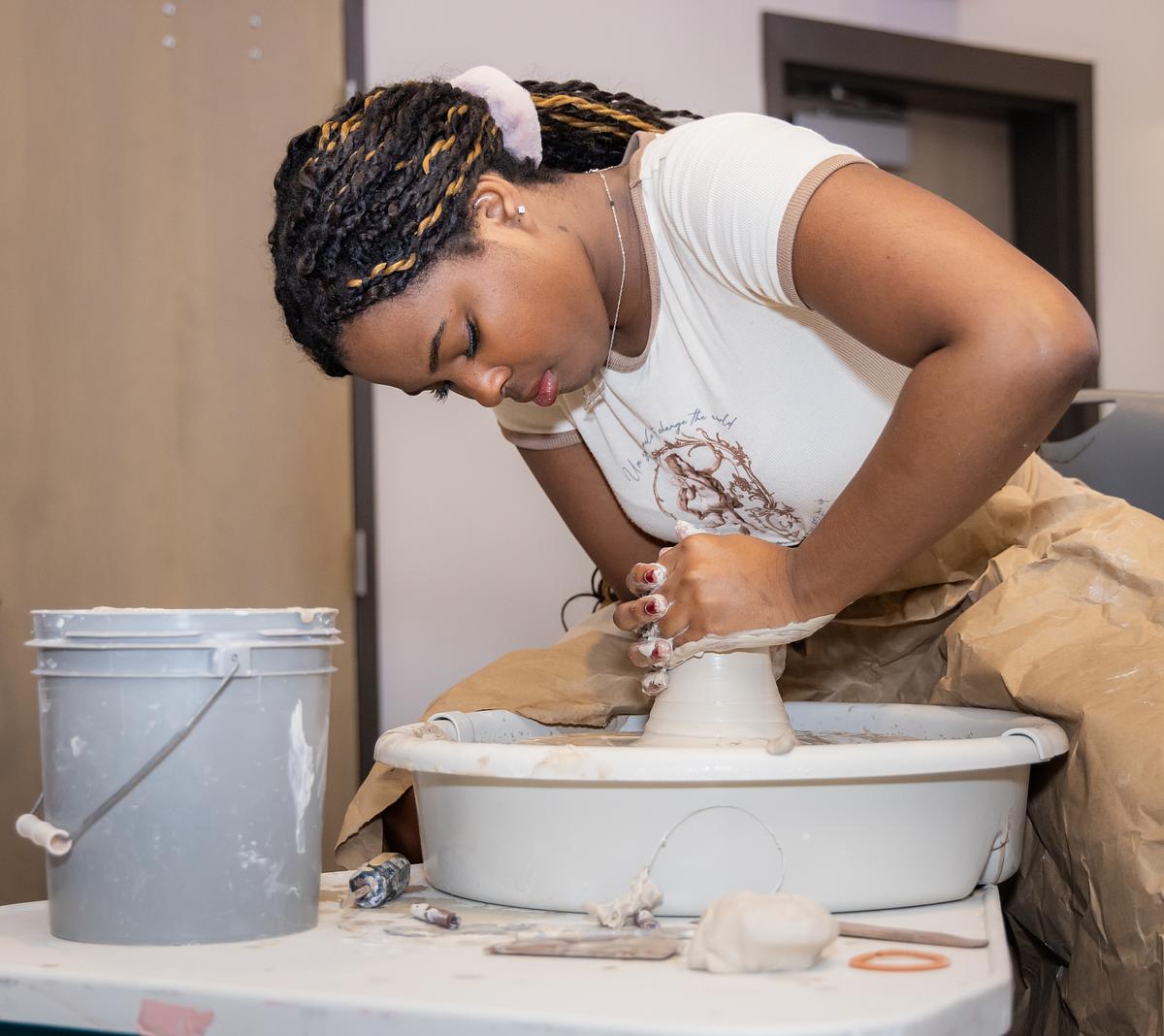 "I think it's an important event, because I don't think people are always aware of student hunger or homelessness or that we have a food pantry," Bell said. "It gives people an opportunity to appreciate different forms of student art and supports a good cause, so why not support it?"
The scene at KSU's annual Empty Bowls event illustrated the partnership between the College of the Arts, Campus Dining, Division of External Affairs and Division of Student Affairs that culminates in the program observing Hunger and Homelessness Awareness Week each year.
Now in its seventh year, Empty Bowls is one of KSU's largest fundraisers for Campus Awareness, Resource & Empowerment (CARE) Services. Including Thursday's event, the program has raised more than $30,000 to support food insecure students on campus through the CARE Pantry.
"The event would not be possible without these critical partnerships that provide beautiful ceramic bowls made by KSU students, a delicious and nutritious meal and programming support," said William Hargrove, assistant director for student volunteerism and service. "We want the program to symbolize the importance of community building and collaboration in tackling large societal issues both on our campus and in our wider community."
Empty Bowls and other Hunger and Homelessness Awareness Week events support CARE Services
initiatives, including its newest program, Emergency Assistance, and ASCEND, a retention program to ease the transition from high school and through college
for students who have experienced homelessness or foster care.
Of the 745 applicants for Emergency Assistance funding in 2023, 89% said they were
likely to drop out had they not received help. ASCEND likewise has made a difference
for its enrolled students, showing steadily increasing average GPAs and retention
rates since academic year 2020-21.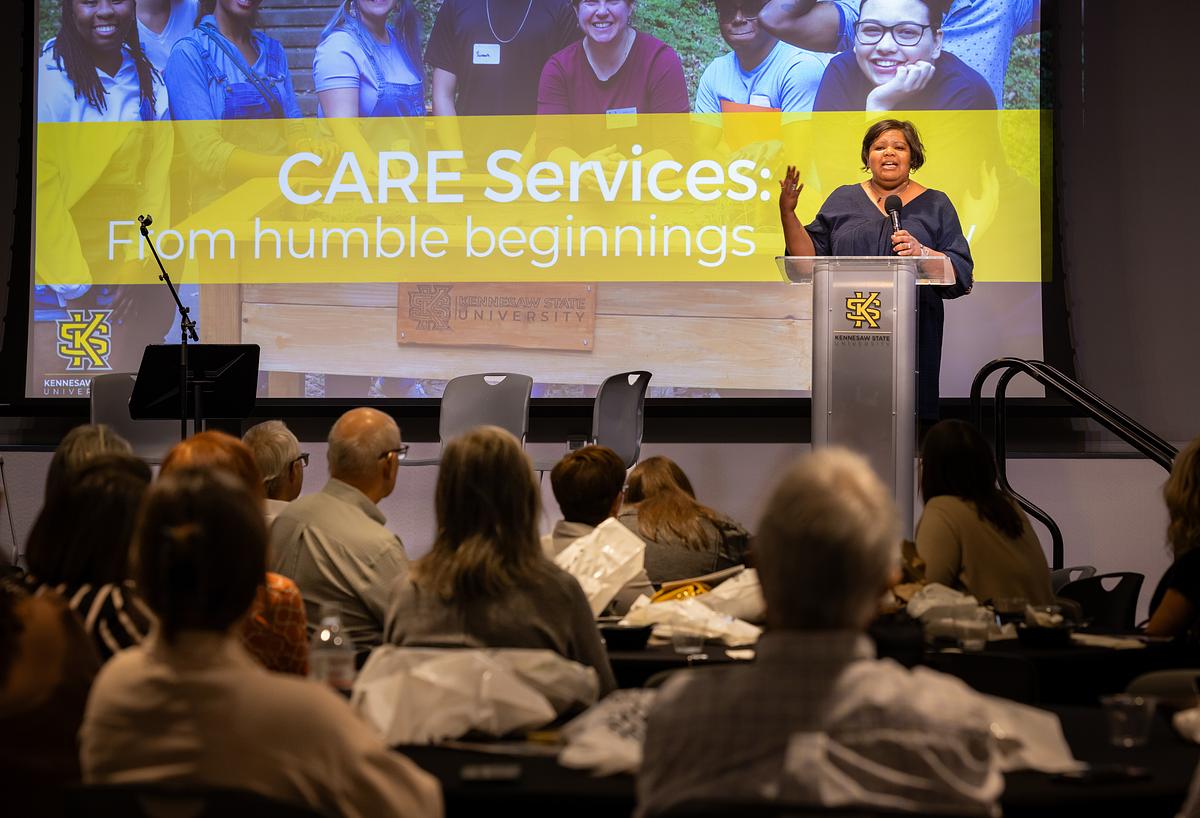 Support of these education programs are key to breaking the cycle of poverty and keeping
students in need on a steady track to graduation and a fulfilling career, said Marcy
Stidum, assistant vice president for student wellbeing.
"CARE programs show students what their life could be like with a degree in hand, and at the same time, they have people who support and guide them along the way," Stidum said. "Events like Empty Bowls help make it possible for CARE to help students believe that they deserve to live their dreams."
Near the close of Thursday's program, KSU senior Salmah Repole, an information systems and graphic communications double major, shared her own background in pottery. She told the crowd about a facility near her home where she would spend her summers making ceramics and also about a Danish term – hygge – her mother taught her to describe the warmth and life that her handmade bowls had over store-bought ones. That's why she loved them, Repole explained.
"When you pick up a bowl made by one of our students, I want you to look around it," she said. "See where they left a fingerprint, where they held it to dip it in the glaze. Look for the human touch in all the various stages of its making, because with every bowl we made, we want to symbolize the warmth that we want to extend and bring awareness, action and understanding to every student who's facing homelessness and food insecurity."
–      By Thomas Hartwell
Photos by Judith Pishnery
Related Stories
A leader in innovative teaching and learning, Kennesaw State University offers undergraduate, graduate and doctoral degrees to its more than 43,000 students. Kennesaw State is a member of the University System of Georgia with 11 academic colleges. The university's vibrant campus culture, diverse population, strong global ties and entrepreneurial spirit draw students from throughout the country and the world. Kennesaw State is a Carnegie-designated doctoral research institution (R2), placing it among an elite group of only 7 percent of U.S. colleges and universities with an R1 or R2 status. For more information, visit kennesaw.edu.
Source: News