European integration as a response to global fragmentation
May 9, 2023
Speech by Fabio Panetta, Member of the Executive Board of the ECB, at an event on "Integration, multilateralism and sovereignty: building a Europe fit for new global dynamics" organised by Bruegel
Brussels, 24 April 2023
Recent developments have raised the question of how geopolitics will affect global economic relations in the 21st century.[1]
History suggests that the world is facing a trilemma, whereby peace, open trade and antagonistic political competition struggle to coexist. Open trade and peace can only be sustained if a stable political, economic and legal international order supported by common institutions offers a non-conflictual and enforceable way of dealing with disagreements.
This lesson was the basis for the creation of multilateral international institutions and European integration after the Second World War. They supported trade integration and facilitated access to capital, labour, natural resources and technology.
But in recent years severe geopolitical tensions have emerged, posing a threat to both peace and trade, and in turn to prosperity. These tensions increase the risks of multiple supply shocks destabilising prices and the economy, making it more difficult for central banks to deliver on their mandates.[2]
In this context, technology is taking on a crucial role. It remains a key driver of trade, notably in services. It offers an antidote to the effects of a possible reversal of globalisation by making it possible to use scarcer resources more effectively and reduce dependencies. And it supports growth by generating productivity gains. But it may exacerbate political competition as major powers strive for technological dominance.
Today, I will argue that closer European integration is the best response to global fragmentation. It provides us with the necessary foundation and scale to bolster our resilience to this fragmentation and our influence on international developments.
I will start by discussing the link between globalisation and the EU's economic model. I will then turn to economic fragmentation and the changing nature of globalisation, emphasising the implications for the economy and monetary policy in Europe. And I will consider how the EU can pursue openness while preparing for fragmentation scenarios.
Globalisation and the EU's economic model
In the aftermath of the Second World War, global trade integration underpinned by multilateral institutions aimed to reduce the risk of conflict. The General Agreement on Tariffs and Trade (GATT)[3], signed in 1948, sought to liberalise trade and correct the protectionist measures that had been in place since the 1930s. In 1995 the World Trade Organization (WTO) replaced the GATT, providing the world economy with a negotiation forum where countries could address trade issues under the aegis of an agreed system of rules and a mechanism for solving trade disputes peacefully.[4]
Around the turn of the century, we entered a phase of globalisation "on steroids"[5] marked by a considerable increase in trade (Chart 1) and the integration of India and China into the world economy.
Chart 1
Developments in world trade since the 1870s
This globalisation boom has had positive effects for the global economy overall,[6] as the reduction in tariff and non-tariff barriers[7] fostered trade, job creation, innovation and growth. The increasing participation in international trade has allowed emerging market economies to reduce the technology gap, improve institutional capacity and promote the accumulation of physical and human capital.
The EU has been a major contributor to the open trade system, achieving high levels of economic integration with the rest of the world. Trade flows between the euro area and the rest of the world reached 54% of euro area output in 2021, compared with 26% in the case of the United States. Regional and global integration has given the euro area an advantage over other advanced economies: by enhancing country specialisation and input sourcing possibilities, it has supported competitiveness and export market shares.[8]
But the EU's reliance on exports was not complemented by adequate domestic investment and home-grown innovation. And the current circumstances highlight the significant risks of relying excessively on foreign demand as a growth engine. It can distract from the need to invest domestically and to improve competitiveness. And it can obscure the fact that dependencies on trade linkages can turn into vulnerabilities, allowing foreign players to weaponise them. Therefore, the EU needs to rely more on domestic demand – like other large, advanced economies – and reduce its dependencies.
Indeed, the euro area growth model largely relied on the assumption that an open multilateral economic order would continue to prevail in the future, guaranteeing continued access to relatively cheap imported resources, critical raw materials and technology. Investing in openness was often seen as a substitute for domestic investment in our physical, human and social capital.
It is now clear that these favourable conditions can no longer be taken for granted. We therefore need to rebalance the EU's economic model.
Challenges for the European economy
Fragmentation pressures
The principle of multilateral cooperation – which most countries had until recently adhered to – is now facing formidable challenges, which are leading to fragmentation in international trade and finance.
The shocks that have hit the world economy have exposed the flip side to economic interdependence, which is vulnerability. Geopolitical risks have triggered a flight to safety, and many countries are putting an emphasis on greater autonomy.
While this is not a new trend, it is a fact that protectionist tendencies – which had already increased in 2017-18 with the trade dispute between the United States and China – increased further after the COVID-19 pandemic (Chart 2). And they have intensified further still following Russia's invasion of Ukraine. The EU – for decades a champion of openness and integration – has developed its Open Strategic Autonomy agenda in order to prevent dependencies becoming vulnerabilities.[9]
Chart 2
Measures harmful to trade in net terms
Geopolitical tensions and global fragmentation could entail high economic costs. Simulations by Eurosystem staff show that a fragmentation of the world economy would lead to sizeable losses in both global trade and welfare.[10] The EU thus needs to continue working towards safeguarding trade openness while increasing its own resilience to fragmentation.
The changing nature of globalisation
So far, the levelling-off of global trade in goods since the great financial crisis can be characterised as a phase of "slowbalisation" rather than "deglobalisation".[11] In the services sector, the growth of international trade seems to be signalling a continuation of globalisation trends driven by technological progress.[12] Overall, aggregate data do not point towards deglobalisation, at least not for now.
At the same time, the nature of globalisation may be changing. Firms are becoming more inclined towards nearshoring, onshoring or friend-shoring their supply chains, especially for the production of advanced technologies (Chart 3).[13]
Chart 3
Incidence of terms related to supply-chain reshoring in firms' earnings calls by sector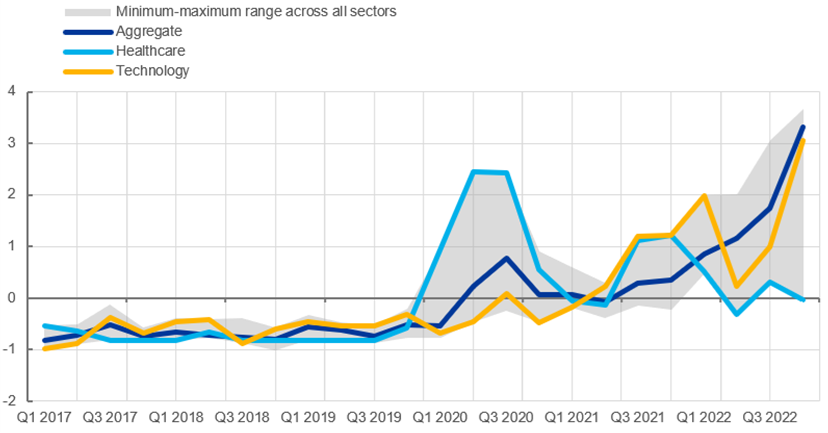 Moreover, foreign direct investment in strategic sectors is becoming more fragmented, primarily to the detriment of Asian countries.[14] For instance, large US chip companies are showing a long-term commitment to moving their manufacturing plants back to the United States, also in response to the US CHIPS and Science Act.[15] These pledges mark a significant shift in the ability of US industry to manufacture semiconductors after two decades of dependence on offshore production.[16]
Implications for the EU economy and the ECB's monetary policy
This new state of affairs poses challenges for the EU economy and the ECB's monetary policy. Weaker trade integration could significantly reduce welfare because our economy is one of the most open and outward-oriented large economies. Its interdependencies could therefore turn into vulnerabilities (Chart 4).
Chart 4
Summary heatmap of EU trade dependencies

Fragmentation may also affect the ECB's monetary policy. Geopolitical shocks may trigger persistent output and inflation volatility, with multiple spillovers.[17] Russia's aggression against Ukraine has, for instance, disrupted energy and commodities markets, with major implications for inflation.
Moreover, the evolving nature of globalisation could influence the natural rate of interest. Efforts to diversify imports and reduce foreign dependencies on specific countries may reduce productivity and curb the demand for safe assets coming from these countries, pushing up global interest rates. Capital movements and financing conditions could also be affected. At the same time, changes in international labour supply may affect the composition and dynamics of domestic labour markets, causing mismatches, changes in wage-setting relations and wage rises in the longer run.
Dealing with fragmentation
In this environment, the challenge is to pursue openness while preparing for fragmentation scenarios.
The way forward should include at least the following elements.
On the external front, the EU should continue to defend the principle of multilateralism, resisting the formation of closed blocs. A trade confrontation would lead to significant losses (Chart 5). We should not shy away from pursuing a more assertive role in fostering global cooperation. We should leverage our large internal market and significant share of global trade[18], while at the same time strengthening cooperation beyond close partners.
Chart 5
Change in EU27 trade flows in a trade fragmentation scenario
The EU should also diversify its participation in supply chains. The role that low-income countries can play in the EU's supply chains should be considered further. Successful partnerships, including with low-income countries, could reduce the risk of value chains fragmenting along geopolitical blocs, especially in areas such as the green transition, where cooperation is vital and critical raw materials play an essential role.
The EU also needs to revisit its growth model, balancing external orientation with home-grown demand. The reasons are threefold. First, to remedy insufficient public investment and structural reforms, for which we should leverage European tools and objectives, as we did for the Next Generation EU. Second, to raise total factor productivity, which requires increasing investment in domestic research and cutting-edge civil and defence technologies. And third, to leverage the complementarity of Member States' economies, using comparative advantages within the Single Market to reinforce European value chains, foster competitiveness and boost resilience to geopolitical shocks. This would also increase European cohesion and internal convergence.
European integration will also strengthen our ability to influence international developments. Well-coordinated, common EU action can be more effective at global level than isolated moves, especially when facing players of considerable economic and political weight.
Initiatives to deepen Economic and Monetary Union and strengthen the integration of the Single Market would also make our economy more resilient and stable, especially if backed by an appropriate common fiscal capacity. Such a fiscal capacity would support the necessary investment in EU public goods in areas such as the green transition, digital innovation and military spending.[19]
Policies aimed at increasing our strategic autonomy need to be carefully coordinated to ensure that they do not lead to internal fragmentation themselves. The EU's strategic autonomy framework should avoid a counterproductive reliance on national solutions to global shocks, as this could bring about an internal race for subsidies, inefficient allocation of resources or unfair competition among EU Member States, exacerbating domestic economic divergences to the advantage of Member States with more fiscal space (Chart 6). The European Commission's new Temporary Crisis and Transition Framework – which fosters public investment support in sectors which are key for the transition towards a net-zero economy – acknowledges this risk and includes several safeguards. Importantly, aid cannot trigger relocation of investments between Member States.[20] Undue protectionist policies that give a competitive edge to domestic industries may trigger beggar-thy-neighbour effects that undermine trust and openness.
Chart 6
Public debt and State aid expenditure in 2019
Conclusion
There are no easy answers to geopolitical challenges that endanger peace, trade and prosperity, especially when the decisions steering geopolitics are beyond, or largely beyond, the control of domestic policymakers. Yet some of these decisions have severe consequences for the economies and policies of all countries. This was why in the aftermath of the Second World War a new global order was created – based on multilateral institutions – to buttress world trade.
But the current and future shape of the European Union and euro area is in the hands of Europeans. Closer European integration is the best response to global fragmentation. It gives us a stronger voice on the international stage to promote cooperation and openness. It provides the necessary scale to invest in technology and capitalise on domestic resources. And it is the right level on which to foster an open strategic autonomy that builds on the Single Market, rather than undermining it.
Source: News