Fair or not, Dodger Stadium has earned a reputation for fan brawls – Los Angeles Times
September 10, 2023
A scuffle erupts just outside the ballpark as fans leave the game. It begins with shouting and two men grappling, then others joining in. A guy wearing a Clayton Kershaw jersey gets hit with a wild punch and crumples unconscious to the ground.
The brawl, one of dozens of reported altercations this season, quickly goes viral and shows up on the evening news. It adds to a history of ugly scenes from Dodger Stadium.
Over the last decade, the iconic ballpark has become known for more than its warm sunsets and wooded hills in the distance. Since the 2011 beating that left San Francisco Giants fan Bryan Stow in a coma, each spring has brought new examples of fan violence, with cellphone videos popping up on social media and making national headlines.
"There is a reputation that Dodger Stadium has," said Daniel Wann, a psychology professor at Murray State University who studied security at the venue before giving a deposition in Stow's civil case. "That culture didn't happen overnight."
The accuracy of this perception is difficult to confirm, at least in terms of publicly available data. The Los Angeles Police Department, which periodically has acknowledged a problem and vowed to boost enforcement, deferred all questions to the team. The Dodgers declined to comment.
As another baseball season nears its end, The Times spoke with crowd behavior experts and analyzed hundreds of LAPD crime reports to address a lingering question.
Does Dodger Stadium deserve its bad rap?
It was a disturbing moment in an otherwise cherished history. Two Dodgers fans who, according to witnesses, had taunted and threatened Giant fans throughout the 2011 opening-day game accosted Stow and his friends in the parking lot afterward. They sucker-punched and kicked Stow, causing brain damage. The men were sent to prison for assault and mayhem.
Major League Baseball soon issued a report citing a deterioration of crowd behavior and "a culture of apathy and indifference" among the team's security staff.
Frank McCourt, then owner of the team, hired a consulting firm to review policies, and the LAPD vowed to deploy a "sea of blue" on game days.
"We will expend whatever resources necessary to keep fans safe at Dodger Stadium," said Charlie Beck, chief of police at the time. "This is going to be a game-changer."
Wann points out that "98% of fans do it right. We have to remember that." But, in the years since 2011, troubling incidents have continued.
A fan was beaten after a minor fender-bender in the parking lot the following season. There was a 2015 incident in which a mother and son were arrested for attacking a New York Mets fan and a bloody 2017 fight between Dodgers and Angels fans. A 2019 assault left lifelong Dodgers fan Rafael Reyna with brain damage.
This season began with an April free-for-all in the concourse and a May fight among several men and women that left a man unconscious.
Fight in the crowd at Dodger Stadium on Aug. 3, 2021. Courtesy of Jake Reiner
"The physical footprint of [Dodger Stadium] is so large and you have so many different types of crowds there," said Gil Fried, a venue security consultant and professor of sport management at the University of West Florida who, as an expert witness in the Stow case, also studied the venue. "This stuff is happening in the stands and in the parking lots as well."
Public records documenting violence at the stadium are limited. The Times reviewed 13 years of LAPD crime reports — accounts that are filed after some but not all incidents. They were submitted by uniformed patrol officers who monitored the stadium and its parking lots at games.
The reports listed Dodger Stadium as the premises and were recorded just before, during or after home games. Some were grouped under identical times, suggesting they originated from the same fight; The Times counted those as one.
During the 2011 season, after Beck announced a crackdown, police wrote 20 reports, 12 of which involved assault, battery or other alleged violence against 12 victims.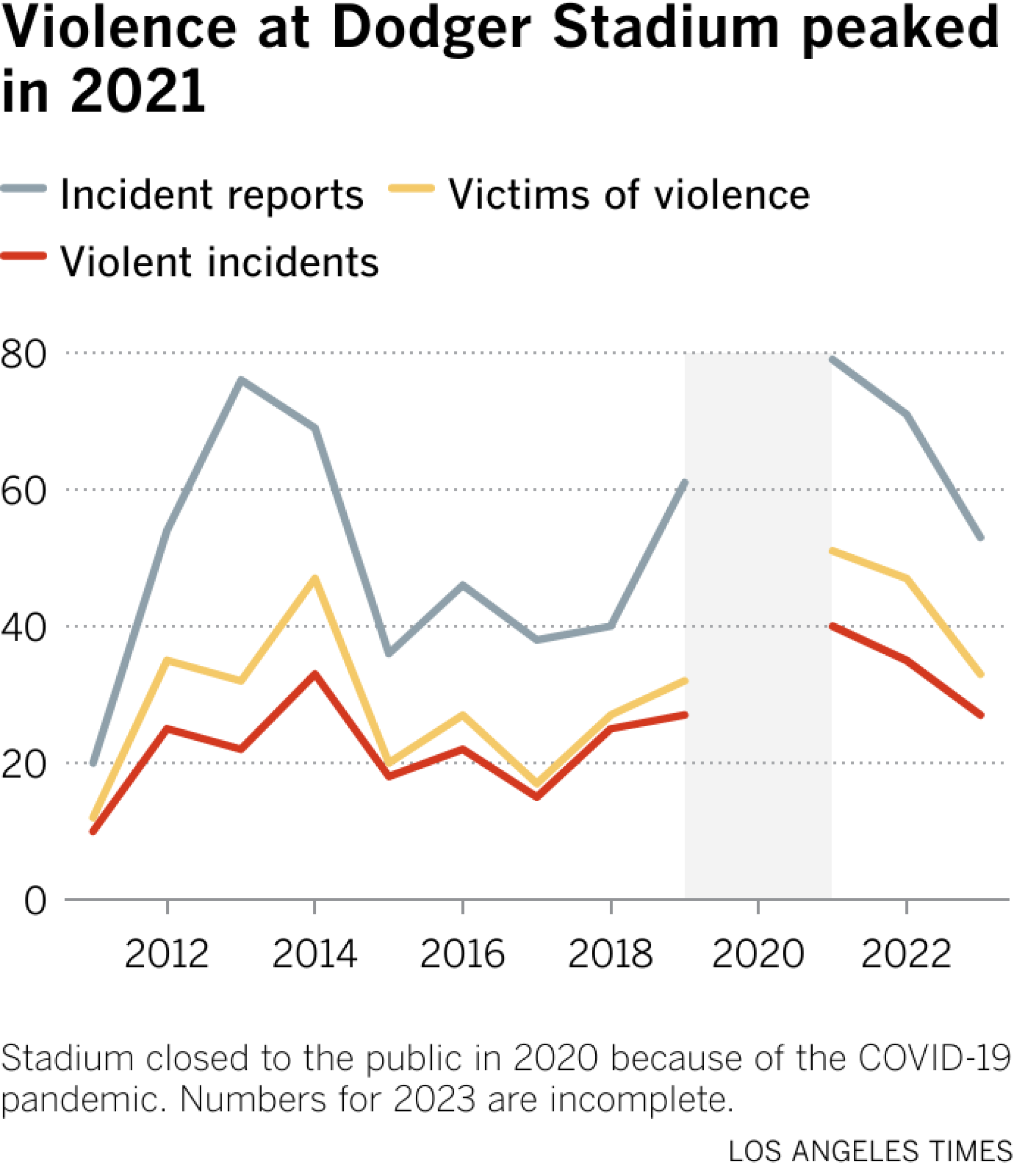 By 2014, that total had more than tripled to 69, including 33 violent incidents and 47 victims. After several years of fluctuations — including a COVID-19 year when fans were locked out — the totals returned to elevated levels.
Last season ended with 71 crime reports, including 35 violent incidents and 47 victims.
The numbers might seem small given that 3 million or more ticket holders pass through the gates each year. Last year there was only a one-in-three chance of a fight breaking out at a game.
But the most-severe altercations have left fans bloodied, unconscious, hospitalized or worse. And experts believe many fights go unreported because they end before police arrive.
Cellphone videos show numerous skirmishes lasting only a minute or so, with no police to be seen.
A brawl between two men wearing Dodgers jerseys in the outfield bleachers last season — which actually occurred not at a Dodgers game but during the home run derby for the All-Star Game, which was held here — drew national attention but does not appear to be noted in city records. An LAPD spokesman confirmed that officers do not file paperwork if the parties have dispersed or if no one claims to be a victim.
"The things that show up on police blotters," Wann said, "that's just the tip of the iceberg."
Information contained in LAPD crime reports from Dodger Stadium is basic.
Victims are identified by age, gender and race. They have included domestic partners, parents, security guards and LAPD officers. Also, on a few occasions, minors and newborns.
No details are given regarding suspects. Some incidents result in arrests; far more are listed as a continuing investigation.
Behavior described in reports over the last 13 years has included hitting, pushing and kicking. Biting, spitting and hair-pulling also have been noted.
It doesn't seem to matter when games are played — day or night — or whether the Dodgers win or lose. Despite heated rivalries with the Giants and San Diego Padres, there are plenty of altercations at games involving other opponents.
Reyna was beaten after a game against the Arizona Diamondbacks. Though the details remain unclear, he got into a verbal confrontation with an unidentified man and woman, was punched and fell to the ground, fracturing his skull. The suspects fled the scene.
"What was the reason for us to get in this altercation?" Reyna told The Times, saying he has no memory of the incident. "It is hard for me even to think what I could have said to him."
Asked what might cause people to turn violent at a sporting event, Wann pointed to an obvious trigger: "Anyone who thinks alcohol doesn't play a role is kidding themselves."
The very nature of baseball also might be a factor. Even with the pitch clock and shorter games, the sport's comparatively languid rhythm leaves room for fans to grow distracted and irritated.
"There is so much dead time," said Ed Hirt, a psychology professor at Indiana University who has studied crowds. "That doesn't tend to happen in hockey or basketball where the pace is so fast that you're paying attention to the game."
Experts believe that fights often result from an accumulation of minor irritants: sitting in traffic on the way to the stadium, negotiating a crowded parking lot and waiting in line at the concession stand. With the Dodgers averaging more than 45,000 at home games — usually tops in Major League Baseball — fans are likely to encounter such headaches.
Fans fighting in the pavilion at Dodger Stadium during the 2022 MLB All-Star Home Run Derby.
The outfield pavilions have a particular reputation for violence, in part, because their bench seating has less elbow room and more opportunities to annoy the people on either side.
Finally, violence can snowball at stadiums that become known for fighting. Wann explains that an otherwise innocent moment — strangers bumping into each other, for instance — can trigger a disproportionate response if people come to the game expecting trouble.
"The reputation is setting the stage for fan reaction," he said.
As of mid-August, police had filed 53 reports — 27 for violence against 33 victims — at Dodgers games this season. The alleged behavior included battery, simple assault, assault with a deadly weapon and battery on a police officer.
Fan brawls are hardly unique to the ballpark. They occur at sports venues across the U.S. and around the world. In Southern California, they have broken out during international soccer matches at the Rose Bowl and Rams games at SoFi Stadium, where a San Francisco 49ers fan was left comatose after the 2022 NFC Championship. In cities such as Anaheim, San Diego and San Francisco, however, the situation is more difficult to gauge because they provide less-detailed information on crime reports.
"You basically have a city full of people in a small space for a number of hours," Fried said. "When you include alcohol and rivalries and things like that, it can be a challenge."
Los Angeles crime data shows significantly less violence that produced a police response at the city's other sports venues. There were seven reported incidents during football games and a NASCAR race at the Coliseum last year, while Lakers, Clippers and Kings games at Staples Center generated only a combined three reports.
The Dodgers have tried ejecting rowdy fans, banning pregame tailgate parties in the parking lot and threatening to revoke season tickets for bad behavior. Stricter enforcement by security staff has led to multiple lawsuits for excessive use of force.
Still, the worrisome videos keep popping up. As one fan posted early this season: "Baseball season is officially back now that the first concourse fight at Dodger Stadium occurred."
In studying crowd behavior, Hirt wonders if the pandemic has had a spillover effect.
A fight in the parking lot at Dodger Stadium in May 2022.
"People aren't so laid back anymore," the professor said. "The level of uncertainty we have in the world has just got a lot of people on edge."
The same notion struck Brendan Donley, a Michigan-based sportswriter who publishes an online baseball newsletter. When the COVID lockdown ended, he saw more and more social-media postings of fights at ballparks around the league.
Donley began compiling the videos for a Twitter account he named Baseball Fight Club. He was surprised by how many came from one place.
"You might think Philadelphia or Chicago or New York," he said. "Since I've started the account, it really is dominated by Dodger Stadium."
Some of his 100,000-plus followers accused him of holding a grudge against the team. Curious, Donley traveled west for a series between the Dodgers and the Houston Astros in 2021.
"It didn't feel scary going in," he said. "It's not a dingy, sketchy, violent place."
But fights broke out over the course of two nights. And it wasn't just friction left over from the 2017 World Series between the teams, which the Astros won and later were sanctioned by Major League Baseball for cheating — he saw Dodgers fans fighting each other.
Experts say even a single incident can make a difference.
"When it comes to fans," Wann said, "one person can ruin the afternoon or evening for a big chunk of people."
Richard Winton contributed to this story.
Source: News