From TikTok to '90s rap, Jamaal Bowman is learning to raise his voice in Congress
June 1, 2023
[ad_1]
WASHINGTON — Rep. Jamaal Bowman's booming voice — and even bigger personality — is becoming ubiquitous on Capitol Hill and beyond.
In a normally staid institution, where even mortal enemies refer to each other as "my friend," Bowman is using a brash, confrontational approach to drive his progressive policy message in Congress and push back on Trumpism and the Republican Party.
The Bronx Democrat became the first lawmaker to defend TikTok and led a rally of the app's creators on Capitol Hill, calling his colleagues' proposed ban "racist" and "xenophobic."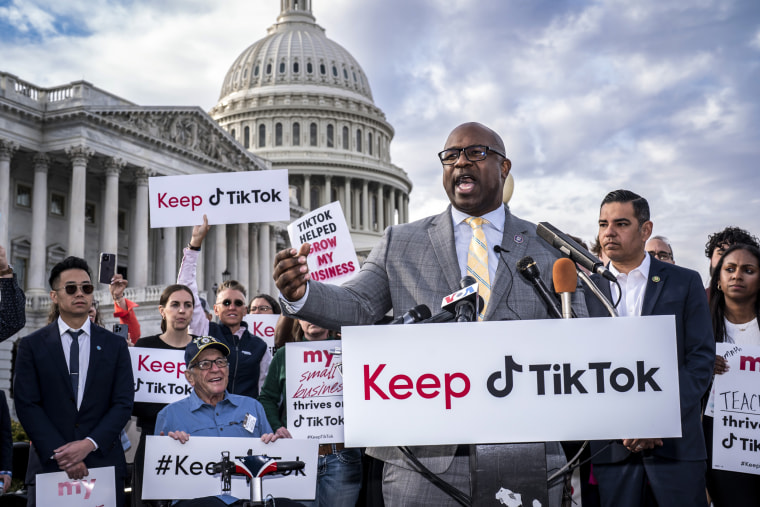 That same week, he went viral after he walked off the House floor and began yelling at reporters to challenge Republicans to stop the slaughter of children by gun violence following another school shooting. When Rep. Thomas Massie, R-Ky., inquired what he was so angry about, Bowman, a former teacher and middle school principal, began screaming at Massie: "Calm down? Children are dying!"
Days later, when conservative firebrand Rep. Marjorie Taylor Greene, R-Ga., set foot in Manhattan to protest Donald Trump's indictment, Bowman was there again, blowing a whistle to drown out her voice and yelling: "Get the hell out of here!"
"This is civic engagement; this is democracy. Democracy requires participation and engagement, right?" Bowman said in an interview in his Capitol office. "So that's how I taught as a teacher. That's how I led my school as a principal, and that's who I am."
"I've never tried to be disrespectful or hurtful or harmful to anyone," he said. "But it's important to speak the truth and it's important to push back on the bulls—."
The burly, bald Bowman, a former linebacker for the University of New Haven football team, is a member of "The Squad" of progressive and disruptive Democrats of color, many of whom have massive followings on social media and have had their own viral, confrontational moments.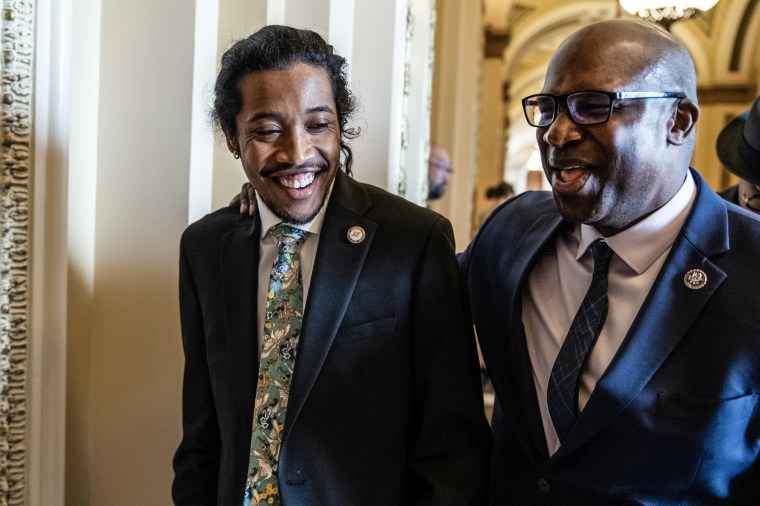 He said he was inspired to run for Congress after watching these young, unapologetic Squad members take Washington by storm. Now, it appears it's Bowman's turn in the spotlight.
"I think his experience as a public school principal makes a lot of these issues, especially around gun violence, very, very personal to him. He was a principal at a school, he was in charge of all these kids' safety," Rep. Alexandria Ocasio-Cortez, D-N.Y., one of the founders of The Squad, said in a brief interview in the Capitol.
"I think this is what his district is asking for; it's what his district supports, having someone force the issue."
Finding his voice
Like some of his fellow Squad members, Bowman, a political neophyte, stunned the Democratic establishment when he upset a longtime incumbent — in his case, Rep. Eliot Engel, the influential Foreign Affairs Committee chairman who had served 16 terms in the House, in a Democratic primary in the summer of 2020.
His first term in office, Bowman said, was about "survival and learning." During his first week in Congress, he survived the Capitol insurrection; then a month later, his mother, who raised him as a single parent, died of Covid.
In his third year on Capitol Hill, the 47-year-old Bowman has found his footing and his voice.
"Coming into the second term, I felt lighter on my feet, because, one, I learned a lot the first term, and then two, I was kind of over the trauma, or the immediacy of the trauma that we went through the first term," Bowman said.
"Because I'm feeling more comfortable, I think I'm more comfortable in it, finding my voice in this space. … I'm not thinking like, 'Oh, I want to be more confrontational or I want to play an outside game.' I'm not thinking that," he continued. "I'm just being me. And, like, where things fall is where they fall."
His dust-up with Massie came in the wake of The Covenant School shooting in Nashville, Tennessee, on March 27, when a gunman killed three 9-year-olds and three adults. Bowman recalled he had been on the House floor, huddling with three fellow Black Caucus members — Reps. Joe Neguse of Colorado, Steven Horsford of Nevada and Maxwell Frost of Florida — telling them that Democrats had to "pound on this issue" of gun control because immovable Republicans "have no moral high ground."
Seconds later, Bowman's voice was ricocheting off the walls of the Capitol hallways and around the Twittersphere. He said his office was inundated with positive feedback after he went nose to nose with Massie, a conservative with whom he had never interacted before. Bowman later learned Massie had taken a family Christmas photo featuring powerful guns.
"I probably thought about the possibility of a school shooting every single day of my career, especially every day I was a principal," Bowman said. "I would literally make decisions based on how students transition through the school and how I positioned myself in the cafeteria during lunch and outside during recess."
As he was shouting about gun violence, Bowman said he spotted House Democratic Leader Hakeem Jeffries, his New York colleague, walk by to check on things, "just to make sure no one was throwing blows."
Seeing it was Bowman, the more cautious Jeffries quickly moved on.
"Hakeem is more like Jay-Z, and I guess I'm more like Busta Rhymes," Bowman later told Semafor for a piece titled, "Why is Jamaal Bowman so angry?"
In his interview with NBC News, Bowman said he appreciated that Jeffries didn't try to intervene or calm him down.
"He was letting me be me, and I've seen that from him since I've gotten here, right? He lets us be us. That was complimentary," Bowman said. "Like, he kind of just made sure it wasn't nothing crazy crazy. And then he walked off."
Bowman said the response to his impromptu outburst from supporters was overwhelming: "Someone cares, someone gives a s—, someone is outraged like us."
'That's my city'
In March, Bowman inserted himself in the middle of another viral video moment as he and conservative Rep. Byron Donalds, R-Fla., clashed in front of the cameras over whether President Joe Biden could beat Trump and Florida Gov. Ron DeSantis in a general election. "Biden will kill both of them," Bowman told Donalds.
"Biden passed three bipartisan pieces of legislation, after an insurrection, during a global pandemic, opened back up the schools, killing the game!" Bowman said.
His run-in with Greene, however, was not spontaneous. Bowman knew she would be in Manhattan and he intended to run her out of his city.
"That city, like, it's in my blood. And I know what she stands for. And under no circumstances would I allow her to come to the city … and me not respond to that and make sure my voice was heard and pushing back against her rhetoric," Bowman said.
"If we allow their rhetoric to occupy space, by itself, it will influence the thoughts of people and the emotions of people in not-so-positive ways."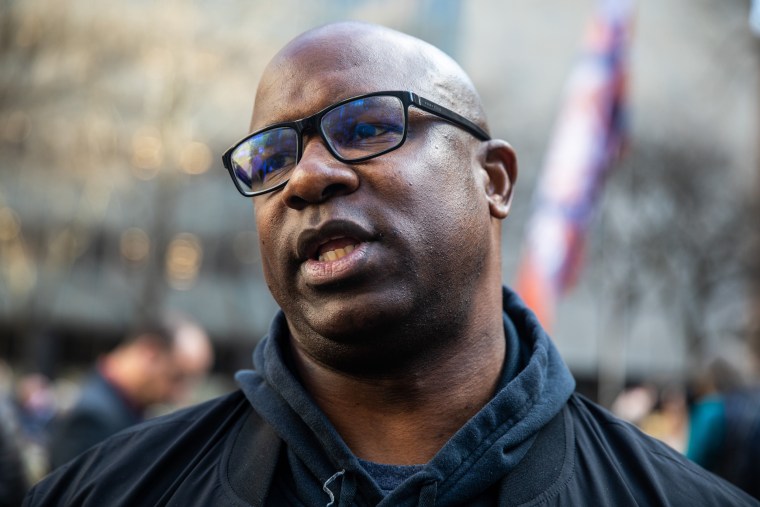 Asked about the incident, Greene's office accused Bowman of violating New York disorderly conduct laws and her right to peaceful assembly.
"There seems to be a pattern of aggressive behavior from Congressman Bowman," Greene said in a statement. "Not only did he scream and yell at Congressman Massie in the halls of Congress. He now admits to joining an organized mob to harass me, a female colleague, and committing a crime under NYC law."
Bowman pushed back on any suggestion he may have broken the law or violated Greene's First Amendment right, arguing that blowing a whistle is part of his freedom of speech.
"She came to New York City. If I came to her district, I would expect to be treated similarly," he said.
Hip-hop and politics
Raised in Manhattan housing projects and later New Jersey suburbs, Bowman said he can identify the moment of his political awakening: hearing Public Enemy rap about the social issues afflicting the Black community on their second album, "It Takes a Nation of Millions to Hold Us Back."
"I don't know if there's been a more political hip-hop album ever. I don't know if there's been a more political piece of musical art ever," Bowman said in his office, sporting a blazer over a black Wu-Tang Clan T-shirt.
"It was an album that talked about police brutality. It was an album that talked about mass incarceration. It was an album that talked about unjust wars in the Middle East, talked about poverty and talked about crack cocaine in our communities."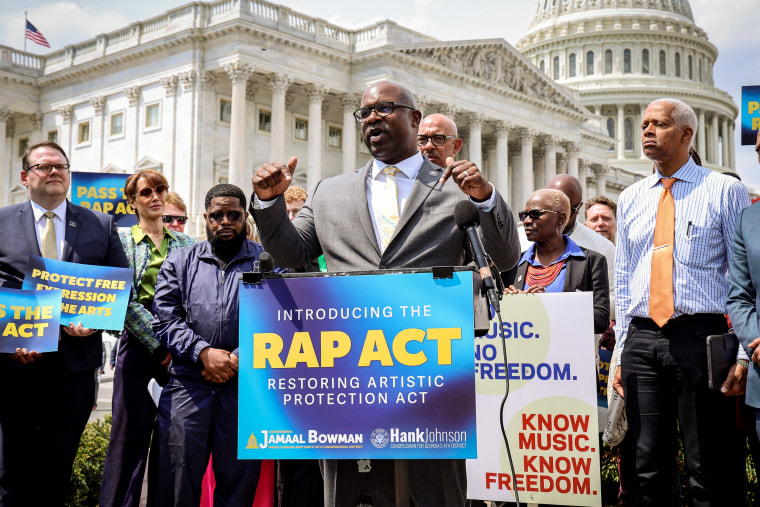 Chuck D, KRS-One, Rakim and other rappers spoke to things that Bowman was experiencing as a young boy and teenager, he said. His father wasn't in the picture when he was a child and he was raised by his grandmother and his mother, a postal worker. His sister dated drug dealers and was addicted to crack cocaine. He knew young people killed by gun violence. His best friend's mother was robbed and killed over a welfare check.
"My lived experience made me political," he said, "and hip-hop just bridged the gap between my lived experience and what happens in our larger political system."
In college, Bowman said he would try to stay engaged with political debates by watching the Sunday morning shows, like "Meet the Press" on NBC and "Face the Nation" on CBS. But he felt the guests were always talking around the important issues and acting "like they didn't have any power."
When Ocasio-Cortez and the Squad arrived on Capitol Hill in 2019, Bowman said that for the first time he saw young politicians of color challenging the status quo, taking on the Democratic establishment — and winning — and confronting pressing issues like climate change, police brutality and social injustice head-on. 
As a representative-elect, Ocasio-Cortez joined hundreds of climate-change activists who stormed then-Minority Leader Nancy Pelosi's office.
Rep. Rashida Tlaib, D-Mich., gave a rousing anti-Trump speech to progressive backers on the day she and Ocasio-Cortez were sworn into office, calling on Democrats to "impeach the motherf—–!"
"No one was really speaking real s— until the Squad came," Bowman said.
[ad_2]
Source: News