Josh Bell's Turnaround Started Before His Trade To Marlins
August 30, 2023
The deadline swap that saw the Marlins and Guardians exchange Jean Segura and Josh Bell was generally viewed as an exchange of bad contracts. The Marlins were getting the more productive hitter of the two, though that wasn't saying much. Bell hit .233/.318/.383 as a member of the Guardians after signing a two-year, $33MM deal in the offseason. Segura hit just .219/.277/.279 with Miami after signing his own two-year deal (worth $17MM) and was immediately released by Cleveland. The Guards used the trade to effectively purchase former first-round pick Kahlil Watson from Miami, who sold low on the former top prospect and took on some cash as a means of adding some life to the lineup.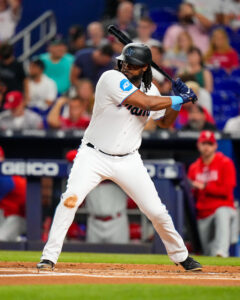 Bell has absolutely exploded in South Florida, however. He turned in below-average offense during his time with Cleveland but has mashed at a .271/.351/.586 pace in a still-small sample of 97 Marlins plate appearances. The eight dingers he's swatted with the Marlins is already nearly as many as the 11 he totaled in more than quadruple the plate appearances with the Guardians. It's not as though Bell simply moved to a bandbox either; Miami's loanDepot Park has been the fourth-worst for home runs over the past three seasons, per Statcast.
The switch-hitting Bell looked wholly unremarkable in more than three months with the Guardians but has not only been one of the National League's best hitters since the trade — he's had one of the best months of his entire career. So, what gives? This is perhaps an oversimplification, but the Marlins have succeeded where basically no other club has to date: Bell is finally hitting the ball in the air. A lot. The 45.2% fly-ball rate he's posted this month is the first month in his entire career that he's posted a fly-ball rate that high.
The change, however, began well before Bell was traded to Miami. Whether the Marlins keyed in on this or merely jumped at the opportunity to purge Segura's contract isn't clear, but the numbers are pretty easy to see. Bell entered the current season with a 50% ground-ball rate in his career and just a 31.9% fly-ball rate — a ridiculous number for a 6'4″, 261-pound first baseman. Bell has never had good speed, and the idea that half of his career batted balls have been beaten into the ground is counterintuitive. He's far from the only should-be slugger with this type of problem — Eric Hosmer is also a member of this club, for instance — but Bell's penchant for grounders has regularly undercut his well above-average bat-to-ball skills and what's clearly above-average or even plus raw power. This is a player who bashed 37 home runs in 2019, after all. Juiced ball or not — that's a big number.
A look at Bell's month-to-month splits this year reveals some familiar trends. In April he put a ridiculous 62.3% of his batted balls on the ground, against a 28.6% fly-ball rate. In May, it was 51.6% and 26.6% (with a noted uptick in line drives). If you look in late May, Bell had a stretch of five games where he didn't hit a single fly-ball. He hit three line drives, and the other 81.8% of his balls in play were grounders. Whether this was a wakeup call or the beginning of Bell trying to make a conscious adjustment, things began to change.
In June, Bell's fly-ball rate jumped to 37%. In July, it climbed a notch higher, to 38.4%. It's up to 45.2% in August, and Bell is absolutely mashing. Those might sound like arbitrary numbers, and to some extent they are. However, using that arbitrary 37% cutoff point (his June 2023 fly-ball rate), I scanned back through Bell's monthly splits for his entire career. He's only had a monthly fly-ball rate of 37% four times in his career … all coming in 2019, when he hit 37 home runs and posted his career-best .277/.367/.569 batting line.
The results weren't necessarily there as Bell began elevating the ball more regularly. From May 28 (the first day after that stretch of five games with no fly balls), Bell hit .251/.309/.440. That's only about seven percent better than league average, by measure of wRC+, but it's a massive improvement over the .215/.327/.326 slash he produced while pounding an incredible (not in a good way) 59.7% of his batted balls into the ground. At the very least, Bell looked like a hitter on the upswing due to a tangible change in his approach. The Marlins might've hoped they were acquiring that somewhat above-average hitter, but Bell has been much, much more than that in Miami. He's been 50% better than the league-average hitter since being traded.
Of course, it's an open question whether Bell can sustain this pace. He had four months of fly-ball production in 2019 and then quickly reverted back to the grounder-happy plodder who has often looked on the cusp of stardom but never sustained his pace. It's encouraging, however, that he's reeled off three straight months of this fly-ball approach. Even in his career year in 2019, he still posted a 46% grounder rate from July through August. This year, in that same span, he's at 39.7%. This current stretch is the least grounder-driven span of Bell's career.
Bell spoke to Craig Mish and Barry Jackson of the Miami Herald about his surge at the plate in Miami, attributing plenty of the success to the manner in which hitting coach Brant Brown preps for games with hitters.
"We watch video together and decide there how the attack plan is going to go and I can work on that in batting practice and it tends to show up in the games," said Bell, who called Brown's prep work with Marlins hitters "advanced." Bell also spoke favorably of loanDepot Park, noting that while the dimensions are pitcher-friendly, the consistency from playing in a stadium with a roof can be advantageous. "With the turf, and with the consistency of the dome, you've got the same lighting every inning, every at-bat, and it's easy to get hits."
Bell noted to the Herald that his focus has been simply on hitting line drives, but it seems those efforts have translated more into fly balls than the intended liners. His 12.9% line-drive rate with the Fish is actually lower than it was in Cleveland (19%) by a wide margin. Bell is simply elevating the ball at a strong, albeit not elite rate. His 45.2% fly rate since the trade ranks 35th of 173 hitters (80th percentile). But Bell is a big man with plenty of power; when he elevates the ball, good things happen.
Bell's surge has been a boon for the Marlins and also creates a fascinating scenario to watch down the stretch. If he can continue putting the ball in the air close to this frequently and continue to produce at well above-average levels, the player option he once looked like a lock to exercise could become a borderline call — or, with a strong enough finish, a relatively easy one to decline. The upcoming free agent class is light on hitters, and Bell is flat out raking thanks to a noticeable change in his batted-ball profile. This version of Bell would fetch far more than $16.5MM in free agency, particularly since he can't be saddled with a qualifying offer and thus won't be tied to draft pick compensation.
If Bell does decline his player option, it'd wind up looking like a rather deft swap of contracts for the Marlins; at the time of the swap, Miami was effectively surrendering Watson and paying about $9.25MM ($3.25MM in '23, $6MM in '24) to upgrade from Segura to Bell. That sum would drop to just $3.25MM in added salary if Bell opts out — all of it coming in 2023 — and a hefty $10.5MM of savings beyond the current season. The Marlins would be off the hook entirely next year, while the Guards would remain on the hook for Segura's $8.5MM salary and $2MM buyout on a $10MM club option for 2025. It's doubtful even Marlins GM Kim Ng and her staff expected Bell to perform this well early on, but their ostensible bet on Bell's change in approach is already a boost to the team's playoff hopes and now has the possibility to provide substantial payroll benefit in the future.
Source: News