Liz Loza's risers and fallers for Week 14
August 23, 2023
The only constant in sports (and life) is change. While consistency is key to a winning strategy, the ebb and flow of production often can't be avoided.
Tracking the endless ups and downs over 40 games and nearly four months can become a heady operation. Segmenting the journey, however, into weekly updates allows managers to live (and play) in the now.
That's exactly what my Risers and Fallers column aims to accomplish, as we utilize ESPN's metrics database for a deeper look at the numbers.
---
Risers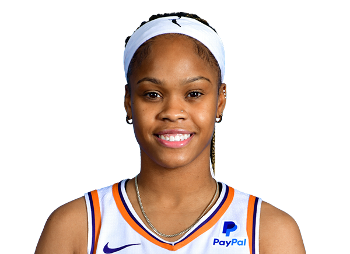 The Mercury may have dropped three in a row, but Jefferson has been keeping the temperature high for five straight. The 29-year-old has cleared double-digit points in three of her last four outings. She made up for her lone exception (8 points on August 18) by recording 7 dimes, which buoyed her fantasy production and kept it in the 20-point range.
Given that Phoenix is second in assist rate, Jefferson's ability as a facilitator and volume as a shooter (she's averaged 11 FGA per game over her last five) give her a rock solid floor to lean on throughout the fantasy playoffs.
Clarendon has been featured — both as a riser and a faller — numerous times during the season. Thankfully for fantasy managers they're getting hot just in time for the playoffs. Clarendon has now registered three straight games with 16+ points and 5+ assists. The vet's aggressiveness on the court has been a streaming boon for managers, as they've attempted 15 free throws in back-to-back efforts while also sinking at least one 3 in every game this month.
Clarendon's boards haven't been plentiful (they've averaged 3.5 rebounds per game since August 1), but they've been consistent. A trend that should continue, particularly when noting that the Sparks are the third worst rebounding team in the league. Los Angeles needs Layshia… and contending fantasy squads likely do, too.
Mitchell worked her way into the starting lineup early into the season, but a wrist sprain forced her to the sidelines in late June. The injury cost Mitchell seven games and was then relegated to the bench post-recovery. It wasn't until Lindsay Allen (thumb) had to sit that Mitchell regained starter status.
The 28-year-old has bounced back beautifully, recording at least 26 minutes in back-to-back efforts. She's thrived as a versatile contributor, posting a total of 25 points, 5 rebounds, and 4 assists over her last two games. Mitchell has additionally managed a 3-point shot in each of those outings. With Allen expected out through the beginning of September, Mitchell figures to soak up minutes down the stretch.
---
Fallers
Atkins missed 11 games with an ankle issue. She's being worked back into the offense and her playing time figures to grow (she has yet to top 16 since minutes returning on Aug. 18) but the fantasy playoffs are happening now. Time is, undoubtedly, of the essence. Additionally, her absence has allowed Natasha Cloud and Brittney Sykes to demonstrate more upside. It's possible, therefore, that Atkins doesn't reclaim the role she had at the top of the season.
Hamby's offensive upside is capped on a team with plenty of options (see Layshia Clarendon above) that also figures to welcome Lexie Brown (illness) back this week (8/23). The 29-year-old has struggled from the field, sinking just 11 of 37 field goals attempted (29%) since the start of the month. In fact, Hamby has registered no more than 6 points over her last four efforts and was scoreless in the Sparks' victory over the Dream on August 12. While she does add value from a defensive POV, her work against the glass has been spotty of late. With the playoffs on the line, fantasy managers should be advised to look for higher ceiling players.
Follow Liz on Twitter: @LizLoza_FF
Source: News