Mountain Music | Good Times – Good Times
September 13, 2023
Promoter Michael Horne has put on 4,000 concerts in 40 years around Santa Cruz, but you probably don't know his name.
His company, Pulse Productions (with partner Steve Wyman of Boulder Creek Brewery), is putting on its ninth Mountain Sol Festival this weekend at Roaring Camp with some of the top names in folk, rock, jam bands and reggae, including Jewel, Ben Harper, Railroad Earth, Samantha Fish and a long awaited return of Burning Spear.
"Artists love that space," he says of the vintage train park. "It's funny how they react when the steam whistle goes off. One year, Ani Difranco modulated her song to the note as the train went by."
Horne, 65, started a long and varied music career in the San Lorenzo Valley where he moved from Palo Alto right out of high school. He started a natural foods store, People's Natural Foods, before succumbing to his passion for music.
He opened a record store called Feltunes on Highway 9 and blasted travelers with music from his outdoor speakers. Then, he opened Blue Rhythm Records in Capitola, which was named for his grandfather's jazz band. Next stop was Palookaville, a live music venue in Soquel that was known for bringing big names to a small place. In his first 60 days, he brought in Ray Charles, Al Green and James Brown to town, and in his first 10 days at Palookaville charged $5 a night to see  Maceo Parker, Fred Wesley, Pee Wee Ellis, Mavis Staples, Zap Mama, Paula Poundstone, Peter Rowan and Jerry Douglas.

"I thought, man, I'm in the game," he says. Horne began booking shows at Cocoanut Grove, the Veteran's Hall and the Civic, as well as bringing reggae artists down the coast to San Luis Obispo and Santa Barbara.
He also studied music in the West Indies and as a steel drum player headed the band Santa Cruz Steel in the 1980s, while owning a record label specializing in Caribbean music. He also DJ'ed at KUSP-FM.
"Every year I say it's my last year," he says. "I'm following in (retired concert promoter) John Sandidge's footsteps. It's keep going, keep going man, until you drop."
Some of the acts he's most excited about this year are Jewel, who makes her local debut; Keith Greeninger, with whom he sits in on percussion; Samantha Fish, who is a breakout blues star and plays to huge audiences; The Nth Power, a funk and soul band fronted by drummer Nikki Glaspie, who played with Beyonce for five years and with the New Orleans outfit, Dumpstafunk. They do an Earth, Wind and Fire tribute.
Some of Horne's career highlights:
James Brown: "He busted my chops backstage. I was so green and he knew it."
Al Green for two nights at Flint Center and Cocoanut Grove. Green asked for a limo and Horne rented the car and a suit, and became his driver.
The Moby Grape reunion at Palookaville. He contacted an agent who told him that the bad news was that bassist Bob Mosely was living under a bridge in L.A.–but the good news was "I know which bridge." The reunion brought tears to the crowd's eyes and captured the magic of one of the biggest bands to break out of Santa Cruz.
Johnny Cash at the Civic: Horne was so excited to meet longtime road manager Lou Robin, and the two gabbed so much backstage that he only got to hear the last two Cash songs. When he finally met Cash after the show, the legend said, "Thanks for the work, son." Recalls Horne: "He was old school, a class act."
Fela Kuti at the Civic: the African star accompanied by a troupe of wives and musicians, wrapped his feather boa about Horne and led him around the venue smoking and talking to people like they were old pals. "Don't call my agent anymore," Kuti said. "Next time, call me direct."
He also brought Bill Cosby to town a few times. "Sometimes you meet your heroes and they are better left in the bubble," he says.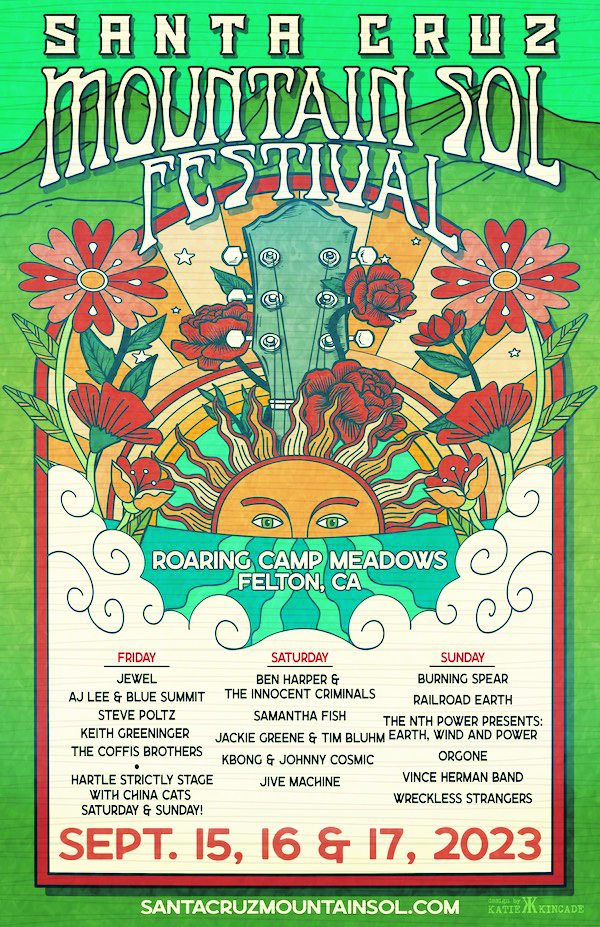 Source: News