Opportunities and awards | ArtsHub Australia
June 2, 2023
[ad_1]
This week's opportunities
Awards:
The Doyles Art Award and Exhibition 2023 (Qld)
The Gold Coast's longest running painting prize with a prize pool of $30,000 is calling for Landscape, Figurative and Still Life entries this year from artists of all ages and abilities. The Award exhibition looks to showcase over 500 artworks from 15-25 June at Mudgeeraba Memorial Hall.
Entries close 11 May; learn more and apply.
Melbourne Prize for Urban Sculpture 2023 (Vic)
The Melbourne Prize for Urban Sculpture will introduce new guidelines for 2023. The Prize is open to Victorian residents only with a $60,000 main prize.
More information coming soon; subscribe for updates.
Commissions:
2023 West Coast Artist Commission and Seed Funding Program (Tas)
First established in 2018, the West Coast Seed Funding Program was designed through community consultation to provide seed funding support for artists and cultural practitioners connected to lutruwita/Tasmania's remote West Coast. In partnership with West Coast Council and with funding support provided through Arts Tasmania by the Minister for the Arts, the total funding pool in 2023 is $15,000. The Unconformity also offers an annual $5000 acquisitive commission for a West Coast artist or artistic collaboration. In 2023, the commission will be a 2D work and is open to artists working in painting, on paper, in print or photography.
Applications for both programs open from 8-29 May; learn more and apply.
MPavilion Chair Commission (Vic)
Pritzker Prize-winning architect and MPavilion 10 designer Tadao Ando has been announced as the judge of this year's MPavilion Chair Commission. The highlight of each year's program, the winning design and practice will be featured on-site and profiled during the MPavilion season to a diverse network of local and international media, collaborators, partners and visitors.
Entries close 2 June; learn more and enter.
Callouts:
Connecting Places 2024 Halls Touring (Vic)
Are you an artist or company with a smaller-scale work interested in touring across regional Victoria in 2024? Then Regional Arts Victoria wants to hear from you! The Connecting Places program is seeking a limited number of companies to be part of the 2024 halls touring program to deliver performing arts experiences to community-run venues across the state. Preferred art forms include: theatre, music, cabaret, comedy, circus, puppetry, dance and performance projects with community engagement opportunities.  
EOIs close 28 May; learn more and apply.
Fresh Blood 2023 (NSW)
Screen Australia and ABC have partnered up to showcase the best of Australia's comedic talent with Fresh Blood. Funding for up to 10 teams with $50,000 each will be provided to create three shorts. Successful applicants will participate in a workshop from 8-10 August 2023 to develop their work and prepare for a sustainable career. Teams outside of Sydney will get flights and accommodation covered for up to three members.
Applications close 29 May; learn more and apply.
Curiocity Brisbane 2024 (Qld)
World Science Festival Brisbane is inviting expressions of interest to participate in Curiocity Brisbane 2024, an annual temporary public art event held in Brisbane. Artists can submit ideas for artworks that celebrate the intersection of science and art. All media forms are accepted, including augmented or virtual reality, sound or kinetic art forms, video, installation, sculpture, performance or 2D media. Base funding from $5000 to $75,000 will be available for selected artworks.
EOIs close 31 May; learn more and submit.
EOIs for theatre and functions (Vic)
City of Whitehorse's new performing arts centre, The Round in Nunawading, is inviting expressions of interests for theatre and function hire bookings. The landmark development is a highly anticipated project, designed to accomodate a wide range of events, including theatre, dance, music, comedy, conferences and more. Featuring a 600-plus-seat proscenium theatre with mechanised orchestra pit and industry-leading hybrid fly system, a highly versatile 200-plus-seat studio theatre, creative studios, soundshell for outdoor events, function centre, extensive dressing rooms and free car parking, The Round promises to offer everything necessary to bring creative visions to life. Construction is expected to be completed in mid-late 2023.
EOIs now open; learn more.
'Understanding the market dynamics in live music' research (ACT)
Researchers at ANU are conducting a study in partnership with MusicACT to examine live music in the Canberra region. In particular, this research will deepen an understanding of how artists/musicians attend to their work in the live music industry, and how pay and wages for creative work and performance are accomplished and negotiated. EOIs are sought from professional musicians who would be willing to take part in relaxed, short one-on-one interviews to discuss their practice, work and thoughts on the music industry conditions in Canberra. All participants will be given a $20 gift card for their participation.
EOIs now open; learn more.
The Business of Arts: HR, IR and WHS Support Hub (WA)
The Chamber of Arts and Culture WA (CACWA) and the Chamber of Commerce and Industry WA (CCIWA) have launched a new partnership to support Western Australia's arts and culture businesses. From 1 May 2023 eligible small-to-medium Arts Organisation Members can access CCIWA's Employee Relations Advice Centre, Workplace Health and Safety Advice Line, and webinars free of charge. Members will also be able to engage CCIWA training and commercial consulting services and access CCIWA's e-learning library at a discounted member rate.
Learn more.
Professional development:
The Creative Climate Leadership (NSW)
The Creative Climate Leadership (CCL) program – to be held from 11-16 September in Bundanon, New South Wales – is a partnership between the Australia Council for the Arts and Julie's Bicycle, an internationally renowned UK not-for-profit that has so far designed and delivered the program to more than 250 participants from over 26 countries. Local artists and creative and cultural leaders based in and/or working in Australia are encouraged to apply to the five-day program course.
Applications close 6 June; learn more and apply.
Australia Council Fellowships of $80,000 support the activity and professional development of outstanding, established artists and arts workers for a period of one to two years. There are nine Fellowships offered in the areas of: Arts and Disability, Community Arts and Cultural Development, Dance, Emerging and Experimental Arts, First Nations, Literature, Music, Theatre and Visual Arts. The current round is for proposals beginning after 1 September 2023.
Applications close 6 June; learn more and apply.
Country Arts SA is inviting artists from all disciplines nationwide to apply for a three-week residency this October at Grindell's Hut located in the heart of the Vulkathunha/Gammon Ranges National Park in the northern Flinders Ranges, South Australia. Established close to two decades ago, the vision for the residency is to provide an environment of extraordinary natural beauty imbued with historic significance for artists to pursue their practice while immersed in an outback environment. The park forms part of the traditional Country of the Adnyamathanha people and is rich with cultural significance. One artist nationwide will be selected to take part in the residency program, which will run from 8-29 October 2023.
EOIs close 12 June; learn more and apply.
Want more? Visit our Opportunities page for more open competitions, prizes, EOIs and call-outs.

This week's winners
Visual arts:
The winners of the Nillumbik Prize for Contemporary Art 2023 were announced during the finalist exhibition's official opening at Montsalvat in Eltham, in Melbourne's north-east. Laresa Kosloff won the $20,000 Open Prize for her film New Futures

, while Tina Stefanou won the $10,000 Local Prize for her video installation Hym(e)nals. The Mayor's Award of $500 was presented to Jarrad Martyn for his oil on canvas piece exploring climate change. The shortlisted artworks were chosen by an independent panel of industry experts, and the exhibition is open until 11 June, with visitors being able to vote for the People's Choice Award.
A portrait of New Zealand-born comedian Cal Wilson, Clown jewels, by Cairns-based artist Andrea Huelin has won this year's Packing Room Prize. Huelin's painting is one of 57 finalists in 2023 for the Archibald Prize. This year, the Packing Room judges are Timothy Dale, Monica Rudhar and Alexis Wildman. 'Andrea's work jumped out at us as soon as it arrived. The bright colours really popped, and we immediately recognised Cal as a familiar face,' says Wildman. 'Cal's been such a mainstay on Australian television for two decades. We love the interesting pose and unique headwear and, in the tradition of the Packing Room Prize, Andrea's painting looks like Cal! This is a great, joyful portrait of someone who has brought so much laughter to Australia.'
Read: Exit interview: Brett Cuthbertson, Head Packer, AGNSW
Performing arts:
Zabi Malik, a former Afghan refugee, has been awarded the $75,000 Australia for UNHCR Beddie Scholarship to study at the Australian Film Television and Radio School (AFTRS) in Sydney. Malik fled Afghanistan with his family at the age of nine and has always dreamed of being an actor, but did not initially pursue a career in the entertainment industry. He later attended acting classes and is now an up-and-coming actor and filmmaker. Malik says: 'Being where I'm from, the entertainment industry is not accepted or appreciated within our community, which is why I always thought of it as just a dream and nothing more… My reaction to winning the scholarship was surreal. I was really happy because all my life I have wanted to do this and now I get the opportunity to actually learn the whole craft, and what better place to be than one of the best film schools in Australia.'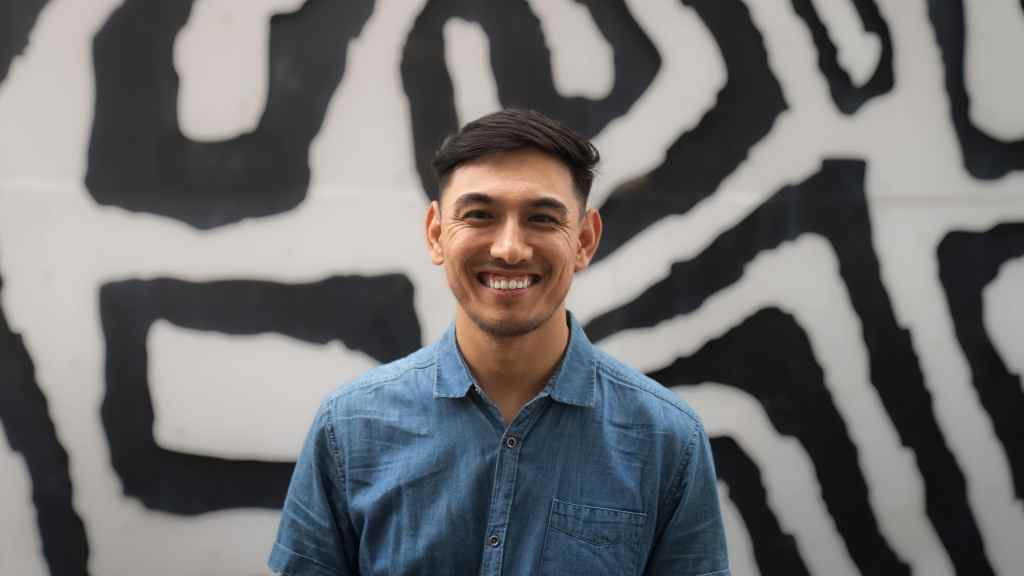 Featuring nine first time winners and a few returning favourites, the 2023 APRA Music Awards saw the Australian music community back in full swing to recognise the achievements of songwriters across the musical spectrum and to celebrate their publishers. Flume and co-writer Sarah Aarons took out the Peer-Voted APRA Song of the Year with 'Say Nothing' (feat MAY-A), the lead single from Flume's third studio album Palaces. Songwriter of the Year was Jon George, James Hunt and Tyrone Lindqvist, professionally known as Rüfüs Du Sol. The group also took out the Most Performed Dance/Electronic Work for On My Knees. Zambian-born artist Sampa the Great was named Breakthrough Songwriter of the Year. The artist blends art with poetry and is now considered one of Australia's most formidable songwriters. View the full list of 2023 APRA Music Awards winners.
Artist manager Simone Ubaldi is the 2023 recipient of The Lighthouse Award with a $5000 cash prize to support her business and professional pursuits. The award goes to an artist manager who identifies as a woman or a non-binary person who exhibits passion, creativity and integrity. Ubaldi's many accomplishments include managing internationally-acclaimed, three-time ARIA Award-winners Amyl and The Sniffers. She developed and managed The Sniffers' partnerships with Rough Trade/Beggars, Universal Music Publishing, ATC Live and Virgin Music Australia, among many others. Along with The Sniffers, Ubaldi guides the careers of up-and-coming artists Grace Cummings, Girl and Girl, Baby Cool and Nice Biscuit. She was named the Australian Association of Artist Managers' inaugural Manager of the Year in 2022, sharing the accolade with co-manager, Andrew Parisi.
Eleven composers from Australia and New Zealand are the recipients of the Art Music Fund, with each receiving a $7500 grant towards the commission of a proposed work. The Art Music Fund is an initiative of APRA AMCOS, in partnership with the Australian Music Centre and New Zealand's SOUNZ. The 2023 Art Music Fund recipients are Andrew Ford, Aviva Endean, Brooke Green, Connor D'Netto, Elizabeth Jigalin, Jasmin Wing-Yin Leung, Nadia Freeman, Netanela Mizrahi, Salina Fisher, Victoria Pham and Will Guthrie.  Commissions range from the story of an Irish convict who lived her last days in a Sydney asylum to an adaptation of Maeve Marsden's Queerstories, a Chinese-Australian sonic history, the next chapter in The Djari Project, an electronic work about indentured Indian labourers sent to Fiji and more. View the full list of recipients and their projects.
Writing and publishing:
Tracy Ellis, the 2022 ABR Elizabeth Jolley Short Story Prize winner, has received the 2023 Calibre Essay Prize, making her the first person to win both prestigious awards. Ellis' essay, 'Flow States', was selected as the winner from a field of 397 entries from 24 countries. The essay begins with a single dripping tap and evolves into a story about the power of floodwater, both real and metaphorical. The judges praised the essay's elegance, layered richness and sharp-eyed observation, describing it as a part memoir, cultural history, and solastalgic elegy that speaks to the present while telling an older story. Find out more.
Shortlisted and finalists
The State Library of NSW has announced the shortlists for the funniest Australian books published in the last two years. The Russell Prize for Humour Writing has shortlisted six books from a record-breaking 60 entries, they are:
Off the Charts by Georgie Carroll (Pan Macmillan Australia) 
You're Doing it Wrong: A History of Bad and Bonkers Advice to Women by Kaz Cooke (Penguin Random House Australia) 
My Daughter's Wedding by Gretel Killeen (Hachette Australia)  
Sexy Tales of Paleontology by Patrick Lenton (Subbed In) 
The Speechwriter by Martin McKenzie-Murray (Scribe Publications)  
Here Goes Nothing by Steve Toltz (Penguin Random House Australia
In addition, the $5000 Humour Writing for Young People Award attracted 74 entries in its second year. The shortlisted books are:
Weird School by Damian Callinan and illustrated by Adele K Thomas (Penguin Random House Australia) 
Drum Roll Please, It's Stevie Louise by Tanya Hennessy and illustrated by Leigh Hedstrom (Allen & Unwin) 
Your School is the BEST! by Maggie Hutchings and illustrated by Felicita Sala (Affirm Press) 
The House on Pleasant Street by Sofie Laguna and illustrated by Marc McBride (Allen & Unwin) 
Funny Kid Catastrophe by Matt Stanton (ABC Books: an imprint of HarperCollins Publishers) 
Rita's Revenge by Lian Tanner (Allen & Unwin) 
Winners will be announced on 11 May.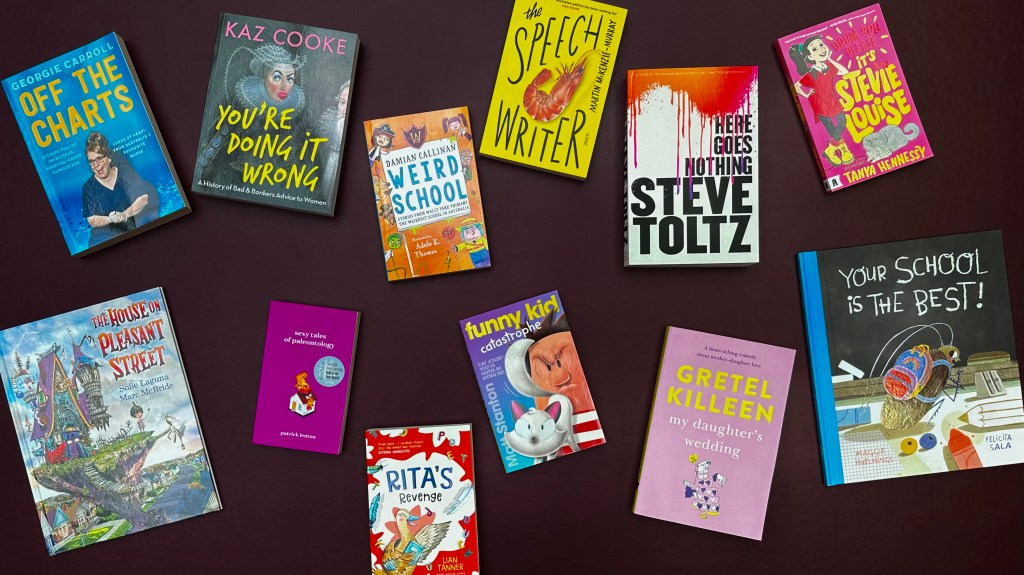 Six emerging visual artists have been shortlisted for the Create NSW and Artspace 2023 NSW Visual Arts Fellowship (Emerging) – EJ Son, Maddison Gibbs, Min Wong, Morgan Hogg, Nadia Odlum, and Natalie Quan Yau Tso. The Fellowship, valued at $30,000, aims to enable a visual artist at the beginning of their career to undertake a self-directed program of professional development. A finalist exhibition will be co-presented by Artspace at Carriageworks from 27 July – 27 August, co-curated by Artspace's Executive Director, Alexie Glass-Kantor; Curator, Talia Linz; Associate Curator, Sarah Rose; and Carriageworks' Assistant Curator, Visual Arts, Stephanie Berlangieri. 
The 2023 Archibald Prize, Wynne Prize and Sulman Prize finalists have also been announced, with 57 named as Archibald Prize finalists, 41 for the Wynne Prize and 45 for the Sulman Prize. Nine artists are finalists in more than one prize, including Jason Phu, Katherine Hattam, Kaylene Whiskey, Keith Burt, Danie Mellor, James Powditch, Billy Bain, Matthew Clarke and Doris Bush Nungarrayi. ArtsHub will be covering the announcement of the winners on Friday 5 May.
Check out previous Opportunities and Awards wraps for more announcements.
[ad_2]
Source: News