Paramedic reveals horror of Jeremy Renner snowplow accident in bodycam video: 'Never seen anything like this'
April 24, 2023
New bodycam footage showed what unfolded during Jeremy Renner's traumatic snowplow accident on New Year's Day near his home in Lake Tahoe, California.
Washoe County Sheriff's Department officials responded to the bloody scene, which was reported by a neighbor shortly before 9 a.m. Renner was attempting to help his nephew, Alex Fries, move a truck which was stuck in the snow. 
Renner exited the snowplow to check on his nephew, but it kept moving, so he jumped back on to stop the snowplow only to get caught in the tread. 
The Marvel star was airlifted to a local hospital in Reno, Nevada, and had surgery after suffering blunt chest trauma and orthopedic injuries when he was "completely crushed" by his 14,000-pound PistenBully snowcat.  
After Renner was transported away from the scene, a paramedic could be heard saying, "I've never seen anything like this."
JEREMY RENNER VISITS THE HOSPITAL WORKERS WHO 'SAVED MY LIFE' AFTER DEVASTATING SNOWPLOW ACCIDENT
Fries recalled the situation to authorities. "You can almost see where he spun around, where the wheels are at," he said.
"He got out to tell me something, and that's when it started coming at me full force. He tried to jump back in there at around right where his blood is at… That's right where it happened. He slipped, because these tracks, there's no way to stand on them."
A neighbor asked, "He tried to jump on it?"
JEREMY RENNER WALKS FIRST RED CARPET WITH DAUGHTER'S SUPPORT AFTER NEARLY DYING IN SNOWPLOW ACCIDENT
"He tried to jump on it, into the thing, and it took him under," Fries recalled.
Officers could be heard discussing the accident, "I would say injuries were… A number of broken ribs, laceration to the head, apparently one side of his face like swelled up immediately like softball sized."
"Were there any concerns of life-threatening injuries?" a deputy asked.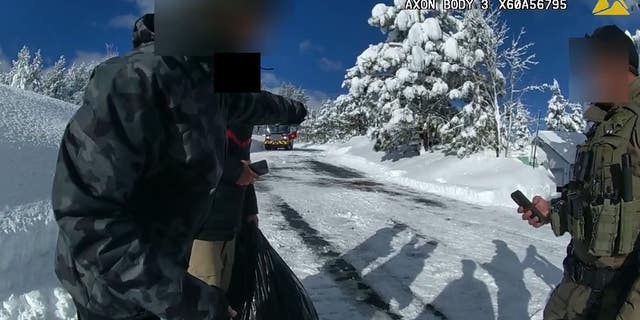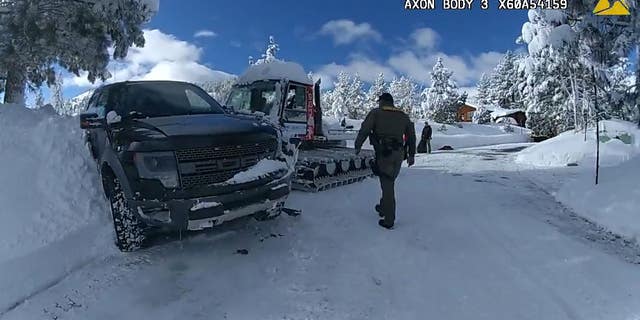 "He was conscious, alert, breathing and the paramedics said he was stable, so in my opinion, no – nothing life-threatening. They wouldn't have been able to stabilize him if he was life-threatening… " the officer responded.
He added, "Given the blood pool, it did happen on the street, so we are going to do a form five."
One neighbor said the whole situation was "just horrible." She thought Renner was going to die.
JEREMY RENNER'S NEAR-DEATH EXPERIENCE: LEONARDO DICAPRIO, ORLANDO BLOOM SURVIVED CLOSE CALLS
"I was holding him, and his color was just going, and I'm just like, this guy is going to die," she said.
Last week, the "Hawkeye" star had a chance to say thank you to a few special people. He shared several photos with the hospital staff at the Renown Regional Medical Center in Reno, Nevada.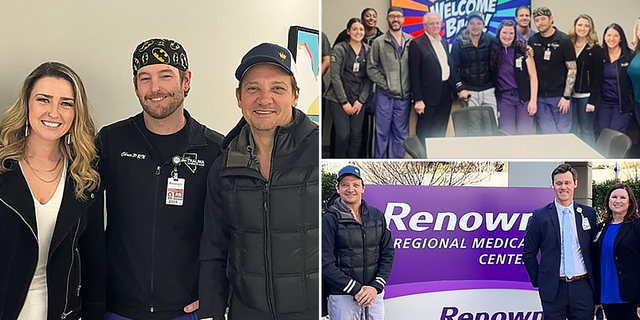 "I got to revisit the amazing group of people who saved my life," he wrote on Instagram.
Last week marked another milestone for Renner's recovery when he made his first red carpet appearance since the accident for the premiere of his Disney+ show, "Rennervations."
He walked hand in hand down the carpet with his 10-year-old daughter Ava.
CLICK HERE TO SIGN UP FOR THE ENTERTAINMENT NEWSLETTER
Jimmy Kimmel joked he would "never get out of bed" if he were in Renner's shoes, but added that his recovery has been "remarkable."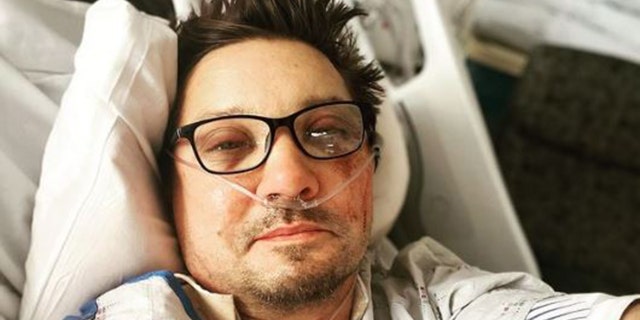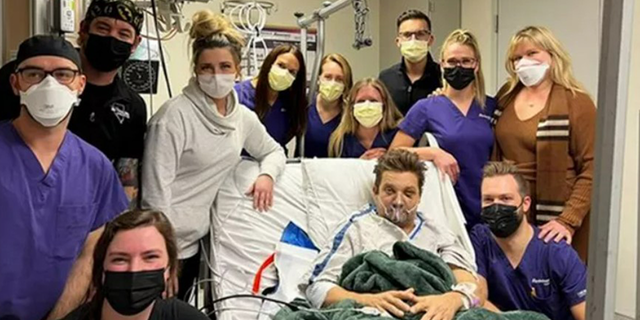 "It's easy to do when you have the love and support that I have," Renner responded. "Doing it alone would have been impossible. A lot of people, some are here, were a part of saving my life and keep me alive to breathe and move through."
"It took a lot of people," he continued. "It starts with my family, my daughter, then a big part of my recovery was this show, it set a big milestone for me to get better, to make sure that all our hard work was not for naught… For me to run my damn self over, well, there's no alternative."
CLICK HERE TO GET THE FOX NEWS APP 
He continued, "For me, it was easy, I had somewhere to go, somewhere to point, and I had a lot of love, man."
During an interview with Diane Sawyer, Renner said, "I was awake through all of it, it's exactly how you'd imagine it feels like… I was on asphalt and ice… it feels like someone took the wind out of you. Too many things are going on in the body to feel pain, it's everything. It's like if your soul could have pain." 
He suffered chest trauma and broke over 30 bones, and he has undergone multiple surgeries as a result of the accident. 
Source: News