Rappers' violent lyrics can't be used against them in court under Democrats' new bill
May 22, 2023
[ad_1]
House Democrats are pushing a new bill that would make it illegal for prosecutors to use violent lyrics by rap artists against them in court if they commit crimes, citing First Amendment protections.
On Thursday, Reps. Hank Johnson, D-Ga., and Jamaal Bowman, D-N.Y., announced they would reintroduce the Restoring Artistic Protection Act, or RAP Act. The bill would protect artists from the use of their lyrics against them in criminal and civil proceedings, a practice that's more common in cases involving hip-hop artists.
The pair introduced the bill last Congress, but it failed to gain any traction. The measure, they say, would add a presumption to the Federal Rules of Evidence that would limit the admissibility of evidence of an artist's creative or artistic expression against that artist in court.
The underpinning of such a law, they say, is the freedom of expression granted by the First Amendment of the U.S. Constitution.
HAKEEM JEFFRIES BLASTED FOR CLAIM THAT GOP DOESN'T WANT KIDS 'TO LEARN ABOUT THE HOLOCAUST': 'DISGUSTING LIE'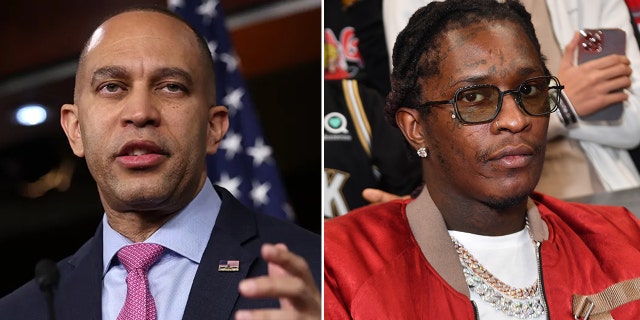 "This legislation is long overdue," Johnson said Thursday in a statement. "For too long, artists — particularly young Black artists — have been unfairly targeted by prosecutors who use their lyrics as evidence of guilt, even though there is no evidence that the lyrics are anything more than creative expression. When you allow music and creativity to be silenced, you're opening the door for other realms of free speech to be curtailed as well.
"The government should not be able to silence artists simply because they write, draw, sing or rap about controversial or taboo subjects."
House Minority Leader Hakeem Jeffries, D-N.Y., backed the measure in a press conference Friday.
 
"I don't think that art and creativity should be weaponized in the criminal justice system, and hopefully we'll be able to have some bipartisan support to move that legislation forward," Jeffries said.
LAW PROFESSOR TORCHED FOR 'CRAZY' TAKE ON RAPPER'S ARREST: 'THIS DOESN'T HAPPEN TO WHITE ARTISTS'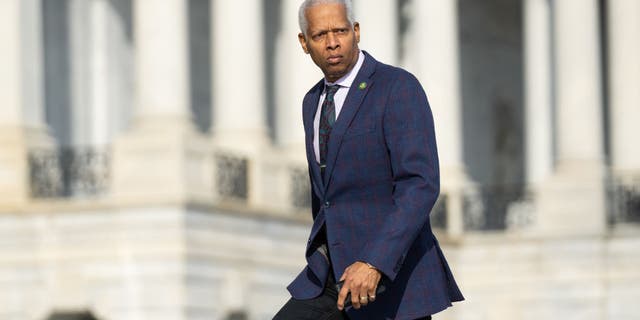 Jeffries was asked for comment on the bill by a reporter who mentioned the ongoing case against Grammy-winning artist Jeffery Lamar Williams, also known as Young Thug, who is fighting prosecutors' efforts to use his violent lyrics against him.
Williams was arrested last year for charges on racketeering, participation in gang activity and illegal possession of a gun.
Prosecutors allege Williams' record label, Young Stoner Life (YSL), operated as a front for an organized crime syndicate responsible for "75 to 80% of violent crime" in Atlanta, according to reports.
Court documents detail instances in which individuals allegedly associated with the YSL gang wore or displayed symbols of "YSL" in music videos posted on social media between 2016 and 2021 and rapped lyrics that mention "YSL" or various descriptions of criminal activity, according to a local ABC report.
GOP CONGRESSMAN SHOUTED DOWN BY NEW YORK DEMOCRAT ON GUN CONTROL CLAPS BACK WITH FACTS
In the 56-count indictment, prosecutors cite Williams' songs in the same time frame, including Young Thug's hit "Anybody" and several numbers from YSL's 2020 compilation album "Slime Language 2," including "Take It to Trial," "Ski" and "Slatty."
Court documents quote the song "Slatty" as saying, "I killed his man in front of his momma, like f— lil bruh, sister and his cousin," "I shoot out," and "kill em, not leaving a trace."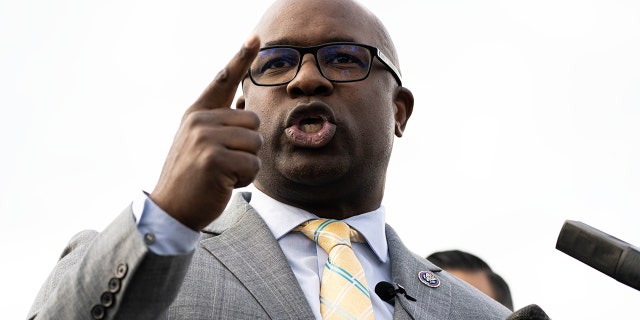 Prosecutors argue that the lyrics served in "[p]reserving, protecting and enhancing the reputation, power and territory of the enterprise [YSL]."
The Recording Academy, a major stakeholder in the music business, backed the proposed measure Thursday.
"We must safeguard artists' freedom to create at all costs and work to eradicate the biases that come with the unconstitutional practice of using lyrics as evidence," said CEO Harvey Mason Jr.
"Rap, hip-hop and every lyrical musical piece is a beautiful form of art and expression that must be protected," Bowman said in a statement. "Evidence shows when juries believe lyrics to be rap lyrics, there's a tendency to presume it's a confession, whereas lyrics for other genres of music are understood to be art, not factual reporting.
CLICK HERE TO GET THE FOX NEWS APP
"This act would ensure that our evidentiary standards protect the First Amendment right to freedom of expression. We cannot imprison our talented artists for expressing their experiences nor will we let their creativity be suppressed."
[ad_2]
Source: News