Republicans, Democrats united in horror as Jacksonville gunman is … – Florida Politics
August 27, 2023
A gunman's racially motivated attack inside a Jacksonville Dollar General store that left three dead Saturday continued to spread shock and horror across the political divide Sunday, right up to President Joe Biden.
The gunman was identified as Ryan Palmeter, 21. He legally purchased his guns in recent months even though he had been involuntarily committed for a mental health examination in 2017, Sheriff T.K. Waters said. He killed himself after killing his three victims, The Associated Press reported.
Writings that the gunman left behind left little doubt the killings were racially motivated.
Biden's statement noted the irony that the violence unfolded on the same day chosen to commemorate the 60th anniversary of a key moment in the struggle for equal rights for all Americans. On Saturday, thousands marched on Washington to mark the anniversary of Martin Luther King Jr.'s iconic "I Have a Dream" speech.
"Even as we continue searching for answers, we must say clearly and forcefully that White supremacy has no place in America," Biden said, according to a statement. "We must refuse to live in a country where Black families going to the store or Black students going to school live in fear of being gunned down because of the color of their skin. Hate must have no safe harbor. Silence is complicity and we must not remain silent."
Those killed in Saturday's attack at a Dollar General were identified as Angela Michelle Carr, 52, who was shot in her car; store employee A.J. Laguerre, 19, who was shot as he tried to flee; and customer Gerrald Gallion, 29, who was shot as he entered the store.
Gov. Ron DeSantis condemned the gunman as a "scumbag" shortly after news of the carnage spread Saturday and reiterated his revulsion to the incident before beginning a hurricane briefing Sunday.
"Hate has no place in the state of Florida," DeSantis said."We're not going to allow our state or our HBCUs (Historically Black Colleges and Universities) to be targeted by hateful lunatics like that guy yesterday."
Reports are that an Edward Waters University security guard rebuffed the gunman just before he hit the nearby Dollar General store.
U.S. Rep. Frederica Wilson issued a statement that she sees the problem as something beyond one lunatic, however. The Miami Gardens Democrat is calling it an emergency that should jolt people into action.
"The dehumanization of Black people has hit a breaking point," Wilson said. "When those in power peddle hate, we must respond. Divisive rhetoric ignites hatred and empowers those with violent intent."
State-level Democrats were more specific about who and what they see creating conditions ripe for this tragedy. DeSantis received some of the blame. And, added to that, the Republican-dominated Legislature this past Session made it so a permit was no longer required to carry a weapon, they pointed out. And a recent change in state education curriculum was cited as a a step backward in rooting out racial hatred.
Democratic state Sen. Tracie Davis, appeared on MSNBC's The Katie Phang Show Sunday morning, said it's "absolutely devastating" that Black people are being targeted for their skin color in 2023.
"The state of Florida has to realize that we as a Legislature have put policies in place — policies into law — that have incited behavior like this," said Davis, who is a Jacksonville native and represents the city in Tallahassee. "That's what I truly, wholeheartedly and personally believe."
The shooter, who was from Clay County, used a Glock and an AR-15 with a swastika on it, according to the Sheriff.
Former state Senator Annette Taddeo saw a connection and posted that Davis is "100%" right on X, formerly known as Twitter.
"DeSantis and GOP legislature passed hateful laws against black & brown Floridians & have refused to condemn numerous Nazis rallys with DeSantis flags alongside swastikas," said the Miami-area Democrat who is mulling a run for Miami Dade Clerk, on the platform Sunday afternoon.
But Republican U.S. Sen. Rick Scott, mostly posting about the oncoming tropical conditions expected to make a midweek Florida landfall, followed up Sunday with stronger words than the day before, condemning what led to the unnamed gunman's deadly fire.
"Racism is disgusting, and Jacksonville won't let this horrific violence tear us apart," he posted, adding that he's praying for the victims and their loved ones.
House Democratic Leader Fentrice Driskell said the incident is a wake-up call that Florida has slipped too far back to how it used to be. She noted that only last June, a Black Ocala mother was shot after she knocked on a door. Also, the state Board of Education made national headlines for approving standards that call for instruction that slaves were taught skills that could sometimes be used for their benefit.
"Our nation needs healing, as does our state," Driskell said in a prepared statement. "Unarmed Black mothers get shot by angry neighbors through their locked front doors. Children get taught that slavery had a personal benefit. This is not 1920s Florida. This is present-day Florida."
Jacksonville has dealt with this sort of turmoil for a long time, including neo-Nazi and anti-semitic displays projected on buildings through the beginning of last year.
Mayor Donna Deegan, who was standing beside the Sheriff as he declared the crime racially motivated, said she was "heartbroken" by the turn of events.
"So many times, this is where we end up," Deegan said. "This is something that should not and must not happen in our community."
Deegan's attempt to create a Diversity and Inclusion position has been, at least thus far, thwarted in the Jacksonville City Council budget process.
Likewise, state Sen. Jennifer Bradley, who represents North Florida, posted on X that she too was "heartbroken."
"Racism and hateful ideologies have no place in our community," the Fleming Island Republican wrote. "We see these evils too often."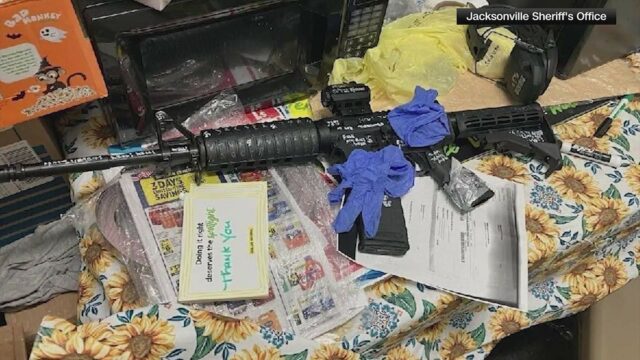 Another Northeast Florida Republican, Sen. Clay Yarborough, condemned the violence as "against God's order."
"I fully condemn the cowardly and evil acts of the perpetrator responsible for the heinous acts," Yarborough's statement said, offering his prayers and condolences to the victims' families and the Jacksonville community along with his support for the Sheriff's Office and other law enforcement partners.
Still, Orlando Democratic Rep. Anna Eskamani faulted Florida's political atmosphere — "a deadly combination of hate and loose gun laws" — for playing a role in the tragedy. Republicans held a supermajority in the Legislature last Session and a majority the Session before as permitless carry as well as so-called "anti-woke" legislation was passed over Democrats' objections.
"We need Gov. Ron DeSantis to stop with the race-baiting and culture wars," Eskamani posted on social media. "Under his watch, Florida has become ground zero for far-right extremism and radicalization."
Fred Guttenberg, whose daughter was killed in the state's worst school shooting spurring his activism on gun control, also had strong words for the Governor and others in reaction to the tragedy. He also cited the state's new law that allows people to carry guns without a permit, enacted following the most recent Legislative Session.
"Florida is a state where racism is practiced by those elected to lead, including @GovRonDeSantis," Guttenberg posted on X. "Combine that with easy access to weapons and bad policy like permitless carry. The dangers and tragic reality is that this shooting was predictable."
Anti-Defamation League Florida issued a statement saying that calling out the same bigotry that the Rev. King did 60 years ago remains as important as ever.
"Here in Florida, where we've seen domestic extremism grow and incidents of hate skyrocket, the environment has been ripe for the sort of racially motivated violence that was unleashed in Jacksonville yesterday, killing three innocent people," said Sarah Emmons, ADL Florida Regional Director. "We must continue to combat hatred."
___
The Associated Press and Florida Politics writer A.G. Gancarski contributed to this report.
Post Views: 0
Source: News