Shojo and Shonen Manga's Best Live-Action Adaptations
May 7, 2023
Live-action versions of famous anime and manga series tend to get mixed receptions at best. Though they can vary in terms of quality, the realm of shojo manga in particular is home to a widespread selection of live-action film adaptations. However, only a select few are known for matching the source material faithfully.
Although some fans may not even care about their favorite series getting a live-action adaptation at this point, there are some excellent hidden gems out there to be found. Here are a few shojo and shonen manga that received quality and faithful live-action adaptations that are well worth the watch.
RELATED: Why There Is an Increasing Number of Male Protagonists in Shojo Manga
Love Me, Love Me Not Creates a Dramatic Yet Fulfilling Story
Love Me, Love Me Not is based on a manga of the same name written by Io Sakisaka in 2015. The series has since received an anime film adaptation (August 2020) and a live-action film (September 2020). The plot is simple: Akari and Yuna are two high school girls who befriend each other by chance. After learning they go to the same high school, they become good friends and help each other in their pursuit of romance.
As with many manga-to-live-action films, the writers, director and producer were on a time crunch with this movie. As such, many character-building moments and bonding scenes from the manga likely had to be cut. However, since Love Me, Love Me Not tells such an uncomplicated story, it's difficult for viewers to notice a difference unless they've recently read the manga. The live-action movie faithfully sticks to its source material and carries the same overall themes and goals for the characters.
RELATED: The Genius Prince's Guide Delivers a Surprisingly Subtle Romance Storyline
High School Debut's Live-Action Perfectly Captures Its Lead's Eccentric Personality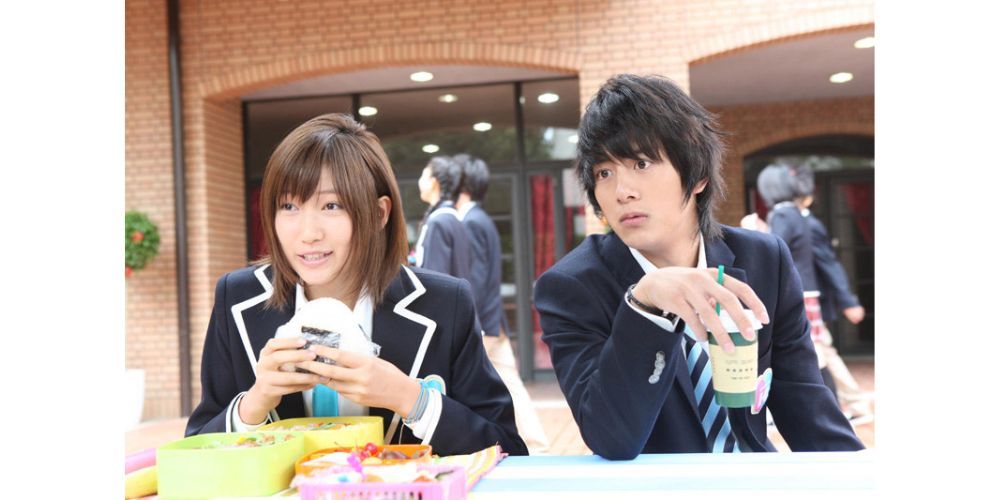 High School Debut, the 2003 shojo manga written and illustrated by Kawahara Kazune, received a live-action film adaptation in 2011. The story follows Haruna Nagashima as she navigates high school with only one goal in mind: to get a boyfriend. She starts her adventure by trying to impress the boys around her by wearing the latest fashion, hoping they will ask her out on a date. There's just one problem — Haruna has rather questionable taste in fashion and creates terrible outfits. After realizing this, she asks Yoh Kamiyama, an attractive upperclassman, to become her coach. Yoh reluctantly agrees and the two work together to try and get the incompetent Haruna a boyfriend.
Despite its lack of popularity — Kawahara is better-known for writing the widely renowned My Love Story!! — High School Debut is a wonderful series that easily captures the thrills and joys of adolescents and the life of a high school student. Although the manga tells a longer version of the story, the live-action film is an impressively faithful adaptation of its source material.
Haruna is an extremely cartoonish person in both mannerisms and style, which is consistently made clear in the manga. Luckily her on-screen actor, Ito Ohno, captured Haruna's personality to a T and brought the strong female lead to life. Haruna's determination is infectious, and even if her intentions may same strange to some viewers, she makes up for it by presenting herself as a lovable and fascinating lead.
RELATED: Here's How the Pokémon Anime Will Benefit From Adding a Female Lead
Your Lie in April's Live-Action Film Brings the Anime's Incredible Music to Life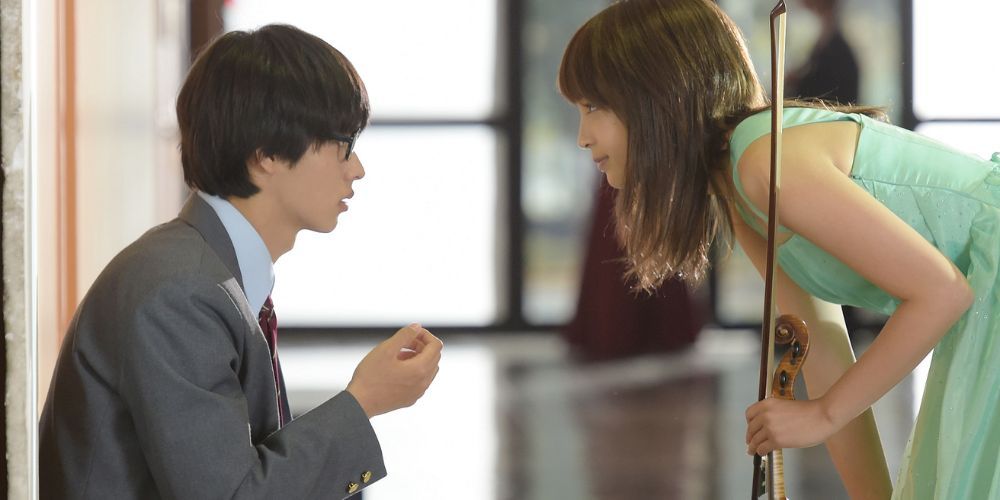 Naoshi Arakawa's beloved tearjerker manga Your Lie In April received an anime adaptation in 2014 and brought its characters to life via live-action in 2016. The story stars Kousei Arima and Kaori Miyazono, two musicians with completely different approaches to music and life. Kaori sees the world filled with bright, beautiful colors while Kousei is a former piano prodigy who has struggled since his mother's untimely death. After the two meet, however, Kousei's entire outlook changes as he gradually learns how to love playing the piano again.
While the anime also shares the music Kosei, Kaori and the other characters create, the live-action film brings more flare to the story and grounds the viewer in realism. The actors portray the characters' personalities almost expertly — especially Kaori's actor, Suzu Hirose. She is Kousei's light and inspiration, giving him the courage he needs to pursue his dreams and start playing the piano again. There aren't many changes between the source material and the live-action, which makes the film a great addition to the manga and anime.
While it can understandably be difficult for some fans to make that transition from anime to live-action, there are plenty of great live-action film adaptations with excellent characters and plot lines that also stay true to the manga and anime.
Source: News