The designers of Jared Leto's Met Gala look: 'He wanted it to be like a real cat' | Met Gala 2023
June 1, 2023
[ad_1]
There was only one winner of the Met Gala red carpet last night: a gargantuan cat costume with whiskers, plush paws and hyper-real blue eyes, which had Jared Leto inside it.
Leto's look comfortably overshadowed acres of pearl-encrusted gowns at the Met's annual fundraiser. The theme was late designer Karl Lagerfeld; Leto came as Choupette, the pet he reportedly left £1.3m ($1.6m) in his will and scored a major publicity land grab.
On the phone from Torrance, California, Joshua Balster – who was project manager of the cat costume for production studio SCPS – says its creation was "pretty wild – definitely a rollercoaster".
SCPS were approached with the top-secret brief just four weeks ago. "We are known for being very tight-knit and not letting anything out," says Balster. Craig Currie, who co-founded the firm along with his wife, Samantha Currie, tells me that their clients include Disney, Marvel and Star Wars, though they are NDA-ed to the eyeballs and can't say more than that.
It was only after signing an NDA on this project that they found out who the client was – and they were psyched, says Balster: "We love what Jared does on the red carpet – he's always super creative." The actor's previous red carpet moments include carrying a replica of his head to the 2019 Met Gala which they loved: they follow the Met Gala, he says: "We really admire those top-notch costumes."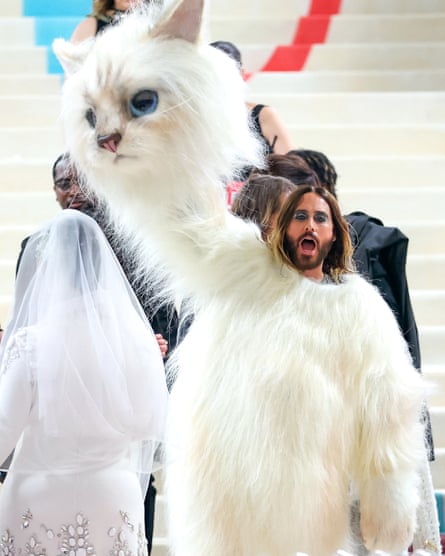 The secrecy added complexity. The costume was kept largely in one locked room throughout the build, with a smaller team than usual, to prevent leaks. "Because that was the big punchline – Jared wanted it to be super secret, and not let anyone know who the cat was until he revealed himself," says Balster.
The hyper-real design was another hurdle. Usually mascot suits look like caricatures but Leto "was really pushing it. He wanted it to be like a real cat." It took a lot of sketching and digital sculpting to come up with a design that worked, based closely on photographs of Choupette ("I think I've seen every single one that's out there," says Balster). And so the team translated the cat's essence to a creature on its hind legs.
Choupette's face went through "a couple different stages". At first it was even more closely based on photos of Choupette which look "a little bit angry". Wisely, "Jared wanted to make it a little more soft and cute."
When new pictures of Choupette appeared in the run-up to the Met (Choupette hung out with Kim Kardashian in Paris; the images were shared on Instagram), the design team pounced. "We pulled those as soon as they came out. We wanted to see what it looks like now – to capture the face and the look. It was super crucial that we nailed the eyes." The eyes gave Leto visibility, using "a couple of costume secrets" but ensured Leto could not be seen within the costume.
The costume was made from synthetic fur – the type SCPS usually use for monsters and yetis – which was painted to match all the variations of colour on the real Choupette's fur. It had a cooling mechanism for the face, with battery-powered fans pumping air. It needed to be removed quickly, to reveal a second, somewhat more sober outfit underneath, and to enable Leto to wear his own shoes over step-out platforms within the cat's paws. Usually there is a process to take such costumes apart, but this time there had to be "breakaway seam lines" hidden in the fur at the back.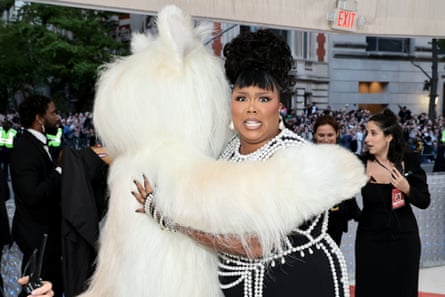 SCPS watched the livestream on Vogue's website. "Everyone was super nervous," says Balster. "Your heart's racing. And then when we saw it we were screaming. It was such a good feeling."
The visual gag worked precisely as Leto had hoped. "That Lizzo picture is great – she doesn't know who it was but giving a hug." Balster's other red carpet favourites, he says, were the other kitties: Doja Cat with her prosthetics and Lil Nas X who was caked in glitter; both miaowed frequently. Does he agree with memes suggesting that there might have been some cat costume rivalry? "I felt there was a little bit of like, 'Hey, you did the cat too,' and a little laugh there. But who Jared is, and the presence he brings, I feel like he just like pulled the focus."
[ad_2]
Source: News