25 Years Ago, One Rap Album Proved Going Solo Can Create A … – Fatherly
September 3, 2023
In 1997, when The Fugees went their separate ways to work on individual projects following their breakout album The Score, it was reasonable to doubt whether any of the artists could recreate the Fugees magic on their own. But those doubts were put to rest when The Miseducation of Lauren Hill dropped on August 25, 1998. While remarkable in its quality and the sheer number of accolades it amassed, what really stands the test of time is how Hill managed to almost singlehandedly expand the definition of hip-hop while at the same time moving the genre more toward the center of the pop music universe.
Hill signaled that she'd captured a certain je ne sais quo when she released "Doo Wop (That Thing)" as the lead single two weeks before the album's launch. It was a one-woman tour de force. The song landed atop the Billboard Hot 100, making it the first hip-hop song by a solo artist to debut in the top spot, making Hill the first women rapper to have a song sit atop the chart. It was also the first US number one written, produced, and recorded by one woman since 1989 when Debbie Gibson achieved the feat with "Lost in Your Eyes."
In hindsight, "Doo Wop" contains many of the elements that make The Miseducation of Lauryn Hill a classic. First and foremost, she spits hot fire with lines capable of eviscerating any rapper who would dare challenge her in a battle. But she also layers multiple vocal tracks to create an R&B hook with tight harmonies that are both soulful and funky.
Those R&B elements show up throughout the record. In fact, there are some tracks where she doesn't rap at all — most notably on the Carlos Sntana-backed "To Zion," which serves as a love letter to her son.
In addition to blurring the lines between neo-soul, R&B, and hip-hop, Hill also incorporated reggae stylings into the album. Miseducation kicks off with "Lost Ones," a track where Hill proclaims I know all the tricks from Bricks to Kingston while proficiently deploying a Jamaican accent and vernacular that fits well with the song's reggae musical backbone.
If anyone was up to the task, it was Hill. After all, this is a woman who, on The Score's two biggest singles, delivered a mesmerizing cover of Roberta Flack's "Killing Me Softly" and then unleashed a barrage of blistering bars on "Ready or Not" while also singing the song's haunting chorus. But what still amazes listeners about Miseducation is how well the then-23-year-old Hill managed to fold in all of those elements across an entire album with very little help from featured artists.
That solo effort went against the flow of the late '90s, which was the pinnacle of the posse rap era, with rappers putting together deep squads from coast to coast. The Wu-Tang Clan managed to do so straightaway, but Busta Rhymes' Flipmode Squad, P. Diddy and the Family, and the bevy of artists that worked with Dr. Dre to define The G Funk Era were just three of the hip-hop conglomerates that helped define the time.
And yet, Hill chose to go it alone. But in doing so, she asserted her place in hip-hop history with an album that garnered a widespread acclaim than any other hip-hop album to that point.
Selling over 422,000 copies during that first week, Miseducation broke the opening week sales record for female artists and remained the highest first-week sales for a debut album released by a woman in the 20th century, as well as the highest ever for a female rapper ever. And to date, The Miseducation of Lauryn Hill has sold over 20 million copies.
Critical acclaim accompanied those sales records, as The Miseducation of Lauryn Hill picked up ten Grammy nominations and won five awards — more than any woman had received in one year to that point. Hill also won Album of the Year, making it the first hip-hop album to receive the honor.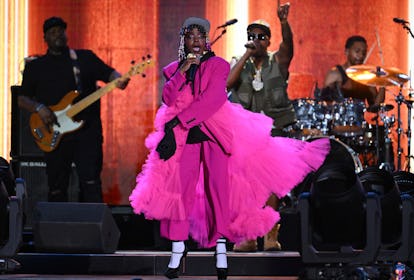 And yet, 25 years later, The Miseducation of Lauryn Hill remains Hill's only studio album — a magnum opus with no sequel or peer. It does have a distant cousin of sorts, as, in 2002, Hill released MTV Unplugged No. 2.0 in collaboration with the cable television giant. The live made-for-TV performance features Hill backing her own vocals on an acoustic guitar for a solo set of previously unreleased tracks. And though it contains much of Hill's creative flair and emotional vulnerability, the intimate performance feels neither refined nor finished.
Since Miseducation's release, Hill has remained an enigmatic figure in the music landscape, developing a well-earned reputation for showing up late to live performances and often canceling them altogether.
Fans are hopeful that the issues don't plague her upcoming tour celebrating the album's 25th anniversary, even more so as it is also being billed as a grand Fugees reunion. The group reunited for the first time in over two decades last month at The Roots Picnic in Philadelphia — a feat for which The Roots deserve a Nobel Peace Prize nomination, seeing as though a lover's quarrel between Hill and fellow Fugee Wyclef Jean was at the heart of the group's breakup.
Performing songs from both The Score and The Miseducation of Lauryn Hill will create an interesting dynamic as Hill's love life and her feelings about how things ended with The Fugees are themes that run through Miseducation. But hopefully, time has healed enough of the wounds for all involved to recapture the aura of both albums.
Source: News