Belichick gives Mac Jones vote of confidence amid speculation
May 23, 2023
[ad_1]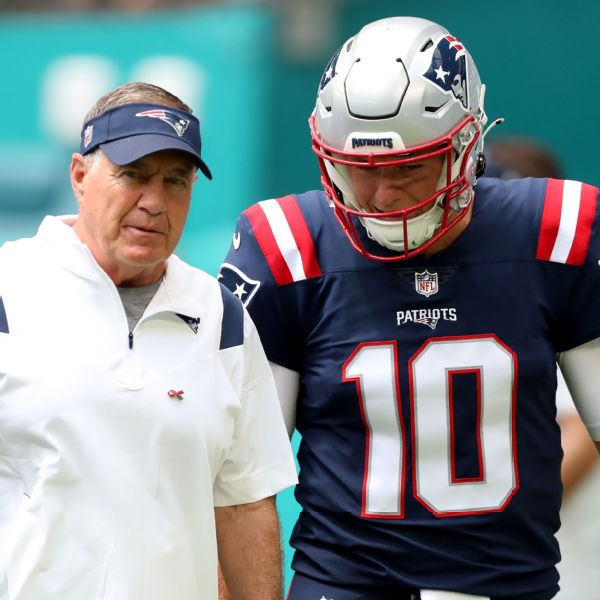 FOXBOROUGH, Mass. — Bill Belichick said late Friday that he "absolutely" feels the same way about Mac Jones as he did prior to training camp last year when he complimented the quarterback's progress, which marked the New England Patriots coach's strongest vote of confidence as speculation has swirled regarding Jones' future with the team this offseason.
This is a critical season for Jones, the 2021 first-round pick, and Belichick was asked if he's still the team's No. 1 option.
"Yeah, I mean, look, Mac's been our quarterback for two years," Belichick said. "As I tell the team every year, each player, each coach, we all have to re-establish and prove ourselves every year. That's what this league is. That's for all of us — '23 is '23. We'll see how '23 goes."
Jones had a promising rookie season that landed him in the Pro Bowl as an alternate, finishing 352-of-521 passing for 3,801 yards with 22 touchdowns and 13 interceptions.
But he dipped in his second season after coordinator Josh McDaniels departed to coach the Las Vegas Raiders. Operating a new offense, with assistants Matt Patricia and Joe Judge in leading roles despite their primary coaching backgrounds coming on defense and special teams, Jones finished 288-of-442 passing for 2,997 yards with 14 touchdowns and 11 interceptions.
Now he'll learn a new offense again, this time under coordinator Bill O'Brien, who returns to the role he previously held with the team from 2009 to '11. Bailey Zappe, a 2022 fourth-round pick, is also on the quarterback depth chart with four-year veteran Trace McSorley.
"The quarterback room has been really good," O'Brien said earlier Friday. "Mac Jones has worked really, really hard this offseason. Been here every day. We just started working [in the voluntary offseason program] two weeks [ago] and that's been good. A lot of good meetings. A lot of good give-and-take.
"Bailey Zappe, same thing. Really working very hard. Good guys that care about the team, care about winning, and doing what's best for the team, which has always been the mantra. It's been fun to work with them."
The quarterback-based discussion came after two days in which the Patriots used their top three draft picks on defenders — Oregon cornerback Christian Gonzalez (No. 17, first round), Georgia Tech pass rusher Keion White (No. 46, second round) and Sacramento State linebacker/safety Marte Mapu (No. 76, third round).
Belichick said that wasn't necessarily the plan entering the draft, adding: "It just worked out that way … there are a lot of different ways to build a team. This is one part of it. Free agency was part of it [and we] didn't sign a lot of defensive players in free agency. Most of the signings were on offense."
[ad_2]
Source: News