Deterrence Is Not Enough in Northeast Asia by Yoon Young-kwan – Project Syndicate
August 29, 2023
The new security agreement between the United States, South Korea, and Japan reflects the shifting sands of regional geopolitics, especially heightened concerns about North Korea and China. Achieving its full potential, however, will require an openness to dialogue with both countries and cooperation on domestic challenges.
SEOUL – In August, the leaders of the United States, South Korea, and Japan met at Camp David for their first trilateral summit. The resulting agreement to deepen military and intelligence cooperation has steered Northeast Asian geopolitics into uncharted territory.
In view of the rising threat from North Korea, deteriorating ties with China, and Russia's invasion of Ukraine, US President Joe Biden's administration has pursued a bold and systematic regional strategy. Multilateral coalitions like this one, the reinvigorated Quad (Australia, India, Japan, and the US), and the relatively new AUKUS arrangement (comprising Australia, the United Kingdom, and the US) augment the traditional hub-and-spoke model of security cooperation in the Asia-Pacific, with the US at the center of each.
From the US perspective, the strained relationship between South Korea (the Republic of Korea, or ROK) and Japan – America's most important allies in East Asia – has long been a strategic obstacle. Since he was Barack Obama's vice president, Biden has been eager to help the two countries – long at odds over historical disputes and territorial issues – mend fences.
South Korean President Yoon Suk-yeol's audacious decision early in his presidency to normalize ROK-Japan relations offered Biden a rare opportunity. Specifically, Yoon decided in March not to seek money from Japan to compensate South Korean victims of forced labor during World War II – a proposal that, at the time, only 35% of Koreans supported and around 59% opposed.
Forging closer ties with Japan is crucial for Yoon to achieve his foreign-policy goal of making South Korea a pivotal global player. Former South Korean president Park Geun-hye, for example, struggled to pursue her ambitious Northeast Asia Peace and Cooperation Initiative while maintaining a hostile relationship with such a large and important neighbor. Whether Yoon can smooth over their differences and cement more positive bilateral ties remains to be seen.
China and North Korea will likely push back against the effort to institutionalize cooperation between the US, South Korea, and Japan. But, to reach its full potential, this new deterrence structure must be accompanied by an openness to dialogue with both countries.
Subscribe to PS Digital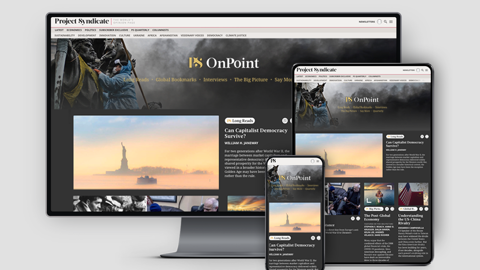 Subscribe to PS Digital
Access every new PS commentary, our entire On Point suite of subscriber-exclusive content – including Longer Reads, Insider Interviews, Big Picture/Big Question, and Say More – and the full PS archive. 
To guard against misunderstandings and prevent further escalation of the situation in Taiwan, which is China's central concern, the US must step up its efforts to reestablish military communication channels with China. Likewise, South Korea and the US, supported by Japan, should communicate to North Korea that they are ready and willing to engage in diplomatic dialogue; the enhanced trilateral deterrence posture envisioned at Camp David will not achieve regional peace on its own.
The most formidable challenge to the US-ROK-Japan partnership, however, is domestic political pressure, especially in South Korea. Critics of Yoon's decision to thaw relations with Japan believe that the president is naive and that South Korea is paying dearly for joining this group while getting very little in return. For Yoon, convincing these naysayers will be critical to the success of his presidency: his margin of victory in the presidential election was just 0.74%, and after almost 16 months in office, his approval rating stands at only 37.6%.
There are three ways that the US and Japan could help South Korea solve this challenge. First, while strengthened security cooperation is certainly an important foreign-policy achievement, the group must accelerate the implementation of their agreements on economic and technological assistance. Making visible progress on these fronts and delivering tangible benefits to Yoon's critics could help shift public opinion toward a more favorable view of the new partnership.
Second, if China continues to engage in coercive commercial diplomacy against South Korea, the US response will matter a great deal to South Koreans. Former US president Donald Trump's administration did nothing when China sanctioned South Korea for its deployment of a US Terminal High-Altitude Area Defense anti-missile system in 2016. Whether the three countries can act together on this issue will be a key factor in deciding the group's future. Moreover, the Biden administration could also turn South Korean public opinion against the US-ROK-Japan security agreement if it enacts more legislation that discriminates against foreign companies, as both the Inflation Reduction Act and the CHIPS and Science Act do.
Third, Japanese Prime Minister Fumio Kishida must be proactive in improving ties with South Korea. While Kishida has been cooperative, many believe that his actions are not commensurate with the political risks taken by Yoon. They also fear that inappropriate, and often crude, comments about Japan's long occupation of South Korea made by some members of Kishida's Liberal Democratic Party could undermine Yoon's attempt to extend an olive branch.
The challenge of winning over public opinion in South Korea pales in comparison to the risks for the region if Trump wins the US presidential election in 2024. In that case, the infant US-ROK-Japan partnership may have no future. To solidify his diplomatic achievements and to prevent a policy reversal in Northeast Asia, Biden must fully implement every aspect of the agreements reached at Camp David before next November.
Source: News