Endeavour Mining (EDVMF): Bet On West African Gold Mining … – Seeking Alpha
August 28, 2023
Thesis
Endeavour Mining (OTCQX:EDVMF, TSX:EDV:CA, LSE: EDV) is among the most overlooked major gold miners. The company operates mines in one of the best geological regions in the world, the Birimian Greenstone Belt. All mines are in West Africa, and its leadership has significant regional experience. Financially, Endeavour excels compared to its regional peers like Gold Fields (GFI), IAMGOLD (IAG), and AngloGold Ashanti (AU). Endeavour has better solvency and liquidity ratios and distributes higher-than-average dividends. On top of that, its shares are selling at a 50% discount.
I would give a strong buy rating despite the recent turmoil in Niger. The company does not have mines there, but the unknown unknowns surrounding the region are multiplying. The cost of doing business in the Sahel will become steeper. Investing in the area will require higher rates of return to compensate for the inherent risks. Considering the above circumstances, I assume the political risk is already priced in. Endeavour is among the best gold miners, and once the dust settles, the company might show its strengths.
Company Overview
All of Endeavour's operating mines are in West Africa. They have scattered the following countries – Mali, Senegal, Guinea, Burkina Faso, and Ivory Coast. Apart from being the largest gold mining company in the region, Endeavour is also the largest in each country. The following chart from the last company's presentation compares it with the other major players in West Africa.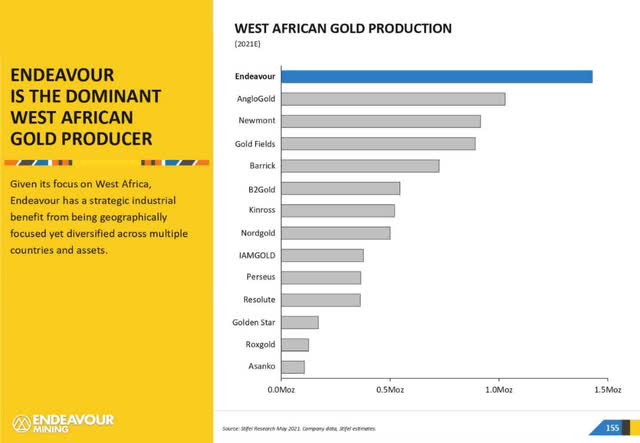 All the countries listed are part of WAEMU – West African Economic and Monetary Union. They have a common currency – the West African CFA franc. It is pegged to the euro but controlled by the French Central Bank. De facto, they are on a currency board.
The fact that all the mines are in West Africa is a disadvantage at first glance. Nevertheless, Endeavour has distinctive characteristics that successfully balance the geographical risk. The company is focused only on this region of the world. This is essential because the regulations and specifics vary widely if mines are spread across good jurisdictions but in different areas. One region will have solid ecological NGOs, the other powerful tribal and indigenous groups, and the third will have a corrupt administration. Each problem requires a different approach that will not work elsewhere. Endeavour is a specialist in West Africa and has been proving it for eight years.
In every country of operation, Endeavour is the biggest gold producer. It outperforms even Barrick Gold and AngloGold Ashanti. The company also owns the most extensive plots of land with incredible geology in the region. This ensures that its reserves and resources will not deplete soon. This is critical for gold majors because of the approaching gold supply cliff. Endeavour is immune to reserve and resource shortages and is not under pressure to acquire other miners.
Having the advantages mentioned above, Endeavour achieves two goals: first, it significantly mitigates the risk of doing business in West Africa, and second, it allows the company to take advantage of the region's outstanding geology. The company owns vast areas of land that still need to be fully explored, which lie on the Birimian Greenstone Belt.
This is one of the world's regions with significant gold mining potential. The Birimian Greenstone Belt stretches over 2,000 kilometers in the following countries: Burkina Faso, Ivory Coast, Mali, Ghana, and Guinea. The region's potential is shown in the following graph: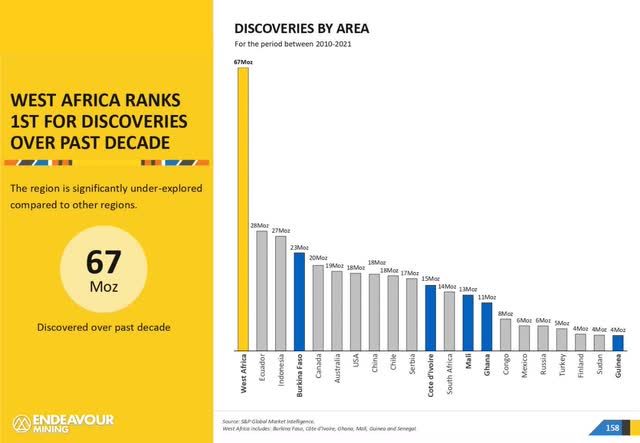 Over the past ten years, the region has ranked first for discoveries. The long-term sustainability of companies in this business depends on having sufficient reserves and resources. Once the company has proven the economic viability of its resources, It is considerably easier to find capital to build a mine. By easy, I mean in the context of gold mining. This business has no easy stages, but there are lower-risk ones.
At the same time, West Africa still has unexplored regions with huge potential. The Birimian Greenstone Belt falls into this category. Significant investments are needed, and in recent years, West African countries have begun to outpace countries such as Indonesia, Argentina, and Brazil in terms of exploration budgets.
Since 2010, the growth rate of gold production in West Africa has increased sharply. There has been a redistribution of production among countries in the region. Ghana still holds the leading position, but Burkina Faso and Mali have seen steady production growth.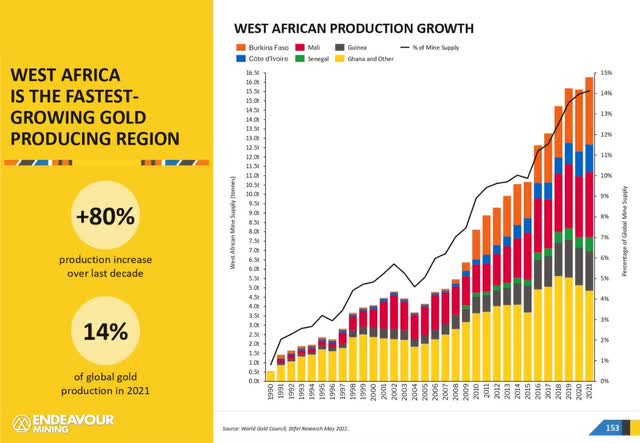 We urgently need discoveries on the scale of the Witwatersrand Basin in South Africa and Carlin in Nevada, USA. The Birimian Greenstone Belt is a perfect candidate to fill that gap. Endeavour is positioned to benefit the most from Birimian's potential.
Current situation in sub-Saharan Africa
The geopolitical game is constantly evolving. The rivalry between the two power centers, USA/NATO and Russia/China, took a new direction in Africa with the military coup in Niger on 26 July 2023. The Sahel region was until recently dominated by France. However, in the last three years, after a series of coups, French influence has been declining. And like nature, geopolitics does not tolerate a vacuum. French influence is being replaced by Russian and Chinese. The reason behind that tectonic power shift is resources. I already mentioned the Birimian Greenstone Belt, but there are significant uranium, zinc, and copper deposits apart from that. The chart below by ofcs.report shows West Africa`s resource endowment: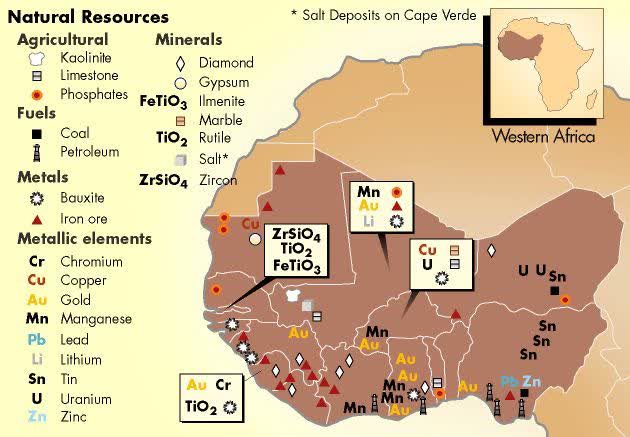 The turmoil in Niger will affect all foreign companies operating in the region. Endeavour is among those businesses. On the positive side, they do not own mines in Niger. The negative side is the internal strife between ECOWAS members. The point of disagreement is the potential military intervention to restore the old regime. Among the members are Burkina Faso, Mali, and Senegal, located at Endeavour`s mines.
Mines – location, production, AISC
Endeavour has four producing mines: Ity, Honde, Mana, and Sabodala. The company has two main projects in its pipeline: Lafigue and Sabodala expansion. Last month, they sold two mines: Boungou and Wahgnion.
One of the most impressive features is the deposits' size and grade. Endeavour owns open pit mines with high gold concentrations. The world average for open pit mines is less than one gram of gold per ton of ore. In Endeavour`s case, even the mine with the lowest grade has 1.47 g/ton. Two mines have a higher concentration than the average for underground mines, which is three grams of gold per ton of ore.
All Endeavour mines have LOM above eight years and AISC below the industry average. The chart below shows the company`s mines and their respective LOM and AISC.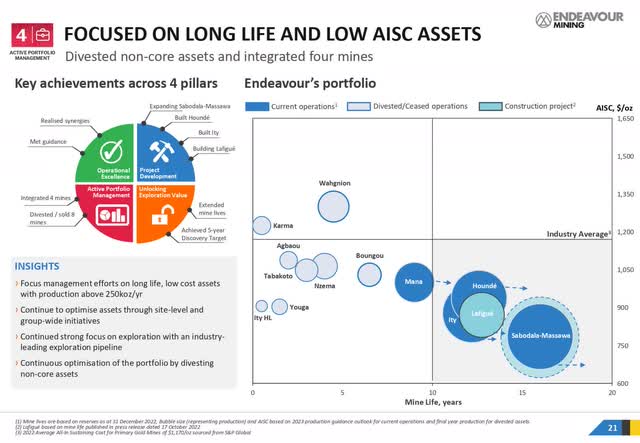 The company maintains annual gold production above 1 million gold ounces at a competitive AISC. The table below illustrates those parameters for the last half of 2023.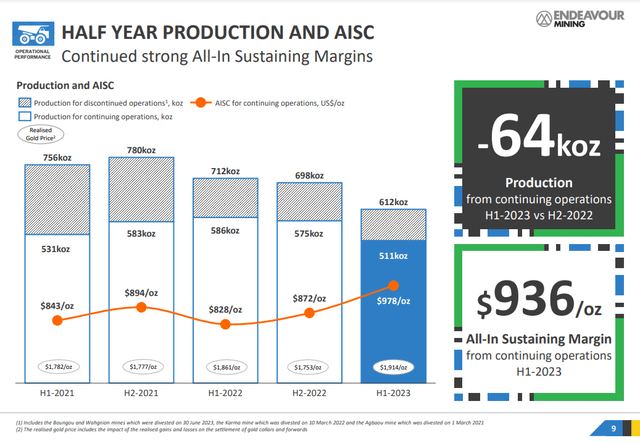 AISC below 1000 $/oz is an excellent achievement among the major gold producers in the region. IAMGOLD had AISC 1912 $/oz for the same period, and Gold Fields realized 1148 $/oz.
The table below shows the company`s project pipeline.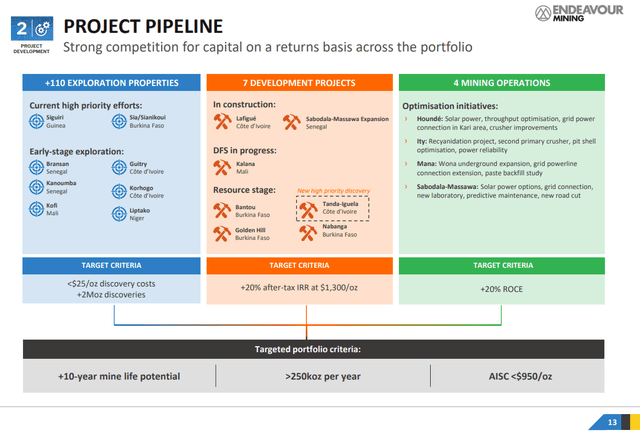 Endeavour has two projects in the late development stage. Sabodala expansion in Senegal and Lafigue in Cote d'Ivoire. Both projects are expected to start production after Q2 2024.
A few things make the mining business successful: growing reserves, increasing production capacity, lower AISC, and rising spot prices. Gold miners can influence the first three. Endeavour is doing an excellent job discovering new resources and maintaining AISC under the industry average. Production is forecasted to grow to 1.6 million ounces annually in 2025, as illustrated on the chart below: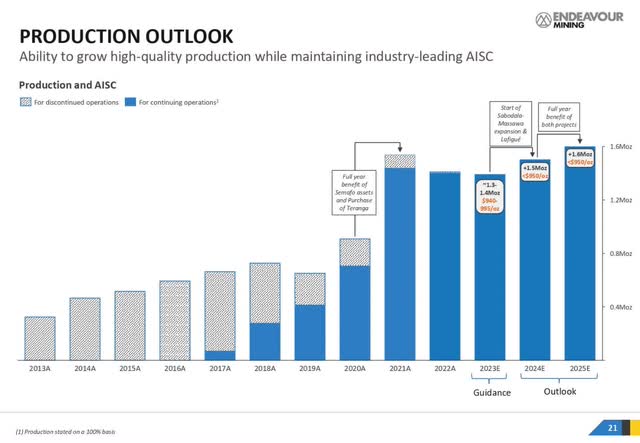 The company gradually increased production year over year. Next year, the Lafigue project is expected to add another 200,000 ounces of gold to the annual production.
Company Financials
Endeavour has one of the best balance sheets among its competitors. Compared with Gold Fields, IAM Gold, and AngloGold Ashanti, the company has low net debt and the highest cash per share. The table below shows Endeavour's current solvency and liquidity ratios. The data is sourced from the last company`s Q2 2023 report.
| | |
| --- | --- |
| EBITDA/Interest expenses | 17.6 |
| EBITDA – CPX/Interest expenses | 6.4 |
| Quick ratio | 1.7 |
| Current ratio | 2.3 |
| Net debt/EBIT | 0.2 |
| Net debt/EBITDA – CPX | 0.5 |
| Long-term debt/Equity | 26.9 % |
| Total debt/Equity | 27.2 % |
| Total liabilities/Total assets | 37.3 % |
Data source: Seeking Alpha Endeavour company profile
Gold miners do not have pricing power. Contrary to the shared beliefs, that could be a blessing too. A rising gold price will act as a rocket booster, all other conditions being equal (AISC, annual production, tax rates, and royalties), the gold miners turn into money printing machines.
| | |
| --- | --- |
| | Endeavour |
| FCF/EV | 4.1 % |
| Sales/EV | 21 % |
| Operating Margin | 4.8 % |
| Gross Margin | 52.7 % |
| ROI | 1.43 % |
| ROE | (2.85) % |
| Net income per Employee | (72,550) USD |
Data source: Seeking Alpha Endeavour company profile
Performance at this stage is like its regional peers. However, the low AISC and rising gold price will significantly boost profit margins in the long term.
Endeavour pays dividends with a yield above the industry average. The company will generate considerable cash flows with rising gold prices and a relatively steady AISC. Part of that cash will be returned to the shareholders as dividends. They become increasingly crucial in an environment with considerably lower equity premiums over treasury bond yields.
| | |
| --- | --- |
| Dividend yield (TTM) | 3.71 % |
| Payout ratio | NA |
| 5Y dividend growth (CAGR) | NA |
| Frequency Quarterly | Semi-annual |
Data source: Seeking Alpha Endeavour company profile
Valuation
Gold mining is not an industry where you can project steady future growth. Its cyclicality, lack of pricing power, and asset-heavy make cash flow predictions often misleading. I value companies in the mining and precious metals sector using three methods:
Net asset value
Value per ounce
Relative value
I calculate net assets as follows:
NAV = PR*(Spot Price – AISC) + cash + inventories + total receivables – total liabilities
PR (plausible reserves) = 100% * P&P Reserves + 50%*M&I Resources + 30%*Inferred Resources
Important: All calculations are in Canadian dollars ($CAD). The exchange rate I used is 1 USD = 1.35 CAD as of 22.08.2023.
I use the following values for the above parameters from the company`s last presentation and financial statement:
Plausible reserves – 22.3 million ounces of gold
Spot price – 1500 $USD/oz or 2010 $CAD/oz
AISC – 1000 $USD/oz or 1350 $CAD/oz
Cash – 1.1 $CAD billion
Total receivables – $CAD 334 million
Inventory – 372 $CAD million
Total liabilities – 3.0 $CAD billion
I use a conservative value for the gold spot price of 1500 $/oz for the spot gold price, and 10% higher than reported, 1000 $/oz for AISC.
Here are the final results:
Net Asset Value = 13,716,000,000 $CAD
Fully diluted shares = 247.2 million
Intrinsic Value = 54.2 $CAD per share
Market Price = 27.94 $CAD per share (22/08/2023)
The second method of valuation is based on what I pay for one ounce of gold in the ground (Market Cap/Plausible Reserves) compared to the price I get per ounce calculated against net assets (Net Asset Value/Plausible Reserves) and my profit per ounce of gold taken out of the ground as a shareholder (OE=SP-AISC). I use AISC because it includes all the costs and expenses required to maintain the current company`s revenue. Thus, I can measure how much I earn per ounce of gold sold, all being equal.
NAV/PR 615 $CAD/oz
OE 670 $CAD/oz
MCAP/PR 318 $CAD/oz
Compared to its peers in the region Gold Fields, IAM Gold, Anglo Gold Ashanti, and Barrick Gold, Endeavour scores average values. From the table below, I rely mainly on EV/Sales, Price/Cash Flow, and Price to Book for major gold producers. On all three, the company stands in the middle ground.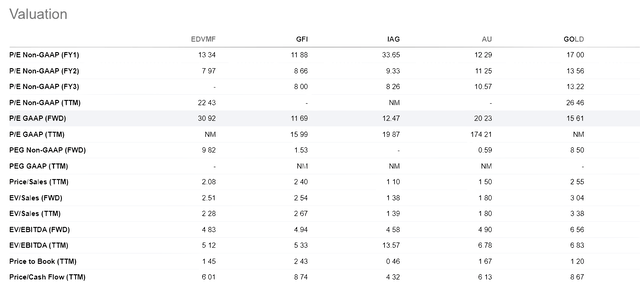 NAV and value per ounce show Endeavour is undervalued. At today`s stock price, we have a 50 % margin of safety. Relatively valued against other major African gold miners, Endeavour is not cheap or expensive.
Risk
The mining business carries the following risks:
Financial risk
Geological risk
Metallurgical risk
Political risk
Economic risk
Endeavour has a robust balance sheet, giving the company sufficient buffer to service its debt obligations — said that the financial risk is not a primary one for Endeavour. Geological risk, too, is relatively low, considering the properties of the Birimian Belt. Metallurgy always brings uncertainty if the company will achieve the recovery rates from its studies and can adversely affect the incoming projects' production, Sabodala expansion, and Lafigue commissioning.
Endeavour carries primarily political and economic risks. The former is already priced in, and the company leadership has expertise in navigating Sahel`s constant uncertainties. That does not mean they have insurance against political turmoil in Burkina Faso or elsewhere that can affect irreversibly company`s operations. The economic risk is always on the table; energy prices are one of the primary costs for the miners. Higher for longer oil prices will reduce profit margins and can even turn profitable projects into losers. Endeavour has a huge AISC cost margin on the producing and incoming mines as a buffer against high inflations.
Conclusion
Gold miner's performance is tied to the gold price. My scenario for the next 24 months is the gold price will reach the 2200 – 2500 range. Endeavour is among the most exciting companies to get exposure to the potential gold bull run. Sahel`s political risk, in my opinion, is already priced in. The company management has been in West Africa for the last eight years and has witnessed all the other countries' coups. The managers have expertise in dealing with the peculiarities in the region. Because of the political risk, the company is deeply undervalued. On top of that, Endeavour offers a robust balance sheet, growing reserves, and production base and pays above-average dividends. Based on the above, I give Endeavour a strong buy rating.
Editor's Note: This article discusses one or more securities that do not trade on a major U.S. exchange. Please be aware of the risks associated with these stocks.
Source: News