studio RAP 3D-prints blue ceramic tiles for an undulating threshold … – Designboom
August 24, 2023
revolutionizing Ceramic Ornamentation for the 21st Century
Dutch practice Studio RAP completes a groundbreaking and sculptural assembly, dubbed New Delft Blue, merging computational design and fabrication with traditional ceramic craft. Marking the entrance to a residential building block, the project is set against an apt backdrop — an old and scenic city in the western Netherlands well-known for its production of blue and white pottery. The design team reimagines this tradition, crafting unique modules of 3D-printed clay which together comprise a complex vaulted surface of fluid textures. Thus, the project strives to unleash a new architectural potential for ceramic ornamentation in the modern era. See designboom's previous coverage here.
images © Riccardo De Vecchi | video © Oculus Film
new delft blue: a modern gateway in an historic city
The architects at Studio RAP complete the New Delft Blue threshold for the PoortMeesters residential building block, an area nestled within the larger urban redevelopment project Nieuw Delft. Anchoring the lush communal courtyard, the project consists of two large entry gates, each spanning approximately four meters in width, eight meters in height, and twelve meters in depth. These gates, beyond their visual appeal, serve to envelop a prominent public staircase. With a nod to Delft's medieval trading history as well as the city gates which can be found across the city, New Delft Blue unfolds as a modern interpretation of a familiar Dutch building motif.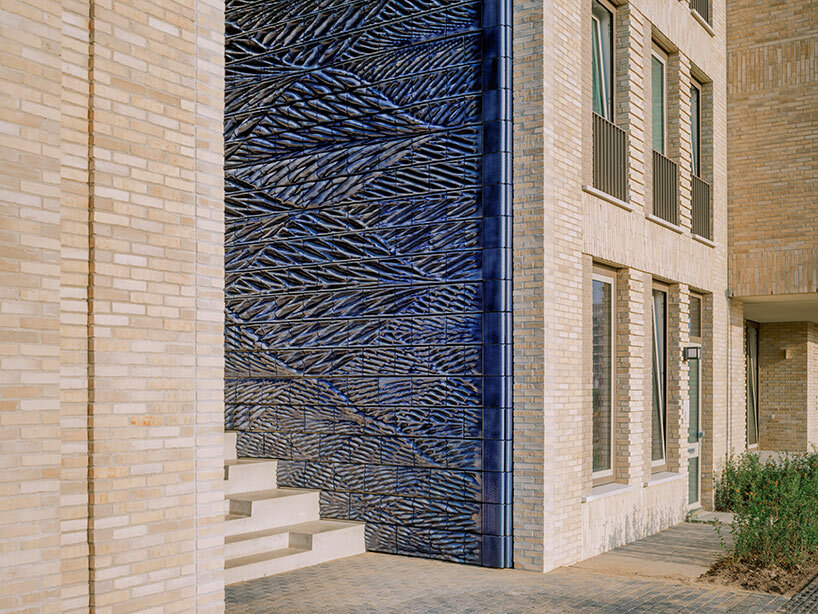 a Visionary Design Inspired by Tradition
Drawing inspiration from the design vocabulary of traditional Delft Blue porcelain plates, Studio RAP incorporates elements that bridge centuries of artistic transformation. These plates have traversed a journey from replicating patterns of Chinese and Japanese origins to embracing contemporary Dutch designs. An enduring feature, however, has been the dichotomy between ornate, nature-inspired frames and tranquil, picturesque scenes. The New Delft Blue design embarks from this intersection, portraying the ever-shifting courtyard life as the idyllic scene, while the gates themselves emerge as three-dimensional frames adorned with algorithmically generated, nature-inspired patterns. These patterns guide visitors from the public realm into the semi-public oasis of the courtyard.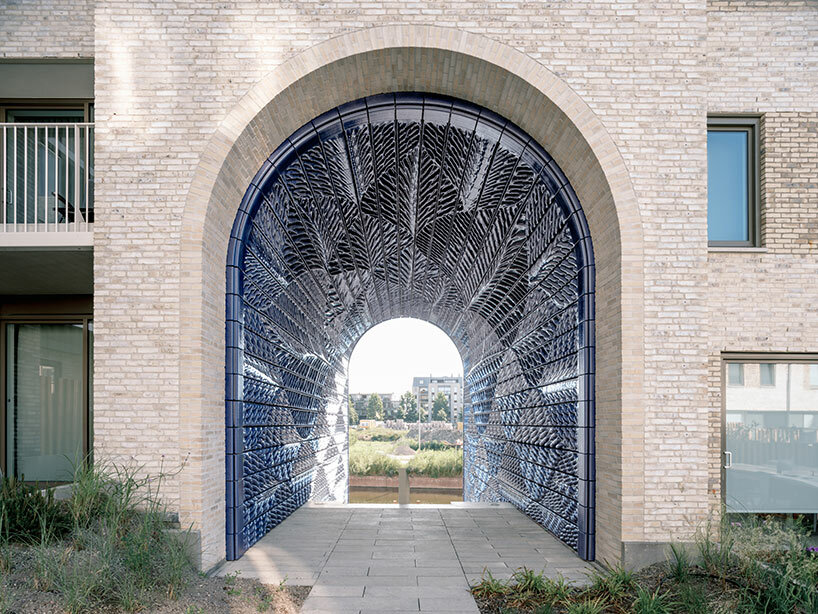 the gateway leads to the semi-public courtyard of a Delft housing block
The architects showcase their explorations in algorithmic design as they navigate the manufacturing constraints of the large-scale curving surface. Parameters such as maximum overhang, width, height, depth, shrinkage, and internal support structures have been deftly woven into the very fabric of the tiles' geometry. This results in a composition of fluid shapes that evokes a three-dimensional painting. A translucent blue glaze glides across the surface of these tiles, orchestrating a visual symphony. This glazing technique accentuates the convex contours with a delicate light blue hue, while the concave valleys resonate with deep blue glaze pools. This interplay of hues lends seamless transitions, mirroring the city's canals and its deep blue porcelains — all strengthened further against the backdrop of earth-toned brickwork.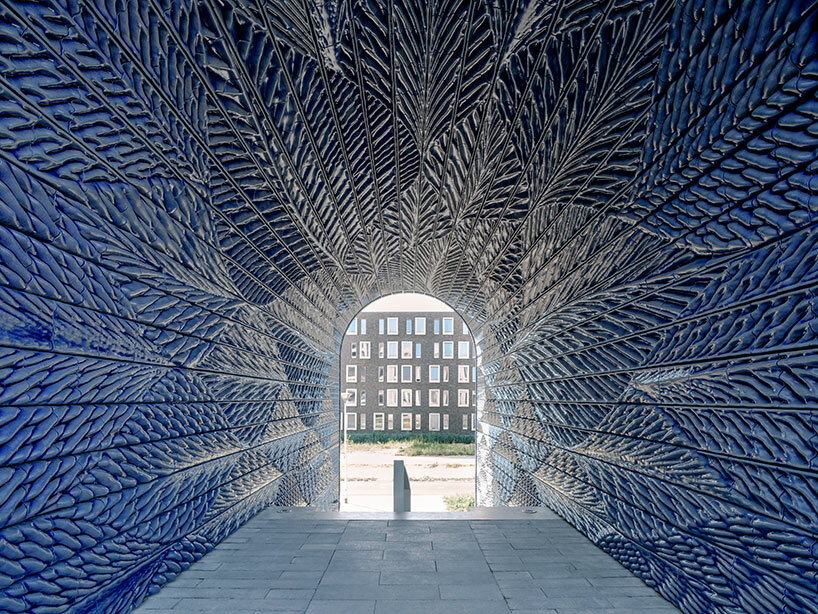 fluid patterning evokes a three dimensional painting
Source: News