Three Voters Reveal Their Ballots
June 4, 2023
[ad_1]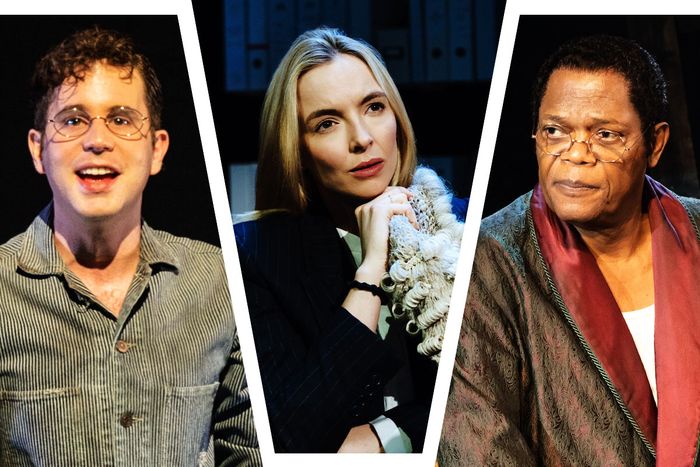 Ben Platt in Parade, Jodie Comer in Prima Facie, and Samuel L. Jackson in The Piano Lesson.
Photo-Illustration: Vulture. Photos: Joan Marcus; Helen Murray; Julieta Cervantes;
If the Tony Awards solidified anything in its 2023 nominee slate, it's that Bad Cinderella really did earn its name. But the current season is otherwise full of some of the most electrifying plays and musicals to light up the marquees in recent memory — with Some Like It Hot leading the nominations at 13, while & Juliet, Shucked, and New York, New York trail at nine each. Before Ariana DeBose does the thing at the June 11 ceremony, we convened three anonymous Tonys voters for their read on a few of this year's categories. Voter 1 has been casting ballots for "around eight years," Voter 2 has voted for "over 15 years," and Voter 3 has been active since 2010. Spoiler: They don't agree on much. Because where's the fun in that?
Ain't No Mo'
Between Riverside and Crazy
Cost of Living
Fat Ham
Leopoldstadt
Voter 1: I would give the edge to Fat Ham, which is inventive and wildly theatrical. It represents a bold new voice on Broadway. James Ijames is a young, queer, African American writer, and I think that's really thrilling.
Voter 2: There are three Pulitzer Prize winners in this category. When was the last time that happened? Then there's Tom Stoppard and an incredible piece by Jordan E. Cooper that really captivated people and got a lot more nominations than expected. I'll probably vote for Leopoldstadt, because Stoppard can be really tough and a little academic — and, often, not emotional. But this story is so personal for him. I've never been so drawn in and moved by a Stoppard play. I cried. I do have Fat Ham lingering in the back of my mind, though.
Voter 3: Writing a new play, getting it on Broadway, getting it produced, and even if it runs for two weeks — like Ain't No Mo' — these are all artistic triumphs and achievements. They all had great artistry. I think the winning play this season, and the one that I would vote for today, is Leopoldstadt. It's sort of an event play. It's beautifully acted and directed. It's about something very meaningful to a lot of people. It's about history and humanity, and it's a symbol. It has also done business, which I think is a really important piece of the Tonys makeup and what makes a Tony-winning show. It has brought in mass audiences as well as very specific play-going audiences, and that's important to the future of Broadway.
& Juliet
Kimberly Akimbo
New York, New York
Shucked
Some Like It Hot
Voter 1: I'll be voting for New York, New York. I love it. It's a gorgeous love letter to the city. I was charmed by Shucked. I thought the book of & Juliet was extraordinarily clever. I wasn't crazy about Some Like It Hot. It felt slick and a bit soulless.
Voter 2: My No. 1 at the moment is Kimberly Akimbo. I'm going back to see it on Broadway, because I've only seen it Off Broadway. I don't mind saying that I love & Juliet. I have the musical taste of a teenager. Every song — I had such a good time. I laughed my ass off at Shucked. But Kimberly Akimbo was so unexpected. It's a really tough story to pull off, and I love what they created. I'm looking forward to seeing it again. I was underwhelmed by New York, New York but can absolutely see why it's there. It's a big show. It's John Kander. It's such a feel-good New York story. It was the last musical that opened. Often, it stays in people's minds and stays fresh. That can help. I wasn't surprised to see it there at all.
Voter 3: & Juliet will get my vote. It's absolutely a show that has artistry and heart. It not only has excellent performances but really excellent storytelling. It's inventive, constantly surprises, and shows us that a jukebox musical can be so much more than what some people think. It's a very different and exciting addition to the Tonys race and the Broadway appetite. I think it's what the future of Broadway will be and should be, because it's both art and commerce.
A Doll's House
August Wilson's The Piano Lesson
The Sign in Sidney Brustein's Window
Suzan-Lori Parks's Topdog/Underdog
Voter 1: It would definitely be The Piano Lesson. It was brilliant, and August Wilson wrote a masterpiece. Topdog/Underdog and A Doll's House are extremely worthy, but I didn't think Sign was very good. The set design was deeply misguided. I didn't think everyone was in the same play. The performances were all over the place. The play was bursting with ideas but ultimately wasn't well-realized. The production itself I found wanting.
Voter 2: Topdog/Underdog. The previous Off Broadway production I thought was okay, but this one reached out and grabbed me by the throat — in a good way. It was 75 mph from start to finish. It was one of those rides. It was thrilling. The two actors had such great chemistry. I did think The Piano Lesson was good, but it had a few weak points casting-wise. A Doll's House was very good. It's a sparse production, but that's the thing. I saw Sidney Brustein at BAM and thought it was kind of a slog. Production-wise, it was good, but as far as a play, I thought it was a little messy. I hate saying that about Lorraine Hansberry, but I wasn't thrilled with it.
Voter 3: For me, it's The Piano Lesson. It's one of the August Wilson plays I had never seen before. It was a sweeping production, and though it was a star vehicle, it felt like it could have been the most intimate. It felt very homespun, real, and urgent. I really appreciated what it was saying and doing at this time in the theater, even though it was written all those years ago and telling a story about a different time and place.
Into the Woods
Lerner & Loewe's Camelot
Parade
Sweeney Todd: The Demon Barber of Fleet Street
Voter 1: This is a tough one. It would be between the two Sondheims, and I'll give the edge to Sweeney. The two leads were sensational. The production was gorgeous, and I'm blown away by the scale of the orchestra. I really loved it. Parade is worthy, and Into the Woods was quite wonderful. It was the best version of Into the Woods I've ever seen. Camelot mystified and bored me. It wasn't very good. It's very long. I don't like to be bitchy. I'm just being open.
Voter 2: The first thing that surprised me, actually, is one that's not there: Bob Fosse's Dancin'. I don't know how it got completely shut out. I haven't seen Camelot yet because of some rescheduling issues, but from friends and other critics, there wasn't much enthusiasm for Camelot and a lot more for Dancin'. So I'm surprised it got the shaft. It's kind of incredible that there are two Sondheim revivals up against each other. I wonder if they will cancel each other out. I'm leaning toward Into the Woods. Parade and Sweeney Todd were great productions for different reasons. It's hard to compare them. I'm still very undecided.
Voter 3: This is the year of Sondheim. One of our greatest musical composers recently died, and it's important we don't forget that it means something to the voter. It certainly means something to me as a lover of musicals. I'm very nostalgic and appreciative of everything Sondheim has done for musical theater. I love his plays, his musicals, his books for musicals, the songs he wrote, and his collaborations. I find them so relevant and resonant, and Into The Woods and Sweeney Todd are two of the finest revived versions of those shows. So it's between those two. Today, it's Into the Woods for me because of how I felt sitting in the theater watching that production.
Yahya Abdul-Mateen II, Suzan-Lori Parks's Topdog/Underdog
Corey Hawkins, Suzan-Lori Parks's Topdog/Underdog
Sean Hayes, Goodnight, Oscar
Stephen McKinley Henderson, Between Riverside and Crazy
Wendell Pierce, Arthur Miller's Death of a Salesman
Voter 1: This is a great category. I'd give the edge to Stephen McKinley Henderson. He's a great New York actor, and I've admired his work over the years. He's giving a staggering performance. If it weren't him, I'd give it to Wendell Pierce, who's extraordinary. But it's a tilt to Stephen because of his body of work.
Voter 2: This is a tough category. There are a lot of great people who got left out — like Oscar Isaac for Sidney Brustein, Life of Pi's Hiran Abeysekera, and John David Washington for The Piano Lesson. This is what you call "stacked." I'm going between Sean Hayes and Stephen McKinley Henderson. It's two very different performances. I've been a huge fan of Stephen's for so long. If you've seen an August Wilson play, you know him and love him. Between Riverside and Crazy isn't really a vehicle, but I was thrilled to see him get this meaty role to dive into. He was so charming, and I loved everything about his performance. For Sean, it's a completely different kind of role. I don't know Oscar Levant, so other than little bits and pieces on YouTube and online, I'm not going by whether it's an accurate impersonation. What he does physically with the role — he really throws himself into it. At the end, when he plays "Rhapsody in Blue," it's gorgeous.
Voter 3: Probably Sean Hayes. I find that performance so riveting, different, and unique from knowing him as an actor for so long. When you can create a role that feels opposite of who you are, or at least such a departure from what you're known for, it deserves attention.
Jessica Chastain, A Doll's House
Jodie Comer, Prima Facie
Jessica Hecht, Summer, 1976
Audra McDonald, Ohio State Murders
Voter 1: It's Jessica for me. But to be honest, that could change by the time I actually vote. She would be the front-runner right now. In part, it's the role. I love the play, and I loved the production. Chastain's stillness and strength were quite riveting and extraordinary. But every single performance in this category is extraordinary.
Voter 2: Jodie Comer. I'm not hesitating at all. It's her. For over an hour and a half, she leaves the stage once to change clothes, because she has been in a rainstorm. God, it's so hard to describe what she does. It's one of the most incredible performances I've ever seen. It was one of those where I was like, How does she do this every day? And it was her stage debut when she did it in London. I'm having a hard time articulating why she's so good. When I walked out, I was speechless, as you can tell.
Voter 3: This is Jodie Comer's Tony Award. This is a performance like we've never seen before, and I can't comprehend it getting performed eight times a week.
Christian Borle, Some Like It Hot
J. Harrison Ghee, Some Like It Hot
Josh Groban, Sweeney Todd: The Demon Barber of Fleet Street
Brian d'Arcy James, Into the Woods
Ben Platt, Parade
Colton Ryan, New York, New York
Voter 1: Colton Ryan does such a detailed performance. It's astonishing how complex it is. He brings so much intellect and soul to the stage, and it's always fresh. I'm in awe of him. This is another category where everyone is terrific. But Colton is bringing the freshest performance. He's going to be a star.
Voter 2: I was a little surprised Colton Ryan was in there. He's very cute and charming, but he was miscast in New York, New York. When I saw Some Like It Hot, I told my friend at intermission, "That's a winning performance." The way the book writers reworked the script and reconceived the role — I was pretty impressed. Not that I wasn't impressed with the others. Christian Borle was good, but he has won two Tonys. He's got the bookends. Josh Groban sings beautifully, and he was much more menacing than I'd expected. Brian d'Arcy James was great. Ben Platt was fantastic. A lot of people were worried they would have trouble seeing him as something other than Evan Hansen, but when you see Parade, he immediately casts Evan Hansen off. It's a terrific performance. He could even win. But there's a lot of love for Some Like It Hot. I'm going with J. Harrison Ghee.
Voter 3: They are all giving superb performances of interesting and complex men. It's really, really hard. Even though he already has a Tony Award, I would choose Ben Platt because of the way he makes me feel. I've never seen a performance so committed since he won for Dear Evan Hansen.
Annaleigh Ashford, Sweeney Todd: The Demon Barber of Fleet Street
Sara Bareilles, Into the Woods
Victoria Clark, Kimberly Akimbo
Lorna Courtney, & Juliet
Micaela Diamond, Parade
Voter 1: I think Victoria Clark. I have an allergic reaction to most adults playing young people, but she brings a poignancy to this role and isn't acting like a kid. There's just a beautiful integrity and purity to what she's doing that I find very moving.
Voter 2: They all deserve to be there, and they do wildly different things. I'm going with Victoria Clark. It's hard to sway me from her. What she's doing is so layered and a lot more challenging. She sings gorgeously.
Voter 3: Every one of these women is giving a performance of a lifetime. I truly believe that. My vote would go to Lorna Courtney, simply because this is a role that never leaves the stage all night long. The character runs the gamut of a full story arc. Very difficult and very challenging songs are sung. We've never heard them before. Not that anyone else isn't working as hard — I would never say that — but I believe this human must be working so hard to be able to do it like that every night. I also think she's the youngest of the group. To be able to do this at this point in her career, her first principal role ever on Broadway, really speaks to the future of this person. That demands a lot of applause and attention.
Jordan E. Cooper, Ain't No Mo'
Samuel L. Jackson, The Piano Lesson
Arian Moayed, A Doll's House
Brandon Uranowitz, Leopoldstadt
David Zayas, Cost of Living
Voter 1: I'm voting for Sam Jackson. For one of the biggest stars in the world to give a performance of such humility and generosity is a genuinely profound accomplishment. He allowed himself to be a part of an ensemble when he could have done a star turn. That takes great discipline in artistry.
Voter 2: I'm leaning toward Brandon Uranowitz, because he has been nominated before and I love him every time I see him. But Arian Moayed! I'm thinking about him too. I need to do some reflecting about this category.
Voter 3: Brandon Uranowitz from Leopoldstadt. Similar to how I felt about the play as a whole, I think that performance is riveting and unforgettable.
Nikki Crawford, Fat Ham
Crystal Lucas-Perry, Ain't No Mo' 
Miriam Silverman, The Sign in Sidney Brustein's Window
Katy Sullivan, Cost of Living
Kara Young, Cost of Living
Voter 1: Katy Sullivan. She blew me away. She managed to be hilarious and terrifying. The fact that she made such an athletic and extraordinary performance should be celebrated.
Voter 2: I was so surprised not to see Sharon D. Clarke for Death of a Salesman. I think that might be the most egregious omission. I'm thinking about Crystal Lucas-Perry, because she played so many characters. She had one scene where she came up through the floor and went up to a table and held an incredible monologue. She was hilarious and terrifying. I feel like she did so much in that show. But I'm undecided.
Voter 3: I think my vote is going to one of the Cost of Living women, because those performances are still within me today. Katy Sullivan was so incredible, but my instinct is Kara Young, because I saw an actress who went on a journey and really surprised me every step of the way.
Kevin Cahoon, Shucked 
Justin Cooley, Kimberly Akimbo
Kevin Del Aguila, Some Like It Hot
Jordan Donica, Lerner & Loewe's Camelot
Alex Newell, Shucked
Voter 1: This is either Alex Newell or Justin Cooley. I'll give it to Justin, but I think Alex will win. I'd be perfectly happy with that. Justin gave a completely fresh performance. It's such a confident debut, and he really broke my heart and touched my soul.
Voter 2: I haven't seen Jordan Donica yet — he was out when I was originally supposed to see Camelot. Of the ones I've seen, I'm leaning a bit toward Kevin Del Aguila. Every time he opened his mouth, I just about fell out of my chair. It's that deadpan sense of humor. With the things he said, I don't know how he and everyone else kept a straight face.
Voter 3: It's probably Kevin Cahoon for Shucked. Oh God, or is it Alex Newell? It's tough. Alex is shaking the roof, changing the game, interrupting the conversation, and garnering a standing ovation. It's what we hope for, live for, and love in the Tonys race, and they're delivering it.
Julia Lester, Into the Woods
Ruthie Ann Miles, Sweeney Todd: The Demon Barber of Fleet Street
Bonnie Milligan, Kimberly Akimbo
Natasha Yvette Williams, Some Like It Hot
Betsy Wolfe, & Juliet
Voter 1: Bonnie Milligan. She was fucking hilarious and fearless. She wasn't sentimental. She was just so funny and fresh. We managed to love this woman who is so destructive.
Voter 2: Bonnie Milligan. Absolutely. I didn't expect that role to go where it goes. First of all, she's so funny. But that voice. She lands all the jokes, but she doesn't work for them. You know how some people really push for the jokes? There's an ease there, and I really admire that about her performance.
Voter 3: Betsy Wolfe is someone else who's changing the game, interrupting what's expected, and moving the audience, but she's also entertaining, surprising, and filling the audience with laughter and joy. I think those types of performances are what the Tonys were made for. You don't take your eyes off her when she's onstage, and you leave remembering everything she brought to the production. That's why she gets my vote.
& Juliet, David West Read
Kimberly Akimbo, David Lindsay-Abaire
New York, New York, David Thompson and Sharon Washington
Shucked, Robert Horn
Some Like It Hot, Matthew López and Amber Ruffin
Voter 1: I'll be voting for New York, New York, but I think the books for Shucked and & Juliet are quite terrific. New York, New York is telling this beautiful, openhearted story about what it means to be a dreamer in New York, and I'm swept away in it. Shucked is easily the funniest book. & Juliet was incredibly clever. It's smart and witty, so I have great admiration for it.
Voter 2: It's interesting where people think about splitting their votes. I'm really going between Kimberly Akimbo and Shucked, but I'm leaning toward Shucked. It's not just the one-liners. There are a lot of them. If someone told you about Shucked as a 30-second elevator pitch, you would be like, What? No, that's not going to work. I'm not going to see that. But it does work because of the book. I'm 55 percent Shucked right now.
Voter 3: I wouldn't say that they all deserved this. My vote goes to & Juliet. Being able to take a catalogue of songs, place them, and write to them and around them so they tell a connected, emotional, and funny story — so they make characters come alive and feel bigger and better — it's an unbelievable feat for a book writer. Writing a book to a jukebox musical takes a whole other set of skills and talent. It's harder than it seems. David West Read has done it with aplomb — he took songs that were new but created an incredibly original and brand-new way to hear and experience them. It's probably one of the best books I've ever heard and seen. But the New York, New York book is that production's biggest flaw, and I was very surprised it was on this list. So much opportunity and so much disappointment.
Steven Hoggett, Sweeney Todd: The Demon Barber of Fleet Street
Casey Nicholaw, Some Like It Hot
Susan Stroman, New York, New York
Jennifer Weber, & Juliet
Jennifer Weber, KPOP
Voter 1: I'll be a little harsh on this one. I don't think Jennifer Weber's work on either of her shows is very good. So those are easy for me to rule out. I'm all about Susan Stroman. I think the variety of her work is breathtaking. It goes from ballet to tap to other transitions. It's all in there, and it takes my breath away. She understands the form and loves it. She does her homework. She knows what it means to bring an idiom to Broadway and understands the vernacular of different forms. She's an absolute master.
Voter 2: I'm very happy to see KPOP there. When I saw it, I thought that it needed to get a choreography nomination. I loved Jennifer Weber's choreography for KPOP and & Juliet. I think Casey Nicholaw is going to win, and I'm leaning in that direction — if only for that scene in the end with the doors and the tap number. How long do you think it took them to get it right? I was astonished seeing that. Not that all the other dancing in the show isn't terrific, but that number alone seals the deal.
Voter 3: I'll vote for & Juliet, because Jennifer Weber's choreography makes you see and hear those songs in a different way. I've never seen what I like to refer to as "hummable choreography" before — where you leave, then every time you hear that song on the radio or from the cast album, you actually start doing the moves. That's really fascinating to see her achieve. I've never seen choreography quite like what Jennifer does for her productions.
[ad_2]
Source: News