Today in Politics: Fingers crossed as Chandrayaan-3 enters final leg of journey, Punjab farm protest gathers pace – The Indian Express
August 23, 2023
Supriya Sule says while her family will wage an "ideological battle" with Ajit Pawar, they are "one as a family".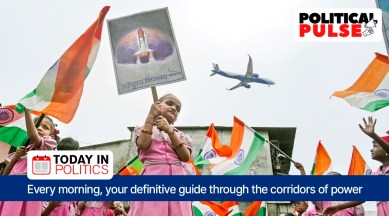 An aircraft prepares to land as children cheering for the successful landing of Chandrayaan-3, on the moon surface, wave Indian flags at a school near the airport in Mumbai, Aug.22, 2023. (AP)
Listen to this article
Your browser does not support the audio element.
With the Chandrayaan-3 lander all set to touch down on Moon today at 6.04 pm, the focus of everyone in India, including the political parties, will be on the lunar mission. Messages for the Indian Space Research Organisation (ISRO) started coming in on Tuesday itself, with leaders from Mamata Banerjee to Arvind Kejriwal wishing it a success.
"Chandrayaan-3 mission is a matter of pride for the entire nation! The @isro team belongs to India. Their hard work is a testament of the country's progress which has come from the people, scientists and economists, and not any political entity," West Bengal Chief Minister Mamata Banerjee wrote on X, formerly Twitter. Kejriwal, the Delhi CM, wrote, "I pray to God for the successful landing of Chandrayaan. The whole country is eagerly awaiting the landing."
Prime Minister Narendra Modi will be watching the Chandrayaan-3 landing from the BRICS summit in Johannesburg. He will participate in the plenary sessions, including a closed session that will focus on intra-BRICS issues, reform of the multilateral system, and counter-terrorism. Congress leader Rahul Gandhi, who travelled from Leh town to Lamayuru on Tuesday, will be in Zanskar, a tehsil of Kargil district, today.
You have exhausted your
monthly limit of free stories.
To continue reading,
simply register or sign in

Unlock More with an Express Digital Subscription!

Dive deeper into the stories that matter. Now available at an exclusive, limited-time price.
This premium article is free for now.
Register to read more free stories and access offers from partners.

Unlock More with an Express Digital Subscription!

Dive deeper into the stories that matter. Now available at an exclusive, limited-time price.
This content is exclusive for our subscribers.
Subscribe now to get unlimited access to The Indian Express exclusive and premium stories.
Meanwhile, security has been tightened at the interstate borders of Punjab, Haryana, and Chandigarh because of a farmers' movement seeking compensation from the Punjab government for losses due to floods. Farmers are continuing with their dharna in Longowal in Punjab's Sangrur district. On Monday, a person died after being run over by a tractor-trolley and five policemen were injured in clashes that broke out after some farm leaders were detained. About 100 more were detained on Tuesday while they attempted to move towards Chandigarh. The Punjab Police have booked 53 people, including 18 farmers by name, for attempted murder after an inspector, according to them, escaped being crushed under the tractor.
Sixteen farm unions, including eight from Punjab, four from Haryana, and one each from Uttar Pradesh, Rajasthan, Himachal Pradesh, and Uttarakhand, had given the call for the tractor march to Chandigarh on Tuesday. Now the Samyukta Kisan Morcha's Punjab unit — 32 outfits are a part of it — has joined the dharna in Longowal. The protests are not likely to die down anytime soon and their political fallout has the potential to roil all the states.
In West Bengal, the Assembly will discuss the West Bengal Labour Welfare Fund (Amendment) Bill, 2023, today. West Bengal Law Minister Moloy Ghatak tabled the Bill on Tuesday but was later admitted to a hospital after he complained of uneasiness.
During the day, we will publish the full interview with Nationalist Congress Party (NCP) MP Supriya Sule who tells Alok Deshpande and Sandeep Singh that while her father Sharad Pawar, the party president, will continue to fight the ideological battle with her cousin Ajit, the Deputy Chief Minister of Maharashtra, they are "one as a family". Sule's comments come at a time when the NCP's Maha Vikas Aghadi (MVA) allies, especially the Congress, have expressed concern at Pawar's meetings with Ajit.
Blaming the BJP for the NCP split, Sule says, "It has become obvious that the BJP is absolutely anti-Maharashtra. They break families, they break parties. My angst is only against the BJP. I blame nobody but the BJP. They don't believe in a fair democracy. The new BJP is like those who look at us as enemies which is the shallow, narrow way of looking at things."
President Droupadi Murmu will address the 34th convocation of Goa University at Raj Bhavan's Durbar Hall and will also interact with tribal groups. Later in the evening, she will address Goa MLAs at the Assembly complex.
First published on: 23-08-2023 at 07:27 IST
Source: News